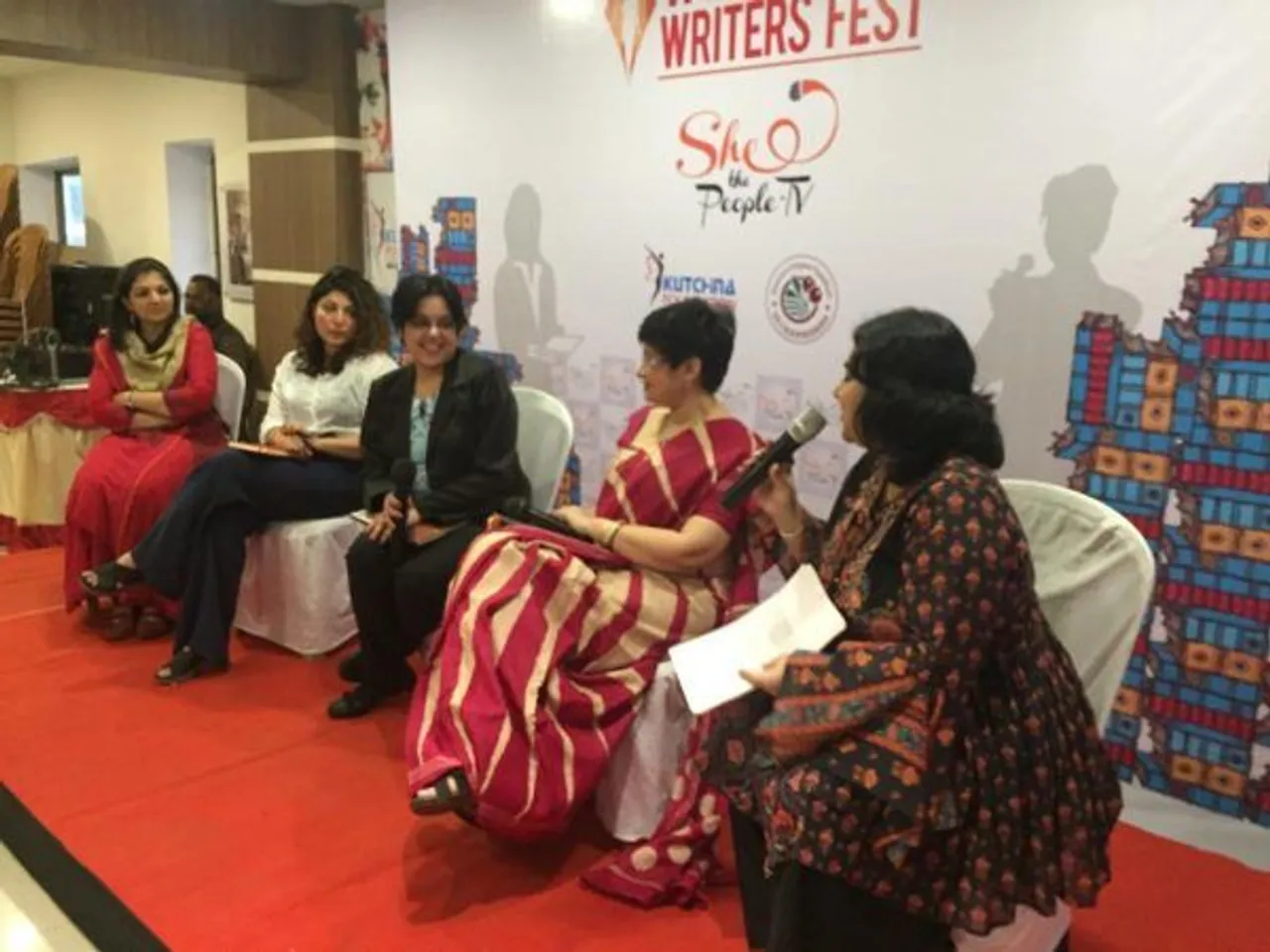 #WomenWritersFest Kolkata hosted an intriguing session about writing from a deeply personal space. The second panel "The art and craft of writing about the self" discussed reasons and thoughts about why we write the books we write and what does it take to put yourself out there. The panel moderator author Baisali Chatterjee Dutt sparked an interesting discussion with the speakers - journalist and author Jayeeta Ganguly, author Bali D. Sanghvi, author Ipsita Ganguly, and Pritha Kejriwal, editor-in-chief of Kindle Magazine.
What does it take to put yourself out there?
Dutt began the session asking the speakers reasons why they choose to pen down their personal journeys, and how different and difficult is gets when the books or poetry they write are from a personal space. Author Jayeeta Ganguly said the foremost attribute required to pen down a personal journey is absolute honesty. "It's also about gracefully accepting the fact that multiple people won't come across with what you put out there, and they're anyway going to judge you."
There are so many literature festivals but there is only one #WomenWritersFest. Today, it is happening in #Kolkata. Watch this space for more updates. @KiranManral @bchattdutt pic.twitter.com/6NW97irZhc

— SheThePeople (@SheThePeopleTV) December 14, 2018
"The beauty of being a journalist and a writer is to accept that there are going to be judgements and people won't agree with you all the time and that's ok"
Ganguly, who is also famously known for her admiration for Pakistan's Prime Minister Imran Khan, is the author of Just Another Fan, the book which narrates her journey as Khan's fan. "It's basically a 22 year-old. It took him, too, 22 years to become the PM, so we are kind of connected," she said on a lighter note. Ganguly shared that the reason she chose to write the book was also because she wanted to motivate younger people into believing that there's nothing they cannot achieve. "Many termed me as crazy and that was fine with me. I always believed as a child that one day I'll become something and meet him on my own."
"Giving up has become so easy these days"
Another factor that drove her to share her personal journey was that the she feels giving up has become very easy these days. "I want to motivate people and tell them giving up should never be an option, whatever it is for. We're all fans of someone or of some idea and that's exactly the thought I wrote down."
"Write your memoir when it's fresh and when you feel it from your heart"
Dutt discussed with Sanghvi about the deeply empowering subject of her book and what inspired her to share her journey. Sanghvi's book, which is a also graphic narration of her journey, is about her infertility treatment. "I went through the course of 17 months' treatment to have a child. While there are multiple reasons to write this book, one primary trigger was to help and guide others who want to experience childbirth but are facing difficult in doing so," she recalled.
"It takes long, but the dream does come true."
Sanghvi reflected on certain crucial aspects that she kept in mind while putting herself out there. "This book also serves as a guide because there are several people who are unaware of medical procedures which, no doubt, are tough."
Poetry and self
Ipsita Ganguly and Pritha Kejriwal had some absorbing conversation about what it takes to write and recite a poetry. While Kejriwal agreed that poetry is a personal experience, she said it's also about how surroundings affect a thought process. "In the early days when I had begun, there were personal triggers that would often spray out of deep sense of solitude. However, with all these years, the understanding and approach has changed. I've also taken it the professional route."
Kejriwal believes the philosophical training she has had deeply embedded her conscious explaining of what "self" really means.
"That bit of self is always there in whatever we write"
Ganguly had some insights about triggers that transpired into poetry, prose, or any kind of writing for that matter. "Poetry is a format of writing. For me, writing a memoir or writing about self links with writing about the universe I live in. When I write poetry and recite, I include everything I am affected by and that's where connections lie."
Ganguly voiced that there's always a part of a person involved in whatever one takes to writing. "It's all about the way we react to life and living."
Also Read: #WomenWritersFest: Writing Through The Gender Lens