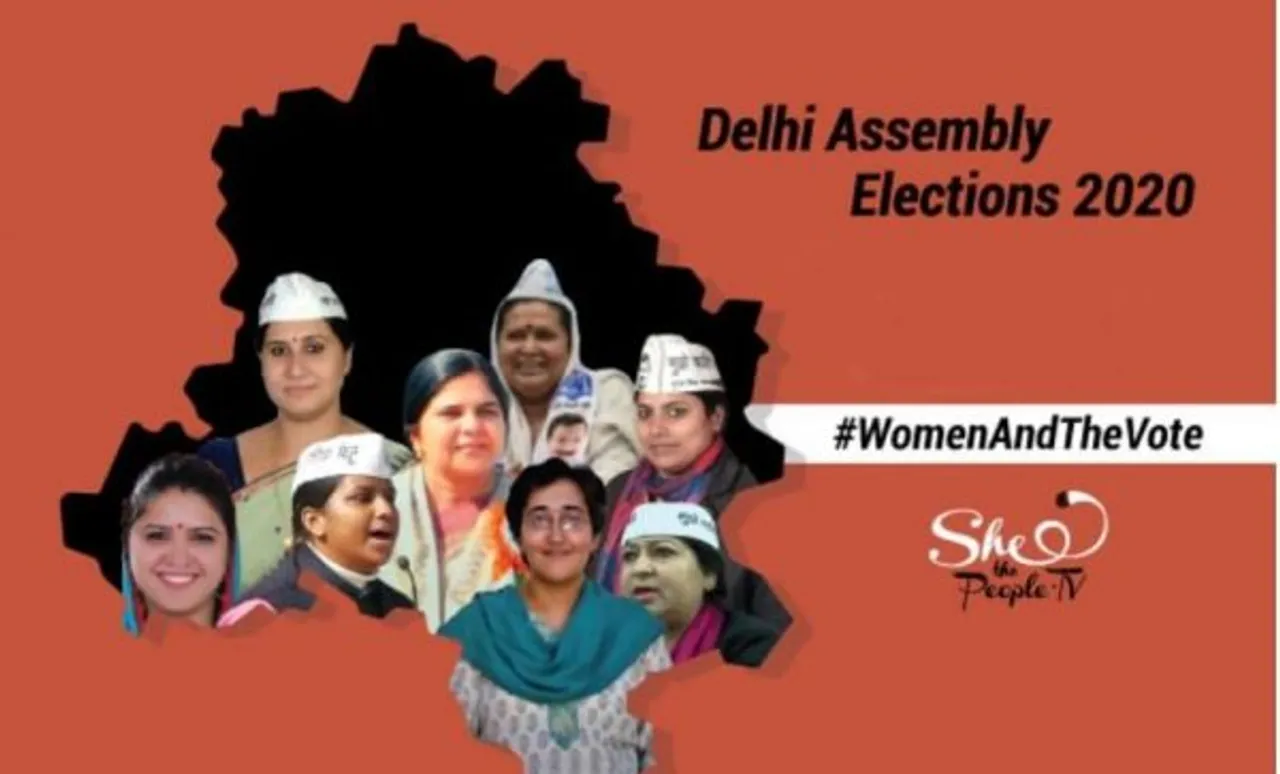 Delhi Election 2020 results are unravelling at a swift speed and clearly, Aam Aadmi Party has swept most seats in the capital city's 70 constituencies. Bhartiya Janta Party (BJP) has also been able to increase its seat share from three seats in 2015 to seven seats now while Congress has not been able to capture even a single seat continuing with their zero streaks for the second time consequently. As the results are coming in here's the list of big victories for women candidates who are going to take their place in the upcoming Delhi Assembly.
Incumbent Rakhi Birla of AAP has again won the election from Mangolpuri (SC) defeating Karam Singh Karma of BJP with 30,116 votes. Her total vote share is 74,046. She held Women & Child, Social Welfare and Languages ministeries in the cabinet. In 2016, she also became the Deputy Speaker of Delhi Legislative Assembly, becoming the youngest person ever to hold the position.
Bandana Kumari also of AAP wrested back her constituency, Shalimar Bagh, for the second time in a tight competition with BJP's Rekha Gupta with 3,440 votes. Shalimar Bagh is the only constituency with the most number of female candidates at a total of five. Apart from Kumari and Gupta, Shehnaz, Vandana and Poonam Kaushik stood in the election independently.
 AAP's Preeti Toma won from Tri Nagar with 58,504 and defeated Tilak Ram Gupta who received 47,794. Tomar has replaced former law minister Jitender Singh Tomar who is also her husband.
Raj Kumari Dhillon of AAP who was contesting from Hari Nagar constituency has won comfortably with 20,131 against BJP spokesperson Tajinder Pal Singh Bagga who got 37,956 votes. She was an Ex- Councillor from Hari Nagar and a former Congress member being the district president of Tilak Nagar Mahila Congress.
Atishi again from AAP won for the first time from Kalkaji constituency defeating BJP's Dharambir Singh with a total of 11,393 votes. Rhode Scholar Atishi joined AAP in 2013 when she started working on education policies of the Delhi government when AAP came to power in the capital. She recently contested Lok Sabha elections as well on an AAP ticket from East Delhi constituency but was defeated by BJP's Gautam Gambhir by a sharp margin.
AAP's Bhavna Gaur won from Palam with  92,775  votes, a pleasant victory against BJP's Vijay Pandit. She joined AAP when the party was formed and contested her first major election as an MLA candidate from Palam in 2015 and defeated Dharam Dev Solanki of BJP by a margin of 30,849 votes. However, this time her margin increased to 32,765 votes.
Businesswoman Pramila Tokas has registered her victory once again from RK Puram constituency with 47,208 votes. Once again, she was up against BJP's Anil Kumar Sharma. However, this margin has reduced from 19,068 votes to 10,369 votes. In the last five years, she was embroiled in a few controversies because of her husband, who was reportedly arrested on charges of preventing public servants from working and assaulting them.
AAP's new entrant and a former Congressi Dhanwanti Chandela replaced MLA Jarnail Singh from the Rajouri Garden seat and emerged victoriously. She won with a margin of 22,972 votes against BJP's Ramesh Khanna. Chandela joined AAP in August last year. She has been a three-time councillor before joining the party and is the wife of former MLA from Rajouri Garden, Dayanand Chandela.