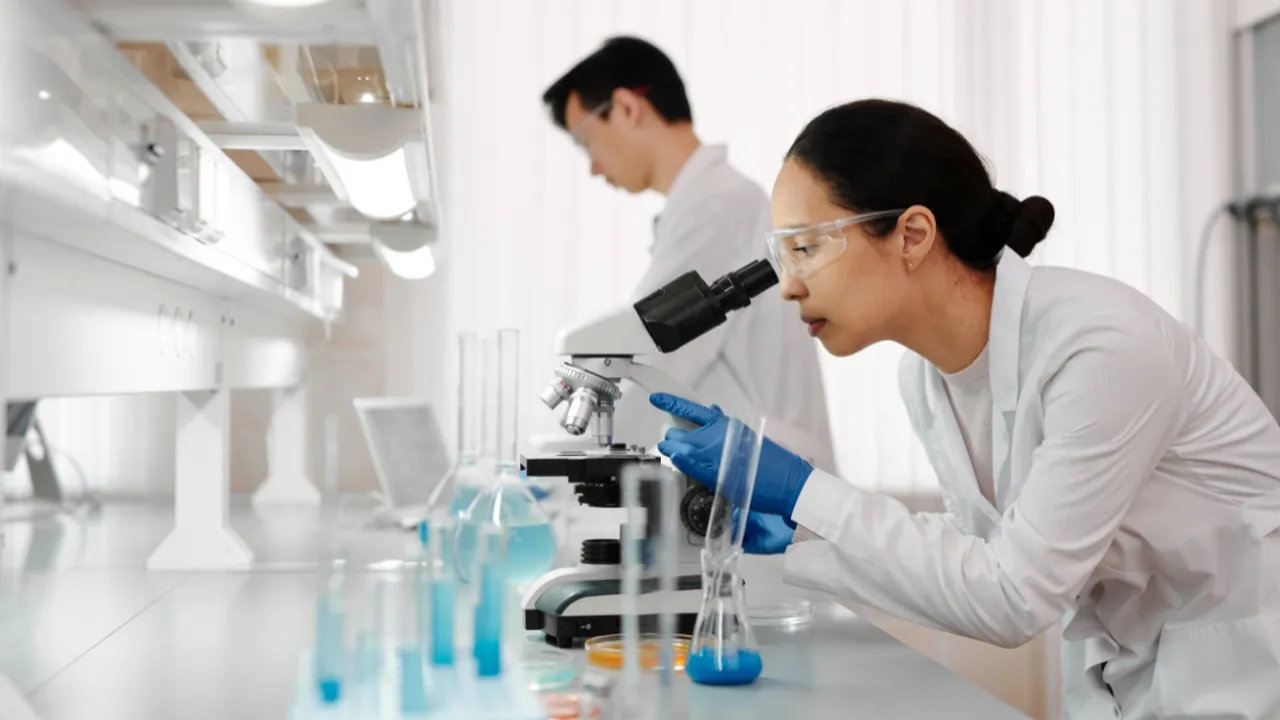 Japan has faced the dual challenge of a shrinking working-age population and a need for sustained economic growth in recent years. The country's per-capita

Gross Domestic Product (GDP)

could shoot up with more women pursuing science and technology, the International Monetary Fund (IMF) said in a report. The IMF noted that the growth rate of women in the workforce is slowing and likely to plateau soon, which could be detrimental to Japan's economy.
This comes as a surprise after a notable rise to 74% female participation in 2022 from only 63% ten years ago. Thanks to Abenomics, the country had achieved an impressive per-capita GDP during former Prime Minister Shinzo Abe's rule from 2012 to 2020. 
A major contributor to this was the rising female labour-force participation that were crucial to mitigate the country's chronic labor shortage, boosted family income, and fueled the growth engine. The new entrants, typically former stay-at-home mothers, were able to rejoin the labour force was due to enhanced child-care support from the government and improved maternity-leave policies, the IMF report stated. 
The IMF report noted that encouraging women to pursue more Science, Technology, Engineering, and Mathematics (STEM) fields could be the push that the economy needs.
The Current Landscape
Japan's demographic challenges, characterized by an aging population and a shrinking working-age cohort, necessitate innovative approaches to sustain economic growth. The success of "Abenomics" demonstrated the positive impact of increased female labor force participation. However, the current upward trajectory is tapering, demanding a fresh perspective to fuel Japan's economic engine.
Need for women in STEM
Only 7% of Japan's female students pursue STEM disciplines, as compared to 36% of male students. This is a stark difference from the STEM participation of both men and women in other countries.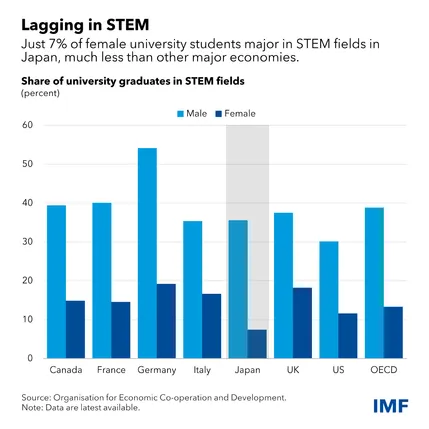 The IMF reported that this is the result of the various barriers for Japanese women in STEM. "Eliminating those barriers will increase the supply of STEM talent, providing more Japanese workers who are instrumental for automation, digitalization, and innovation," the report stated, adding that nullifying these barriers could result in a 20% growth in productivity of Japanese women.
Gender-Gap Holding the Economy Back
The IMF report said that women worldwide face both explicit and implicit pay gaps in STEM fields. Explicit pay gaps can be directly observed in earnings data, and can be tackled with policies. Implicit pay gaps are to disproportions due to family burdens and workplace discrimination. 
The report used the example from Nobel laureate Claudia Goldin's book Career and Family: Women's Century-Long Journey toward Equity, which states that women disproportionately step back from their careers when they have care-giving responsibilities, which in turn results in a pay gap.
The Japanese government is making progress in reducing this gap using policies that require companies to be transparent about their gender wage gaps. Such disclosure can help the government enforce its "equal pay for equal work" regulation and narrow the gender pay gap.
The IMF report said that work-style reforms and a more flexible labor market are also essential to promote women to join the labour force. "Labour-market changes in hiring and promotion based on merit, instead of seniority, would improve the returns on STEM education for women," the report added, and proposed the use of quotas and other policies to encourage female participation in STEM.
Disparity of Bridging the Gap
The IMF report proposed a model which revealed that although bridging the gender gap is beneficial to the economy as a whole, it could create winners and losers. According to the model, female STEM workers would benefit the most, as, in theory, their income would converge with their male counterparts', as per their talent. However, male STEM workers could receive lower wages if the total supply of those workers increases and the least talented male STEM workers could even be replaced by female ones.
However the model stated that productivity growing at a faster pace would mean that output and wages will also increase faster, leading to higher consumption and welfare. The average welfare of all Japanese workers would rise by about 4 percent, based on the IMF's model calculation.
 Suggested Reading: Women CEOs Have Shorter Tenures Than Men: What Fuels This Gap?