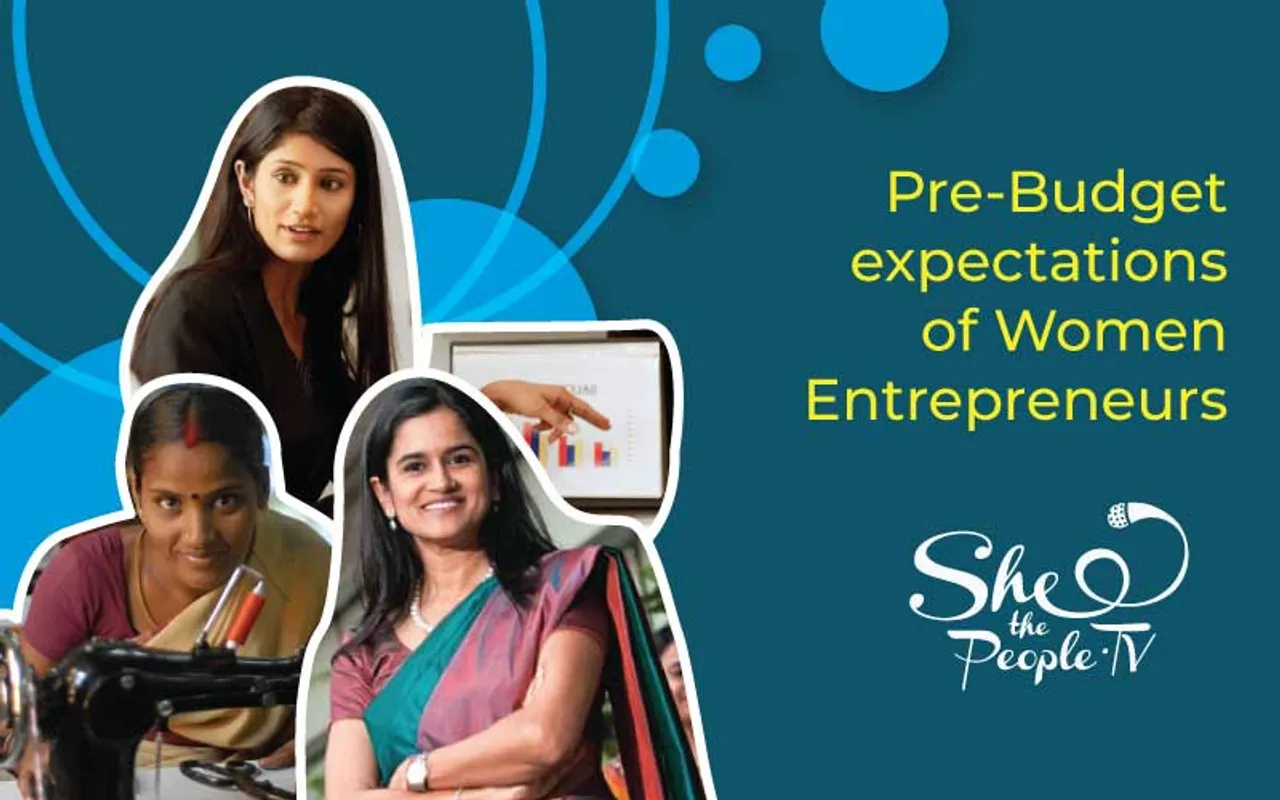 Nirmala Sitharaman will be presenting the Union Budget for the coming year tomorrow, and it is being touted as a stiff challenge for the Finance Minister. From being the fastest growing economy in the world, India is today facing an economic slowdown; its worst ever in the last 42 years. The general public, therefore, is seeking tax relief from the budget, so that it can sustain its money in times of the slowdown. But what do women entrepreneurs want from it?
In the last five years, entrepreneurship has been given a solid push by the government, and while we have been able to regularize the startup ecosystem, the falling infrastructure continues to stall growth. We speak with women entrepreneurs to understand what are their expectations from the budget, in times of economic stagnation.
Maintenance of corporate tax
For a better cash flow in the economy, Swati Bhargava, founder of CashKaro suggests reducing the tax slab. "We expect the government to by all means maintain the corporate tax rate that was reduced to 22 per cent from 30 per cent last year. Drop in the tax rate would lead to relatively healthier cash flow within the system and enable companies to plough funds back into the business.
Also Read: All Eyes on Nirmala Sitharaman To Deliver Budget 2020, What's Expected?
In addition to this, we expect a waiver of Angel tax for the DPIIT registered startups, as announced in July last year. We are also keen to see what other fiscal policies the government will introduce to stimulate credit growth and give the overall economy the much needed onward push. Furthermore, reduction in personal income tax rates should be considered as it will relax financial strain to an extent and increase the individual purchasing capacity of the taxpayers," says Bhargava.
Drop in the tax rate would lead to relatively healthier cash flow within the system and enable companies to plough funds back into the business. - Swati Bhargava
Women-centric schemes
Another entrepreneur, Dr Aparajita Gogoi, Executive Director in Centre for Catalyzing Change (C3) hopes that the government will continue to aid women entrepreneurs. "The gross allocations for women-specific schemes have increased over the last budget, from Rs 1.22 trillion in 2018-2019, to Rs 1.37 trillion in 2019-2020. This is a trend we expect to continue since all policymakers now agree that investing in women's health, education and welfare has direct benefits for the nation and economy as a whole. The allocations to women's schemes as a share of the total budget has declined from 5.5 per cent in 2014-15, to 4.91 per cent in 2019-20. This is something that we hope the budget will address.
The other, equally important point to keep in mind is tracking expenditure of the allocated funds across states. We look forward to this two-pronged strategy to move the needle towards achieving gender equality in India," she says.
Nimmi Cherian, who founded Dailyrounds, wants the government to fix the fundamentally broken pieces of the economy. "Bringing more cash flow in the market, enabling people to buy more products through certain reforms will help our economy. Secondly, in the education and healthcare sector, for example in my startup, I would find it helpful if the GST slab is reduced even lower."
Also Read: Digital Entrepreneurs Discuss Importance Of Social Media In Business
Bhargava also proposes some change in the current GST structure. Speaking on a macro level, she says the government should consider making the necessary amendments in the current GST structure to make it more friendly for the private sector. It is among the critical steps towards ensuring ease of doing business and will go a long way in ascertaining compliance. It should also introduce policies that are more inclusive of the private sector and enable their participation in the upcoming mega projects (such as infrastructure). This will not only be an economically progressive step but will also bring in more transparency into the system.
Bringing more cash flow in the market enabling people to buy more products through certain reforms will help our economy.- Nimmi Cherian
Nishat Mukaddam, HR and Communications Director at LC Media house just wants the government to keep the wheel rotating. Says she, "Economy currently is on a downward spiral and it has affected our growth potential significantly. Falling consumer demand has led to brands forcibly cutting their budgets for marketing in general, but still we are trying our best to support them in these times. Our expectations from the government of India as a business entity are very simple: Just keep the wheel rotating. We don't want halts anymore. We will manage to come out of this rut on our own, please play the role of an enabler."
Also Read: Mental Health And Budget 2020: Here's What Is Needed
Bhavani Giddu Veeravalli, Founder and CEO at Footprint Global, listed her expectations from the budget in a series of tweets. "My expectations from Budget 2020 as a first generation woman entrepreneur:
Go easy on taxation.
Enable entrepreneurship and "fearless" uninhibited growth for women entrepreneurial ventures (fearless of organizing finances, fearless of failure).
Make compliance process easier.
Encourage more women of my age (40-50 age group) to come out and explore entrepreneurship. Entrepreneurship has no age.
Make it easier for women to be in boardrooms.
Encourage women to go out of their homes and unleash their potential. Make workspaces safer.
Enable women at the grassroots to become micro-entrepreneurs, fund them, skill them, give them opportunities.
Make public transport safer for women.
Bring more progressive policies like MTP Act amendment recently to make safe and quality healthcare accessible to all women.
Encourage every girl child to be educated. Make Beti Bachao Beti Padhao a reality on ground.
Spend money on behaviour change communication, on aspects such as hygiene, sanitation, girl child education, safety for women, equal opportunities for women.
Break the patriarchy."
While the desire for more women-centric schemes, tax rate reduction and changes in the current GST structure are all reasonable, can the Finance Minister grant these wishes? We will have to wait till tomorrow to find out.