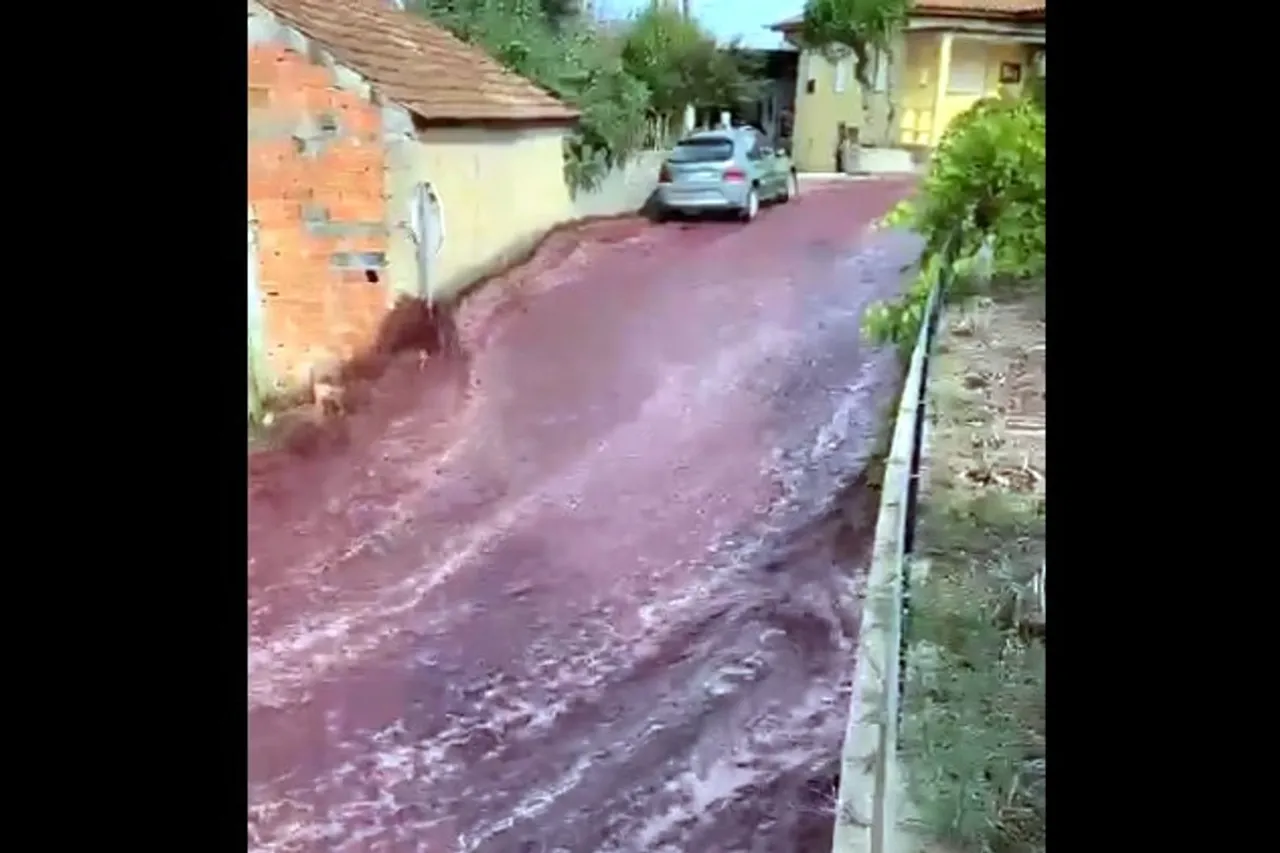 In a surreal turn of events that seemed straight out of a dream, the idyllic town of Levira in Portugal witnessed a remarkable accident that turned its streets into flowing rivers of crimson. Two colossal wine containers, each holding thousands of litres of red wine, shattered, unleashing a torrential cascade of the beloved beverage through the heart of the town.
This extraordinary incident unfolded at São Lourenco do Bairro, a local distillery, and quickly turned Levira into a haven for wine enthusiasts, capturing global attention as it made headlines worldwide. 
Videos capturing the astonishing spectacle of streets awash with wine  have taken the internet by storm, leaving audiences both awestruck and amused.
The peculiar mishap, attributed to a structural failure, resulted in the rupture of the massive wine containers, liberating the rich, crimson liquid onto Levira's cobblestone streets. 
As the wine meandered through the town's thoroughfares, it transformed the mundane roads into an artistic masterpiece that could only be described as a vinous wonder.
Embracing the Unexpected
While the incident undoubtedly posed a significant setback for the local distillery, the resilient town of Levira responded to the unexpected turn of events with remarkable humour and grace.
Both residents and tourists alike found themselves captivated by the surreal sight, seizing the opportunity to document the once-in-a-lifetime experience through videos and photographs, eager to share this unique spectacle with the rest of the world.
The picturesque town of Levira will now forever be etched in memory as the place where a routine day turned into a wine lover's dream, where streets flowed with the nectar of Bacchus, and where the unexpected brought joy and laughter to all who witnessed this vinous marvel.
---
Suggested Reading: Boundaries And Consent: Lessons From The Luis Rubiales Case
---