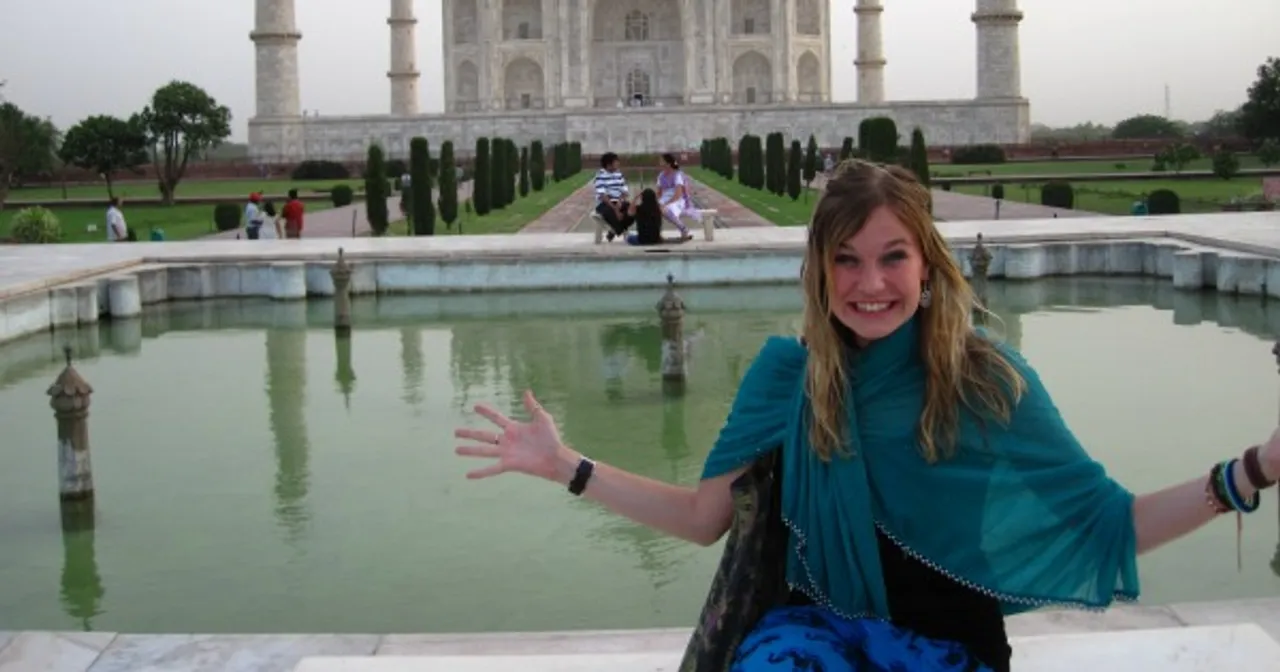 Binjal Shah
India wasn't an unusual destination for travelers and backpackers, but it's on its way to becoming one. We have only heard about the series of  sexual assaults on solo women travelers earlier this year, as  they were not only brought to the mainstream media's attention but also hit global headlines. But that is just the tip of the iceberg. Are we in for more trouble? Travel bloggers and journalists who come to India to experience and write about its grandeur and heritage,  unfortunately also experience its grand old patriarchy and lack of honour towards women in obvious and subtle forms. 
Their documented experiences are also exposing the underbelly of this country. Recently, a girl named Lucy, a traveler and  blogger who has spent 4 years in India – her "favorite country to travel" – had a nasty experience. A man on a crowded bus stop in India's supposed safe haven Mumbai started masturbating right in front of her.
Lucy is an avid blogger, and on experiencing this shameful behavior, decided to find out if this was the norm in the country she had come to be "besotted by." She read about the experiences of many other bloggers, and to her dismay but not her shock, she found that almost every woman who attempted to navigate this intimidating and alien culture (compared to the west) was 'welcomed' with hostility.
Local Indians, who aren't exposed to western values and people, are awed by foreign tourists and travellers and treat them with a dumbfounded sort of fascination. But this same awe and novelty contributes to setting off their twisted acts – add to that the notion that perpetrating crimes against travelers would be easy to get away with, because odds are, the traveler wouldn't know how to seek legal action. Or the woman may be too embarrassed to share the incident. Foreign travelers who have presumably read all about India beforehand, would consider this an inevitable part of their trips, and helplessly accept it.
"I had been given sufficient warning, and was told not to be impulsive in reacting," Mallory, a German exchange student who came to India to work with an NGO in Calcutta, told ShethePeople.Tv. "India's law system doesn't have the best reputation, so in my strategy to combat harassment, going to the cops would be my last resort. I usually just simmer down, pucker up and walk on."
Lucy also shares her experiences through her blog post, which is now being widely shared, and surprisingly by Indians. "I've spent countless hours with other travelers picking apart men do it; why they seem to think it's okay, why dignity seems to disappear when there's foreign female flesh on show."
Lucy spoke of her experience. She has had myriad brushes with harassment in India in the past.  But far from getting scared by it, she had always chosen to retaliate: often by laughing loudly at the offending man, pointing and shouting, "LOOK AT THIS DISGUSTING MAN! WITH HIS TINY PENIS OUT! HOW EMBARRASSING!" She also told herself each time that she wouldn't be affected by it, and the strategy worked fine for her.
But when the bus-stop incident happened, she wasn't as fearless as she would have expected herself to be about it.  "I felt sick. I'm not entirely sure why I felt so different, and why this time affected me so much. I'm the same free-spirited and optimistic person, why was this experience so difficult for me?"
Her indignation stemmed from reaching the boiling point. It had a deep psychological impact on the otherwise optimistic and plucky girl, who now chose to be overly-cautious everywhere, taking away massively from her travel agendas.
"This man took away my freedom. I LOVE that I'm a yes girl. But I felt like this disgusting pervert of a man had snatched it away from me. For days afterwards, I was nervous walking anywhere on my own and started carrying a pocket knife. I only ate in busy restaurants, sitting near families with children and I stopped smiling at any men, even the familiar faces of men who ran the guesthouse I was staying in," reads a heartbreaking part of her article.
She even went to the extent of doubting if she was doing something wrong. "I was playing by India's rules – why wasn't India playing back? I usually dress in Indian clothes; a salwar kameez even when it is swelteringly hot. In fact, when I was at The Golden Temple, I felt so cross that this American girl was disobeying India's customs by wearing hotpants. I make a huge effort to fit in with Indian traditions. Is it too much to ask for this man to wait twenty minutes until he's home to beat one out?" A sense of despair was overcoming her; was there any formula to avoid this fate?
Worst of all, it made her question everything she felt and believed about India, made her worry that she may have been naïve falling for a mere façade.
"Was I stupid to have taken what I would now call a risk? People in my local town who knew nothing about India made scathing comments on how wrong Indian culture is. I devoted ludicrous amounts of time explaining to idiots why they were wrong and why the Delhi Gang Rape case was only one miniscule aspect of life in India. But now I was beginning to question these original feelings and wondering if the 'miniscule' aspect was in fact far more serious and prevalent than I had recently observed through my rose-tinted glasses."
The good news is, that indigenous blogs like these reach at least a few thousand world-wide readers if not more, and especially the niche traveler sect of the world, that looks to such forums exclusively for everything- right from identifying prospective destinations to make their travel plans, to dos and don'ts and other trivia about the locations. The awareness being propagated is a good thing.
But the bad news is, that our government sees this awareness as "negative publicity," and fixates on eliminating that, rather than focusing on eliminating the cause of this negative publicity. A frightening incident was when Barkha Dutt, one of India's most fair critics, started defending the Indian Reputation by proving that other countries are no different. That doesn't change the fact that almost 20 foreign nationals were assaulted brutally in our country in 2014 and 15, and we must take responsibility for the tourists we invite, and give them the Incredible India we promised.
Featured Image: A snapshot of Lucy from her blog, 'Lucysmilesaway'.