Chess player Sandhya Goli is on a roll. She recently gave a sterling performance at the Asian World Amateur Chess tournament in Chiang Mai, Thailand, and returned as runners-up. She also won the National Amateur Championship held in Delhi recently. SheThePeople.Tv caught up with the chess champ for a chat.
"Earlier, I used to doubt myself but now I have full faith. My recent victories have given me self-confidence," said the Vijaywada-based Goli.
Her Career
Goli has been consistently rising up the ranks winning medals in tournaments after tournaments since 2013 when she became the women's champion in Sri Lanka Open. After that, she won the mixed doubles title with Yogesh Gautam (Haryana) at the World Open Chess tournament, Virginia, and Millionaire Open, Las Vegas, in 2014. Then in 2015, she won a silver medal in the World Women Amateur Championship, Greece. The next year, Goli won bronze in the Asian Women Amateur Championship in Iran.
Making a debut at the national level in 2005 in Hyderabad, Goli has come a long way. She played her first game when she was only 13. "Initially, I participated in school competitions and found that I really enjoyed it. Normally, in chess, we find minimum 3 to 4 variations of our opponent. In life also, we try to solve any situation or problem with various solutions. This is how chess helped me to become psychologically strong. Playing chess gives me happiness and for me, it's not a matter of winning or losing. Because of all these reasons, chess became my passion," Goli told SheThePeople.TV.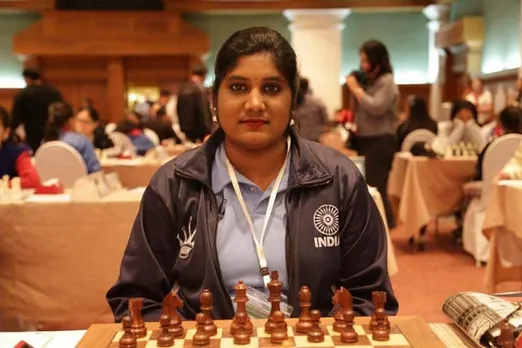 Sandhya Goli
While it is her talent that wins her medals, she credits her mother for pushing her into chess.
ALSO READ: When I Joined Indian Team, I Didn't Know About Olympics: Rani Rampal
"My mother always wanted me to do some other curricular activities with studies because she felt that I will get recognition for my other talents. When I win chess tournaments, many people come up to my mother and congratulate her on my achievements. She feels very happy when she sees my name or picture in newspapers. So, I took my mother's dreams as my inspiration and started playing chess," expressed Goli.
Talking about her challenges, she said, "My parents supported me completely even though many people told me to stop playing chess. But since I am from a normal middle class family, my parents and I faced many financial hurdles in the beginning of my chess career."
When asked what was her secret behind the consistent success over the past few years, Goli said, "Yes, I have been performing well over the last few years. In particular, because of INK and Mytrah Energies who heard my story and supported me."
"There are already many Indian women grandmasters from India. It will take some time for me to get on the same level. For now, I am giving my best whenever I compete," - Sandhya Goli
Training routine
"Before tournaments, I typically take online coaching and practice for 7 to 8 hours a day," she revealed her training routine.
Being a sportsperson in India is not easy, and being a female sportsperson is even tougher. To participate in international tournaments, people need sponsorship and funding. So is chess a lucrative game to sustain a person?
To this, Goli said, "I cannot say that chess is a lucrative game for professional chess players but almost all Women's Grand Masters (WGMs) from India have good jobs because of chess."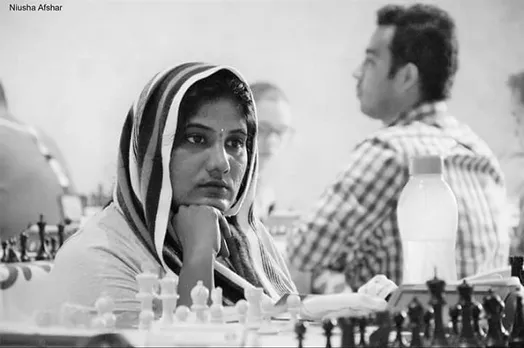 Sandhya Goli engrossed in a game
"I am currently not earning money or doing any job. I am on my way to become a Women's International Master (WIM) and then WGM. INK and Mytrah are supporting my tournaments, trips and coaching fee. Other than that, currently I am not expecting anything more," said Goli matter-of-factly.
Her Elo rating is growing rapidly. Having earned 1929 points, Goli needs to get to 2300 to become a WGM.
She believes chess would have better recognition if it were an Olympic sport. "Perhaps if it were, it would help in increasing visibility for players."
"There are already many Indian women grandmasters from India. It will take some time for me to get on the same level. For now, I am giving my best whenever I compete."
Currently, Goli is preparing for two big championships in 2018—World Women Amateur and Asian Amateur. She wants to play as many tournaments as possible to increase her rating. But she requires funds to participate in more events.
We hope Goli plays more for the country and bring laurels.
Join Us on https://www.facebook.com/SheThePeoplePage
Follow Us on https://twitter.com/SheThePeopleTV