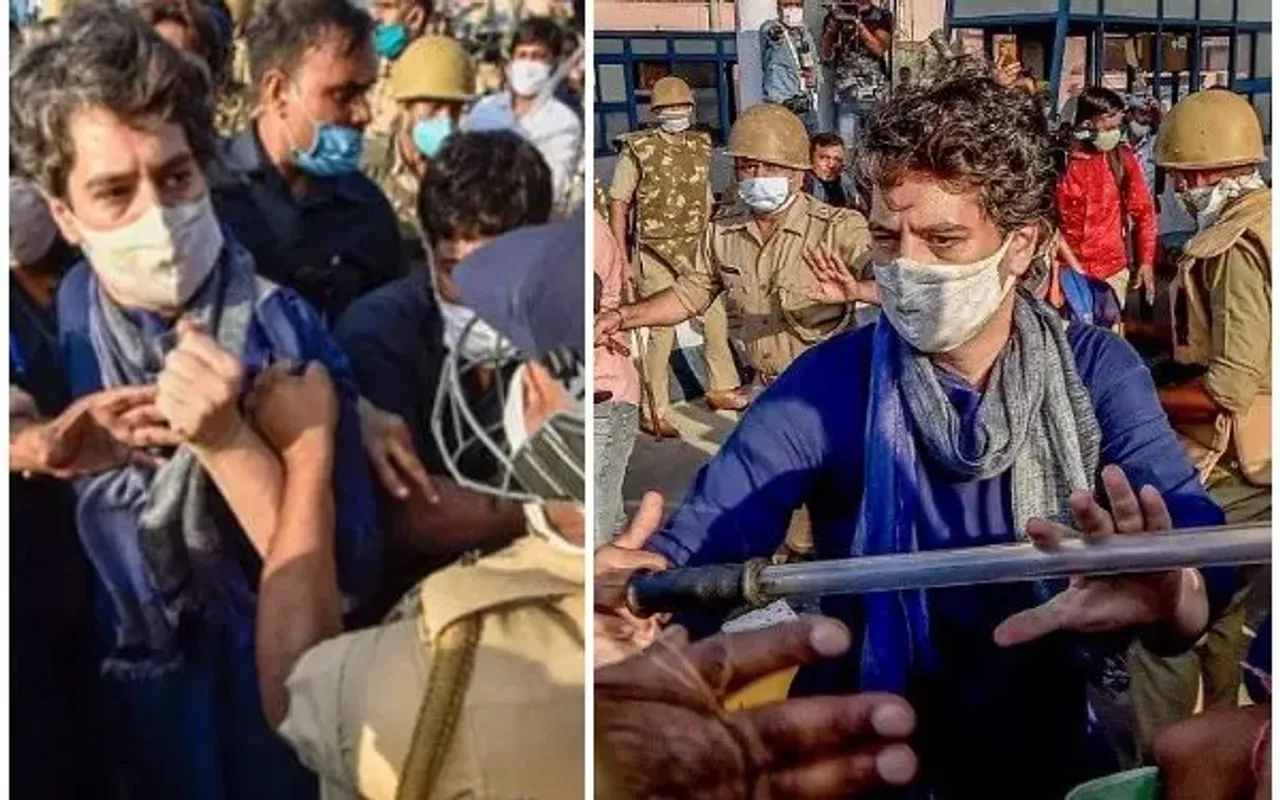 Gautam Buddh Nagar police apologised to Priyanka Gandhi Vadra for manhandling her last week. It has also ordered a probe against a policeman who was seen holding the Congress leader by her kurta during the lathicharge.
Vadra was caught in camera shielding party workers from lathicharge on Saturday afternoon during a brief clash between the protesters and Uttar Pradesh cops at the toll plaza on the Delhi-Noida Direct (DND) Flyover. Several videos and photos from the incident were shared on social media, in which cops were seen manhandling her. Vadra was on her way to meet the family of Hathras gangrape survivor who passed away earlier last week, along with her brother.
Watch: Priyanka Gandhi shields party workers during lathicharge pic.twitter.com/d6abtMi6oe

— The Indian Express (@IndianExpress) October 3, 2020
Priyanka Gandhi Vadra faces lathicharge
Vadra and Rahul Gandhi were given permission to go to Hathras to meet the family members of the Dalit woman who was allegedly gang-raped on September 14, and died from her injuries in Delhi on September 29. Her family had later alleged that the UP police had "forcibly" cremated the 19-year-old Dalit woman, leading to nationwide unrest.
Also Read: Priyanka Gandhi Says UP Govt Completely Failed In Providing Security To Women
Subsequently, the Delhi-UP border was barricaded and no outsiders except journalists, not even politicians, were allowed to enter Hathras. Priyanka Gandhi Vadra and Rahul Gandhi marched ahead nonetheless and along with other party leaders and workers faced a lathicharge from the UP police.
The way @priyankagandhi held the lathi of the police in an effort to shield her party workers, pushed the cops and broke the barricades shows that she has decided to cross all hurdles that come her way. These are powerful visuals with a powerful message !#Hathras pic.twitter.com/TWx6XzezzF

— Zafar Abbas (@zafarabbaszaidi) October 3, 2020
In one of the videos, a helmet-wearing policeman can be seen holding the 48-year-old Congress General Secretary, Vadra's kurta amidst the protest. This incident has been drawing criticism for the state government and the UP police. "Noida Police profoundly regrets the incident with Priyanka Gandhi while handling an unruly crowd at the DND. We also apologise to Priyanka Gandhi," the district police said in a statement, according to a report by NDTV.
"The Deputy Commissioner of Police (Headquarters) has taken suo motu cognisance of the incident and ordered an inquiry to be conducted by a senior lady officer. We, at Noida Police, are committed to ensuring the safety and dignity of women," the Police Commissionerate Noida tweeted saying.
On meeting the family of the deceased woman from Hathras, Gandhi and Vadra said that they "understood their pain."
Also Read: Priyanka Gandhi Attends Prayer Meet Over Hathras Gang Rape Case, To Meet Dalit Woman's Family On Saturday
"I assured them that we stand with them at this difficult time and will help them in getting justice. The UP government will not be able to do anything arbitrary as it wants, because now the whole nation is standing united demanding justice for the daughter of the country," Rahul Gandhi tweeted in Hindi, after meeting the woman's kin.