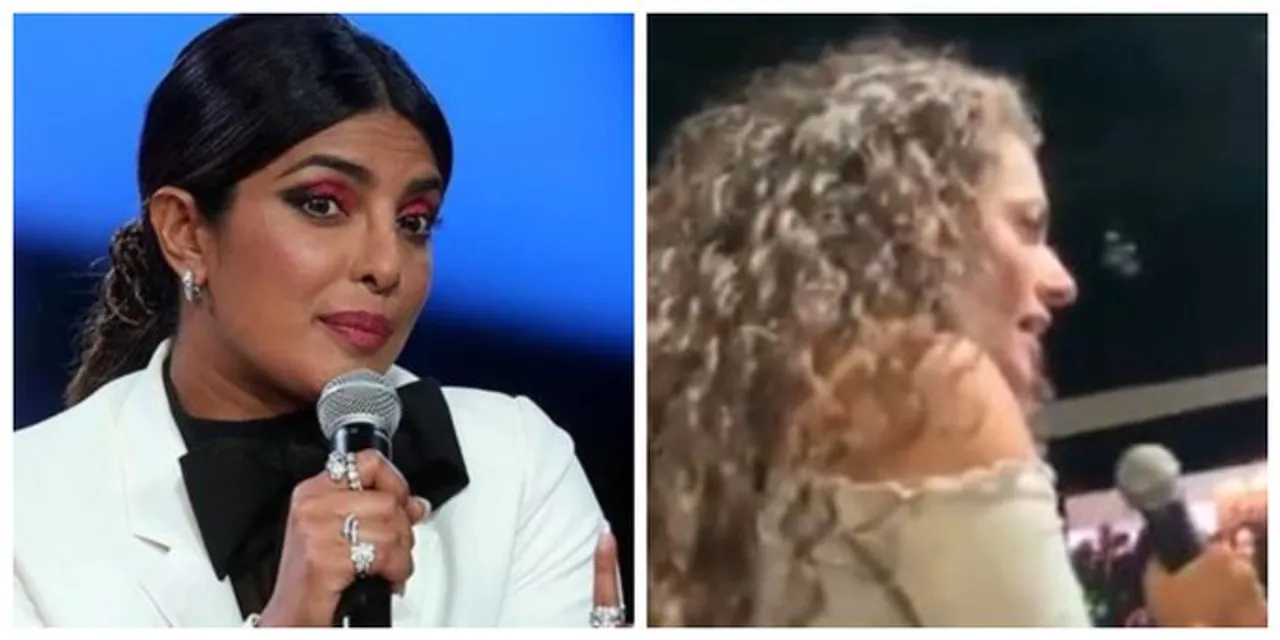 The month has brought criticism for UNICEF Goodwill Ambassador Priyanka Chopra as she was recently dragged into a controversy for a tweet cheering the Indian armed forces earlier this year. Since then many urged UNICEF to remove Priyanka as the Goodwill Ambassador. However, taking a strong stand for the actress a UN spokesperson gave a statement saying that she retains the right to speak in her personal capacity on issues concerning her. Priyanka has been under intense criticism and praise simultaneously during a festival in Los Angeles when a Pakistani woman called her out from the audience and expressed her anger at her for her pro-India tweets during the Balakot airstrikes between India and Pakistan in March earlier this year. A composed Priyanka shut down the woman who accused her of 'encouraging nuclear war' against her country despite being a UNICEF Goodwill Ambassador, TOI reported.
Key Takeaways:
UN spokesperson supported Priyanka Chopra and said that the comment was made in a personal capacity
He said personal views or actions do not necessarily reflect those of UNICEF
Chopra has been facing loads of criticism and was trolled ever since she tweeted "Jai Hind #IndianArmedForces"  on February 26
"When UNICEF Goodwill Ambassadors speak in their personal capacity, they retain the right to speak about issues that interest or concern them," Stephane Dujarric, the spokesperson for Secretary-General Antonio Guterres, said at his daily briefing on Thursday in answer to a question about Chopra.
"Their personal views or actions do not necessarily reflect those of UNICEF," he added.
But, he said, "When they speak on behalf of the UNICEF, we expect them to adhere to UNICEF's evidence-based impartial positions."
About their role, he said, "The UNICEF Goodwill Ambassadors are prominent individuals who have agreed to generously volunteer their time and their public profile to promote children's rights."
Priyanka, the daughter of an army officer (her father was a doctor with the armed forces),  had tweeted 'Jai Hind' in praise of the Indian defence forces who led the airstrike in Balakot region during an exchange of fire between India and Pakistan.
Jai Hind #IndianArmedForces 🇮🇳 🙏🏽

— PRIYANKA (@priyankachopra) February 26, 2019
Gradually the issue escalated like fire and online petitions of her removal were launched soon after have gathered thousands of signatures.
Pakistan has also taken part in the criticism after India rescinded the special status of Kashmir. Pakistan's Human Rights Minister Shireen Mazari wrote this week to UNICEF Executive Director Henrietta Fore demanding Chopra's removal as a Goodwill Ambassador accusing her of "jingoism and support" for the Indian armed forces.
Mazari alleged that Chopra showed "support for war, including a nuclear war" in the aftermath of the car bomb attack by Pakistan-based Jaish-e-Mohammed that killed more than 40 Central Reserve Police personnel and the Indian Air Force counter strike on the organisation's base in Pakistan.
Sent letter to UNICEF chief regarding UN Goodwill Ambassador for Peace Ms Chopra pic.twitter.com/PQ3vwYjTVz

— Shireen Mazari (@ShireenMazari1) August 21, 2019
Mazari added, "Unless she is removed immediately, the very idea of a Goodwill Ambassador for Peace becomes a mockery globally."
A Pakistani actress Armeena Khan and her fiancé have penned an open letter to UNICEF for Priyanka's removal as the Goodwill Ambassador. The Pak actress, too, accused Priyanka of supporting the war through her tweets.
An open letter to #UNICEF #Kashmir #Priyanka #Pakistan pic.twitter.com/8yIC6HQUCJ

— Armeena 🦋 (@ArmeenaRK) August 12, 2019
Also Read: From Beauty Queen to Royalty: Why Priyanka Chopra is in a league of her own
Earlier this month, a Pakistani woman reportedly called Priyanka a 'hypocrite' for tweeting in favour of the Indian Army earlier this year, and that she is spreading hatred against Pakistan. The Quantico actress was answering the audience's questions at the Beautycon Festival Los Angeles 2019 where the woman accused her saying she is a United Nation's Goodwill ambassador and "encouraging nuclear war in Pakistan."
The Pakistani woman reportedly called Priyanka a 'hypocrite' for tweeting in favour of the Indian Army earlier this year, and that she is spreading hatred against Pakistan.
The 37-year-old actress responded to the woman and said, "I hear you… I have many many friends from Pakistan, and I am from India. War is not something I'm really fond of, but I am patriotic. So I'm sorry if I hurt the sentiments of people who do love me and have loved me." Later she identified herself as Ayesha Malik, and had tweeted further on the incident.
Priyanka calmly continued, "But I think that all of us have a sort of middle ground that we all have to walk. Just like you probably do as well. The way that you came at me right now… girl, don't yell. We're all here for love."
After the airstrike in Balakot in February this year, Priyanka had lauded the Indian armed forces on Twitter, writing, "Jai Hind. Indian Armed Forces."
Chopra has been criticised but she also got support from citizens and celebrities on social media and in statements from actors like Ayushmann Khurrana, Kangana Ranaut and Anupria Goenka.
Feature Image Credit: India Today Showbiz/Twitter