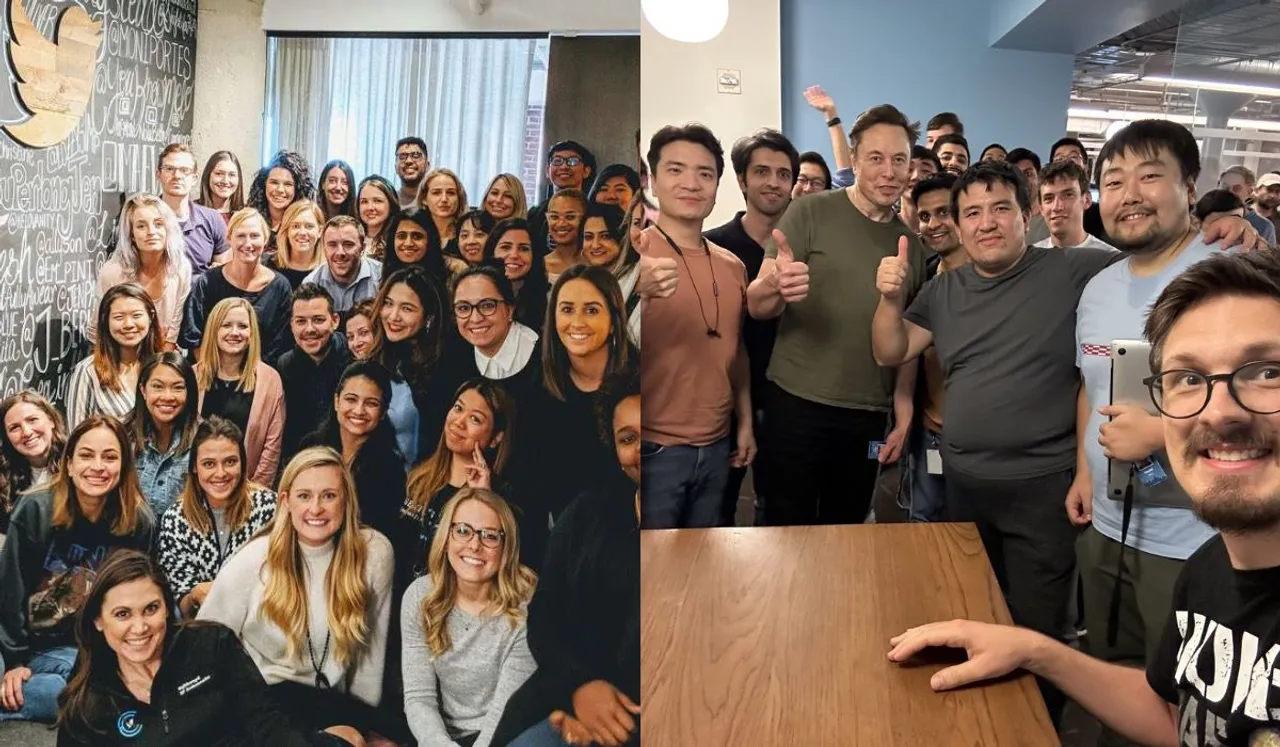 Internet is shocked at the pictures before and after Elon Musk taking over Twitter went viral. Musk is already receiving flak for firing a mass of employees at once without any notice and then a huge number of employees dropped their resignation after he spoke about his hardcore work environment as an ultimatum.
A lot has been going on in the technological field of work around the world as companies like Twitter and Meta fired mass of employees without any heads up. And in Twitter the massive change started when one day Elon Musk took over the company by dissolving the existing team on top. Musk has been accused of behaving erratically when he asked many of his employees to return back home one day suddenly only to call some of them back few days later saying that it was by mistake. Musk tweeted saying that the fired employees will be paid 3 months severance.
Viral Photos: Twitter Before And After Elon Musk
But more recently on November 19, Elon Musk tweeted few photos with the caption, "Just leaving Twitter HQ code review". The photos contain employees with Elon Musk, a photo of the board and some other photo of inside the office. But among these regular photos what came across glaring is the ratio of male and female employees. There were hardly few women in the crowd.
Next day, an USA based YouTuber Lauren Chen tweeted two photos of of the Twitter employees, before and after Musk's takeover. The tweet immediately went viral because the photos were very prominent about the lack of gender equality. The previous photo of the team shows plenty of women while the current one hardly has two or three.
People have started having debates on why such a scenario has happened and no one seems to be pleased with Musk's takeover. Someone tweeted saying, "Again proof as to why Men earn most than women. At the slightest inconvenience the woman massively quit their jobs while the men stayed behind. Someone out here complaining because they stopped working a 4 hr week job lmao." Elon Musk had reportedly told his employees that they should expect an 80 hour work week. Replying to this argument someone tweeted saying, "Women had enough sense to leave the company with severance." While some questions if the photo taken for showcasing the previous scenario is taken out of context from, one of them said, "for clarity what event was the first pic taken for? this is a specific subset of employees I assume? maybe an interest group ? context is everything and we don't know what we are comparing here. "
---
Suggested Reading: Why Elon Musk's First Week As Twitter Owner Has Users Flocking Elsewhere?