"There wasn't much to do in Delhi apart from dining or hanging out with friends. That's when my partner and I thought of coming up with the idea of starting Break Room," says Sanwari Gupta, Founder and CEO of Break Room.
Break Room in Gurgaon helps you destroy items at your own will. Sounds bizarre? It is the kind of stuff you always wanted to do but couldn't, fearing the wrath of your parents. At Break Room, you can break as much stuff as you want to without being reprimanded for the same.
SheThePeople.Tv spoke to Sanwari Gupta to know more about Break Room and her journey. Excerpts from the interview.
How does Break Room help its visitors?
I have been in the business of providing alternative forms of entertainment. Ctrl.Shift.Esc is the parent company and that has been there for 3 years. At Break Room, we give our customers the freedom to break stuff of their choice. I have a team of four people, which takes care of the entire set-up. It is actually a recreational activity. Many people assume it to be an anger-management kind of a session but it doesn't really turn out to be like that. For some, it is a kind of workout because it is not a computer game. You are physically involved in it. In fact, I really want people to come for the purpose of having fun and experimenting with something new.
What were the various challenges you faced before its inception?
I was studying Communications in New York when I visited a few places where they did this. I was really fascinated by the idea and thought of starting something in Delhi. It was difficult. I spoke to my parents but they were a bit apprehensive of this idea. I, however, was determined to start this. I did a little more research and it took me almost 8 months to materialize it. I wasn't sure how it will be perceived and I decided to go ahead with it. We have definitely adapted it according to the needs of the people and pricing.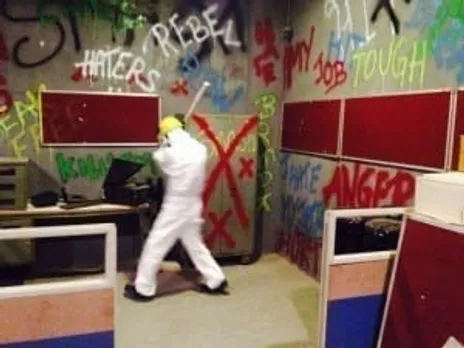 A session at Break Room
How many people visit Break Room every day? How have their responses been?
We launched "Break Room" last month. Since we have been receiving a lot of media coverage, our numbers are steadily increasing. There are near about 10-12 people visiting us on a daily basis. But the weekends are more crowded. And I hope these numbers rise in the coming months.
The response received has been quite overwhelming. Visitors appear very happy and excited after their sessions are over.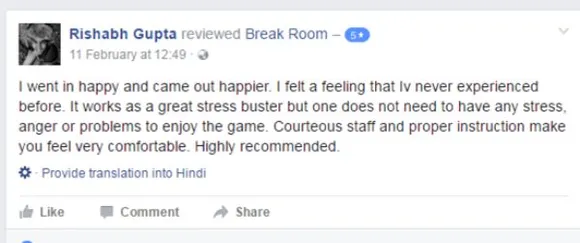 Facebook post reviewing Break Room
What all stuff do you keep for people to break?
We offer our customers a list of items that they can break. They can choose from printers, pencils, office table, cupboards, television. They can break those in the rooms, go crazy and have fun.
Also Read: When running three ventures is a breeze: Chetna Karnani
Charvi Is An Intern With SheThePeople.TV