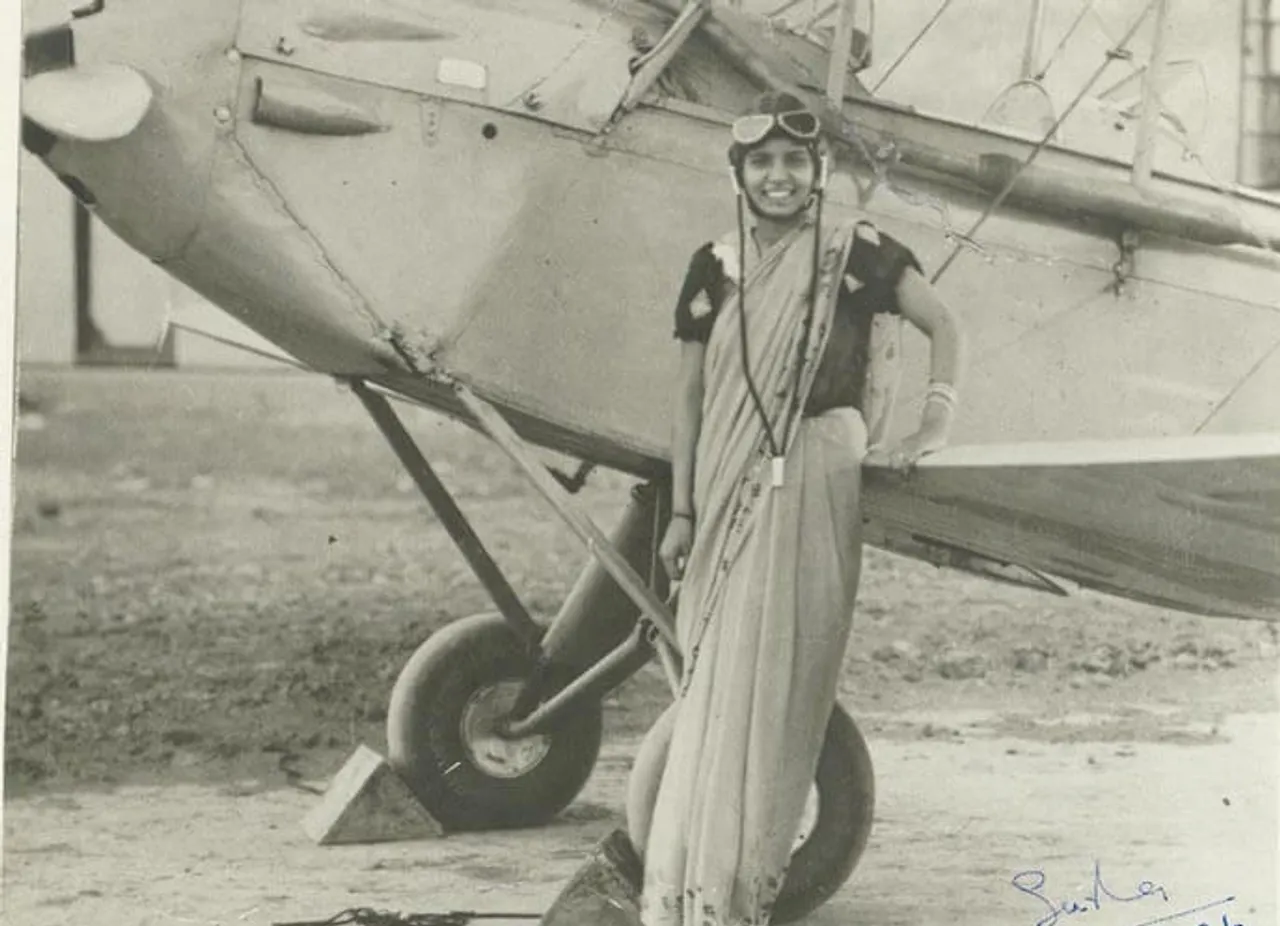 Back in 1936, when aspirations and dreams of women were chained, equality and women's empowerment were merely arbitrary concepts, 21-year-old Sarla Thakral winged her way into the skies. She became the first Indian woman to fly an aircraft.
Here are a few things to know about her:
Made a Mark in History
Sarla was the first Indian woman to get an aviation pilot licence. She flew a Gypsy Moth solo. The feisty woman completed 1,000 hours of flying Gypsy Moth solo, between Karachi and Lahore.
At 21, Sarla was not only married but had a four-year-old daughter too. In fact, she flew the Gypsy Moth solo in a saree.
She also became the first lady pilot to get 'A' licence for completing 1000 hours of flying
Supported by Family and Husband
Sarla married at the age of 16 into a family, which had nine pilots. It was her husband and her father-in-law who helped her in fulfilling her dreams.
Also: IAF's Bhawana Kanth Becomes 2nd Indian Woman To Fly Aircraft Solo
Her husband was a successful pilot too.
In an interview with The Tribune, she had said, "My husband was the first Indian to get airmail pilot's licence and flew between Karachi and Lahore. When I completed my required flying hours, my instructor wanted me to fly solo, but my husband was away. All I did was ask for permission to wait till he returned... I had the support of my family. The boys who trained with me never asked a question. The only person who wanted to know 'why' was a clerk at the flying club. Otherwise, I have faced no opposition."
She couldn't get a 'B' licence which would have allowed her to fly a commercial plane
Her husband died in 1939, after which she went to Jodhpur to get a commercial pilot's licence. However, World War II broke out and civil training was suspended.
Also: Avani Chaturvedi Flies MiG-21 Solo! First Indian Woman to do So!
Sarla then took painting and got a diploma in fine arts. She joined the Mayo School of Art in Lahore where she obtained training in the Bengal school of painting.
After partition, she shifted to Delhi
She was an ardent Arya Samaj follower. Thus, remarrying was easier for her. PP Thakral was her second husband. In her second phase of life, she designed costume jewellery, did block painting. She also designed for the National School of Drama.
Oldest, Yet Fittest
She was very active even in the late years of her life. At the age of 91, she was honoured as the oldest yet fittest person in her neighbourhood.
The historical records are ambiguous as to when she passed away. It is said to be somewhere between 2008-2009.
Sarla Thakral is truly an inspiration!
Also Read: Shivangi Singh is the First Girl From Varanasi to Become a Fighter Pilot
Picture Credit: Wikipedia
Deepali Is An Intern With SheThePeople.TV