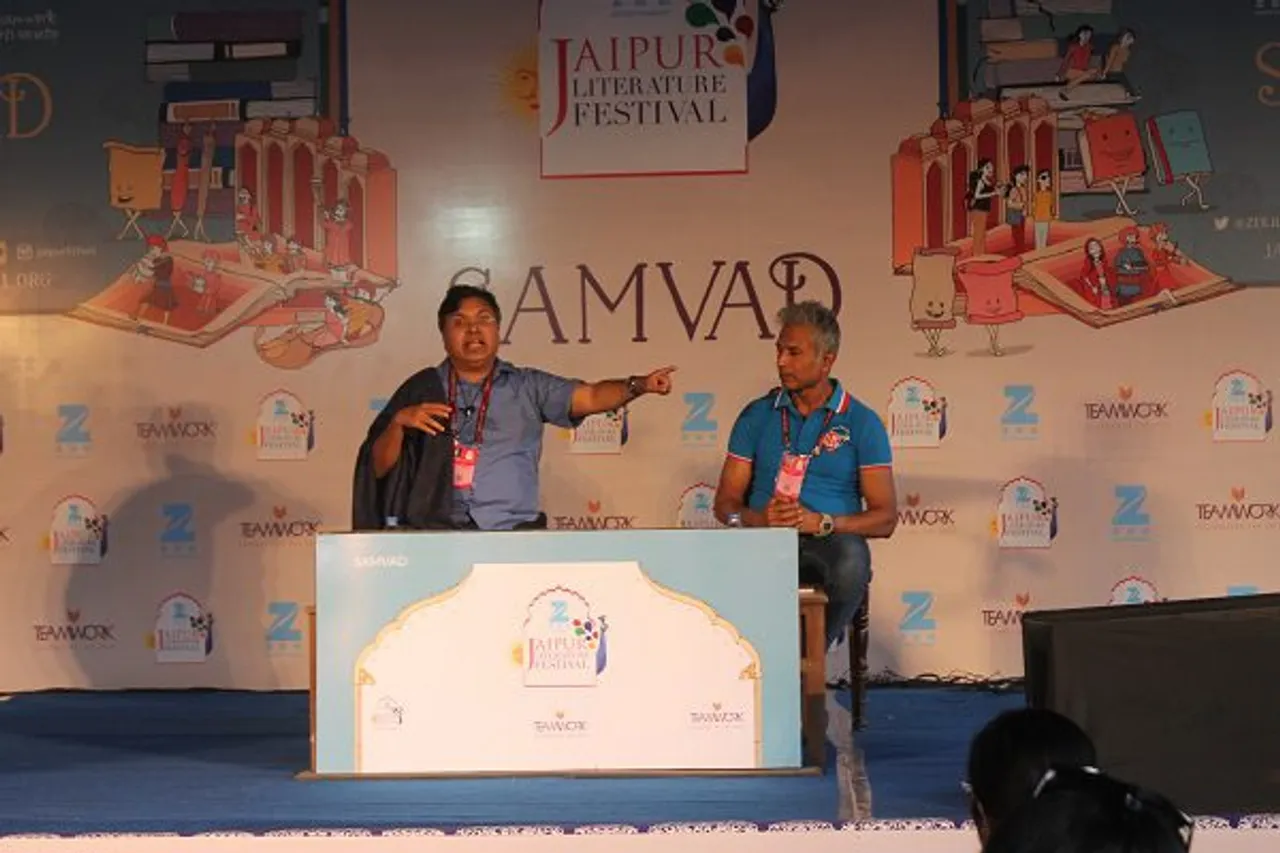 The popular mythology writer Devdutt Pattanaik -- author of works like Myth=Mithya, Jaya: An Illustrated Retelling of the Mahabharata, Olympus -- has written his second book on Sita, in a new form of retelling of her story: Sita: An Illustrated Retelling of the Ramayana. There may have been several retellings of Ramayana in a different light, but Devdutt's new book throws an empowering light on the character that has been looked from a victim's point of view many times.
According to Devdutt, Sita was a person on because of whom the powerful tale of Ramayana happened because she had the power to choose. He says that Sita was a 'vankanya' which means that she was a resident of the jungle. And the jungle has no rules and restrictions. While Rama was from 'nagar' and so he was burdened with responsibilities and decorum.
Also Read: 'Half Life' Is A Tribute To Women In Conflict Areas: Nitu Bhattacharya
He speaks to the crowd and explains, "Rama was a sun-prince so he did not have any choice but to uphold the family values. But Sita came from Videh,  where she had no rules and regulations. When she would ask Rama to come and see the jungle with her, he would say, 'Not now, my dear we will do it in the next birth.'"
He talked about the independence of Sita in the epic. He clarifies, "The idea of independence is in Ramayana. Janak never comes to his daughter's rescue and Sita never goes to Janak asking for help. And when marrying off Sita, he never says, 'May you find happiness wherever you go'- he tells her 'may you carry happiness wherever you go.'"
Also Read: The Whirl of JLF: Personal Highlights
He said that Sita was actually a wife of a golden statue who could not do anything with her or for her, as he was always in chains of restrictions and boundaries of rules.
According to Devdutt's viewpoint, Rama says that Ayodhya did not deserve Sita. 'You go, Sita, into the jungle and be free' says Rama.
The author says that since Sita had choices, she crossed the Laxman Rekha because she had not seen limits before. Basically, he sums up the Ramayana as the outcome of five choices of Sita in his latest work.
Also Read: Revisit the Ramayana with Arshia Sattar
One thing is for sure, given the amount of resurgent interest in the epics and looking at them from different viewpoints -- from Volga, who has written The Liberation of Sita, to Chitra Divakaruni Banerjee working on her next book on Sita -- there's no such thing as the final word on the subject...which spells good news for readers!