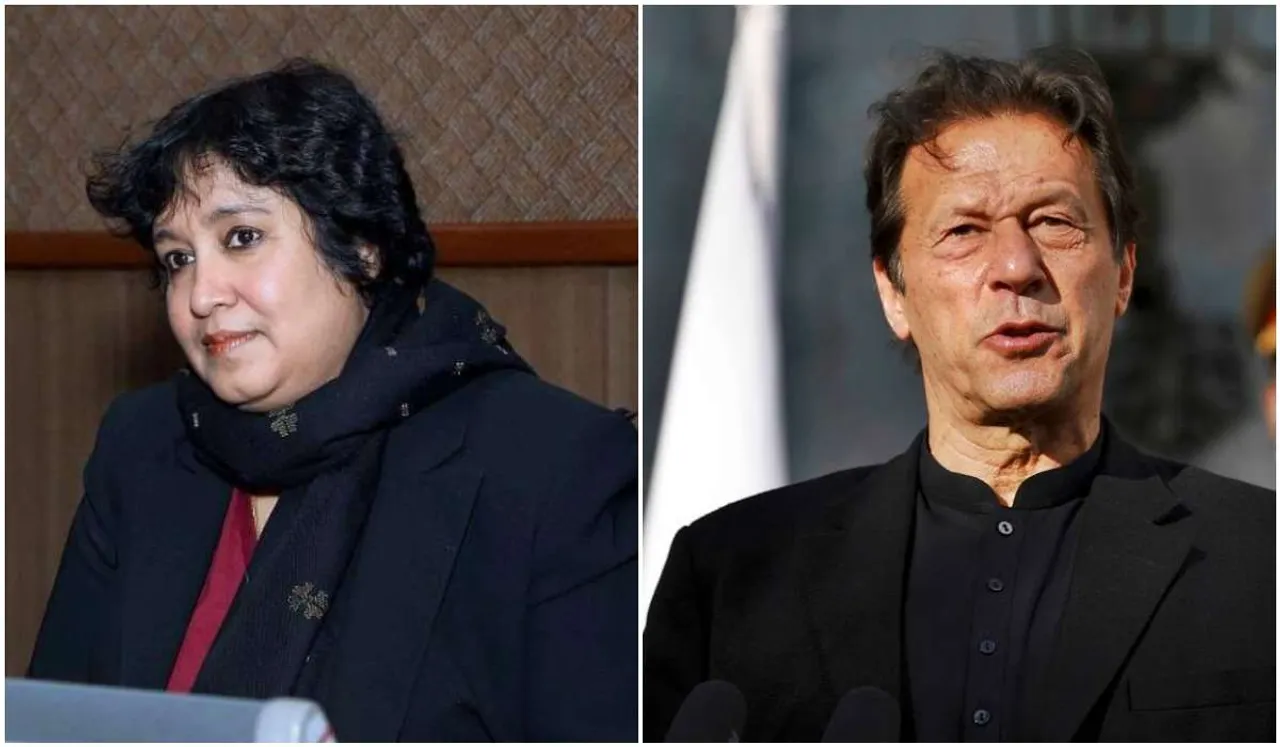 Taslima Nasreen on Imran Khan: Author and women's rights advocate Taslima Nasreen on Tuesday took aim at Pakistan's Prime Minister Imran Khan whose controversial remark on the link between sexual violence and women's clothes has sparked a firestorm on social media.
Sharing a shirtless photo of Khan from his youth, Nasreen turned the shocking comment he made for HBO's Axios around on him, writing, "If a man is wearing very few clothes, it will have an impact on women, unless they are robots."
See here: 
If a man is wearing very few clothes, it will have an impact on women, unless they are robots. pic.twitter.com/2Bdix7xSv7

— taslima nasreen (@taslimanasreen) June 22, 2021
Following up in a separate tweet, the Lajja author wrote, "But a woman wearing TOO MANY clothes had an impact on IK,he married her!Very few clothes create an impact on men,not on robots!Too many clothes create an impact on robots,not on men!"
Khan has married thrice. His first wife was British writer Jemima Goldsmith, who was married to him from 1995 to 2004. Khan had a second, shorter marriage with journalist Reham Khan for ten months in 2015. He is currently with Bushra Bibi, with whom he tied the knot six months before assuming office as PM.
Khan's ex-wives have previously been vocal against his remarks about women's clothing. In April, when he urged women to observe purdah for safety from sexual violence, Goldsmith in a tweet said, "The Imran I knew used to say, "Put a veil on the man's eyes not on the woman."
Reham, meanwhile, a strong critic of the PM, remarked, "The less he speaks the better it will be for all."
Taslima Nasreen On Imran Khan's Sexist Remark: "Is He A Robot?"
Khan, in his sit-down with HBO's Jonathan Swan, defended his earlier remarks about the rise in sexual violence linked to fahaashi (vulgarity) and that women should don the burqa for safety.
"If a woman is wearing very few clothes, it will have an impact on the men, unless they are robots. It's just common sense," Khan said in the interview, a clip of which went massively viral on June 21. Read an opinion here. Social media users did not miss the sexism in the Pakistan premier's words and called him out for it extensively.
Watch the clip here: 
Such a Shame...
According to Imran Khan
Men are not "robots", he says. If they see women in skimpy clothes, they will get "tempted" and some will resort to r@pe pic.twitter.com/ObJIsTYb9j

— Aneesa baloch (@Aneesabaloch6) June 21, 2021
In a Facebook post around the issue, Nasreen further added, "Those who get excited when girls wear short dresses, Imran Khan says, they are men, they are not robots. So girls who get excited when they wear big clothes, they are robots, not men. Is Imran Khan a robot? This question is funny. But the whole thing is not funny."
"Imran Khan, once again blaming women's clothes instead of blaming rapists or harassers men for playboy, rape and sexual harassment."
Nasreen is a Bangladeshi writer whose works revolve largely around the religious oppression of women. She is banished from Bangladesh and West Bengal. She has been the recipient of several international human rights and feminism awards.