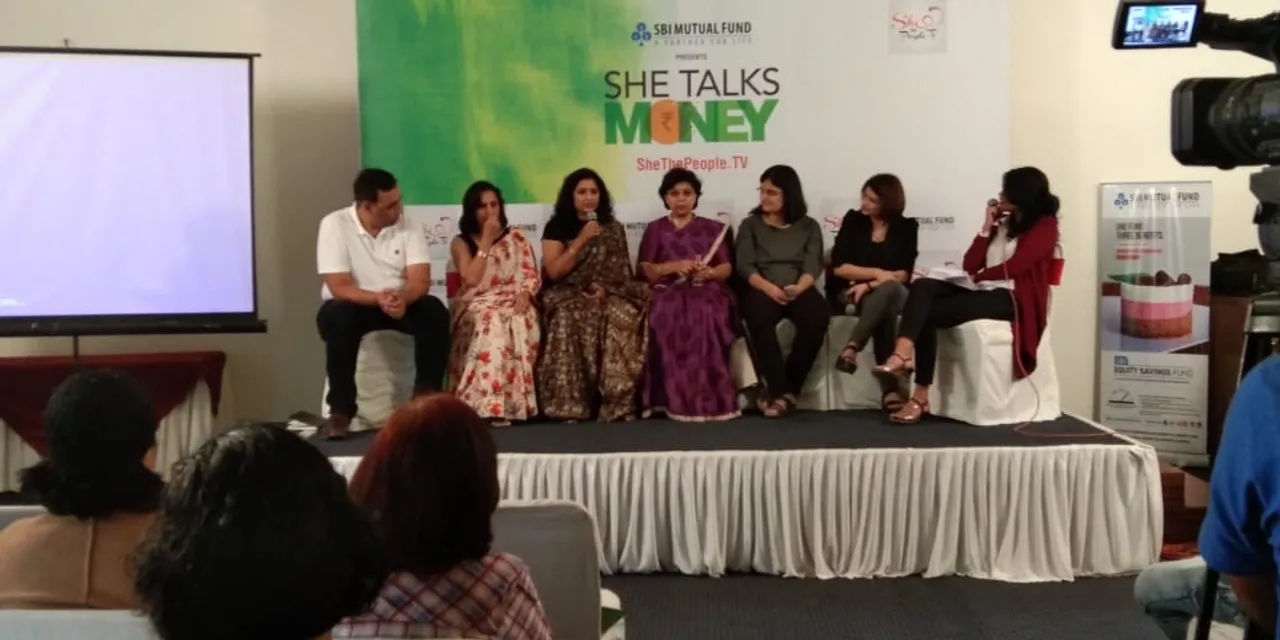 Women today are asserting themselves by being financially independent and empowering themselves economically. It's time they get smart with the money they earn and grow it further. SheTalksMoney is an initiative by SheThePeople.TV to equip women with knowledge, resources and tools which make them more confident with money matters. The program travels to different cities and its seventh edition is being held in Nagpur. Previous editions of SheTalksMoney have been organised in Jaipur, Ahmadabad, Bengaluru, Pune, Chennai and Indore.
In its latest edition, we discussed with women on how to leverage their business, meet other inspiring women, understand our circle of support and grow our network.
Make a joint will. Nominations should be updated. Ask yourself - where am I and think about where you want to go. @SBIMF#shetalksmoney pic.twitter.com/3pdYVjdZyd

— SheThePeople (@SheThePeopleTV) January 22, 2019
The panellists were Ranjit Dani, a Chartered Accountant who chose wealth management as his area of operations, Poonam Khandelwal, managing partner for Venture Catalysts, Rina Sinha, director of a company which deals with industrial adhesives for the automobile industry, Poornima Iyer, director of Om Apex Investment Services Pvt. Ltd., Vinita Kapil Bahri, founding member of Samarth Wealth Management, and Sukhda Chaudhary, founder of Chaos Theory. The panel was moderated by Shonali Advani from SheThePeople.TV. Here are some excerpts from the discussion.
Ranjit Dani said women are usually not involved in financial planning. Thus, only male members of the family take care of it, a trend that should change. In such a scenario, women can be taken for a ride if the men are not there, said Dani. He also added that people should have their monthly budgets in place. One should spend only on stuff which he/she can afford. "Women should have emergency reserves. They must identify their goals, time-frame, and money available," he asserted.
According to Poornima Iyer, "For every investment, there has to be an aim." She advocated the need for a financial advisor as it soothes the client when there is inflation in the market
If you want to grow, put your money back into business. #shetalksmoney #Nagpur pic.twitter.com/9hCVfWqJMl

— SheThePeople (@SheThePeopleTV) January 22, 2019
Vinita Kapil Bahri said women should be more inclusive of the family. She said, "Give a roadmap to yourself. Be a part of the financial planning of your family."
Poonam Khandelwal blames the education system because of which people lack the basics of financial management. She said that one must know how much her husband earns; how to file taxes, and to have an SIP calculator app.
Read as much as you can about finances. Read newspapers and magazines that cover finances and wealth. #shetalksmoney #Nagpur pic.twitter.com/i8wkw6mF06

— SheThePeople (@SheThePeopleTV) January 22, 2019
Sukhda Chaudhary said that as a woman, "You really need to plan a lot to separate your personal and company's finances."
Rina Sinha put forth her thoughts on the importance of planning. She said, "The process of planning starts from the childhood itself. Women are the master planners, influencers, and they equipped enough. It's just that their planning needs to be more structured."