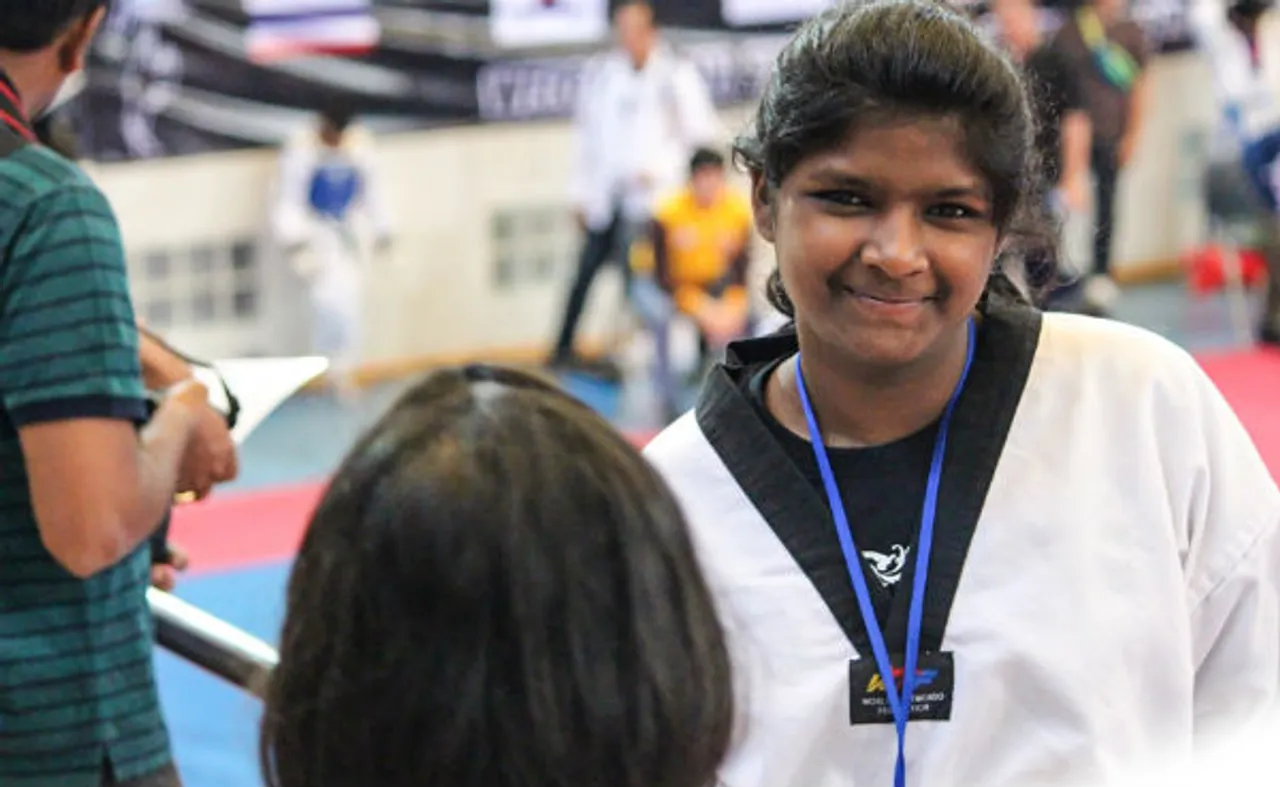 Mumbai-based Shreya Jadhav has made a name for herself in the world of Taekwondo, today. She grabbed the spotlight in 2017 when she claimed gold at Mumbai Consul General Cup National Taekwondo Championship. The same year, she took part in the 7th Tirak Taekwondo International in Thailand and brought home another gold. Last month too, she won gold at the U-14 Nationals in Chennai.
"My goal is to participate as India's representative and win a medal for India in Olympics 2024." -Shreya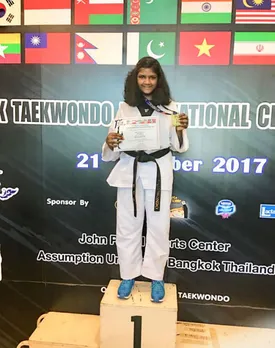 Shreya Jadhav wins First Place Gold at Thailand International, Picture Credit: ImpactGuru
SheThePeople.TV spoke with Shreya Jadhav about her journey.
What inspired you to take up Taekwondo?
My parents wanted me to learn self-defence techniques to protect myself. I started this training at the age of four. While training, my coach Shri Bhaskar Karkera had observed potential in me and encouraged my parents to allow me to go for Taekwondo. My parents agreed and I started practising.
Currently, we are in more than 25 girls training under him.
Shreya Jadhav, Taekwondo champ, Picture Credit: ImpactGuru
When I turned nine, I started participating in local competitions. In the very first competition I participated in, I won the bronze medal and my interests in this sport increased.
My guru and my parents are still my inspirations. Olympic Gold medallist, Jade Jones from Great Britain, is my role model.
Take us through your journey, the ups and the downs.
After winning the gold medals in State level competitions, sir insisted my parents send me to an International Competition, which was taking place in Bangkok, Thailand in October 2017.
I dared and participated in my first International Taekwondo competition. I performed to the best of my ability and won the gold medal in it.
Once during practice, I landed on the wrong side of the floor after some kicking practice and my right knee was in pain. I had got a Lateral Mencius Tear which needed to be operated, immediately. At that time, I was very upset. I was practising very hard for my match which was scheduled in 15 days, and the doctor advised me to rest at least for a month.
Seeing my passion for Taekwondo, the doctor allowed me to play the same where I won a gold medal at district and state levels.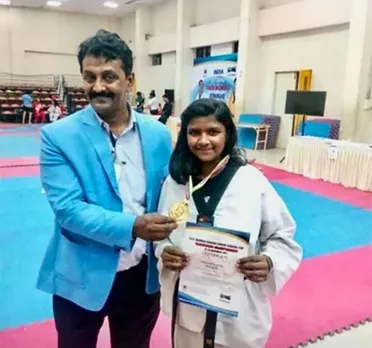 Shreya with her Maha Guru in Taekwondo Bhaskar Karkera Sir. Dadoji Kondev, Picture Credit: ImpactGuru
You and your father are planning for crowdfunding.  Do you face any struggles for sponsors to continue with your passion? Tell us about the experience.
My father can provide funds for my states or nationals, but not for my international competitions as we come from a middle-class family. We have started crowdfunding and have got responses from close friends and relatives. My fundraiser has so far raised Rs 88,000. For selection on the Olympic podium, I need to participate in many international open competitions to gain the required GMS (Global Membership System) ranking points in a span of five years.
What drives you towards the sport?
Actually, I started learning this sport as a self-defence mechanism, but now it has become my passion. Even during exam time, I go and practice for some time. I love learning new things. Taekwondo teaches me new things each and every day.
What are the biggest challenges you face?
The biggest challenge is only to have a fair decision in every competition. Every day, I have to choose not to give up. The other challenge is to choose whether to win or lose or learn.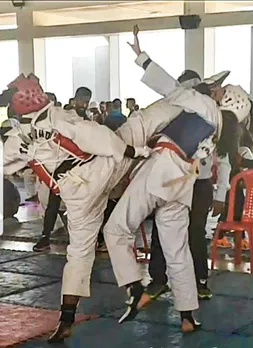 Shreya Jadhav in action in red gear, Picture Credit: ImpactGuru
Tell us about your fitness regime
In the off season, I do practice thrice a week for three hours and in season i.e. near the competition, I do practice every day morning and evening. I also spare time for studies in the night before going to bed.  My family is always there with me so I can balance my studies and sports.
Could you tell us about any upcoming tournaments you're aiming at?

I am aiming at one International Competition to be held in the month of June in Ranchi.
What has been your most touching or amazing moment?
At the National Games Semi Final in Gujarat, my Coach asked me to give up the fight because of some incorrect decisions.  I cried bitterly at the court, and at that very moment my father came running to me and hugged me and whispered, "You are a winner."  Those words touched me and I was happy that my father is with me in any case.
Future plans: I would like to start my own Academy, where girls will be trained free of cost.
What are the chances for girls in the country to take up the sport? Do they get as much exposure and enthusiasm as they deserve?
As girls, we have a very good chance in this sport. Players like Latika Bhandary and Kashish Malik are doing well in the Asian Games. Nowadays, Taekwondo Federation is also taking a keen interest in girls' teams.  So the future of girls in this art form is quite bright.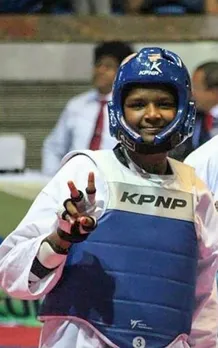 Shreya Jadhav, Taekwondo, Picture Credit: ImpactGuru
Has sports in general liberated women? Do more women now take up Taekwondo professionally?
Many of the girls in my area have started going to Taekwondo training now. This is a significant change.
Your take on women sportspersons and gender discrimination in our country overall. 
Women in our country face discrimination in every sphere. Although India boasts of several sportswomen who have achieved accolades and made India proud, discrimination against women is far more common in the field of sports than in other industry.
Taekwondo is considered a masculine sport. Do you think this norm is changing?

Taekwondo is the art of self-defence performed by using foot and fist. It also teaches self-respect and how to respect others. I don't think it is a masculine sport. It is a sport of flexibility, speed and art of leg moments.
Picture Credit: ImpactGuru