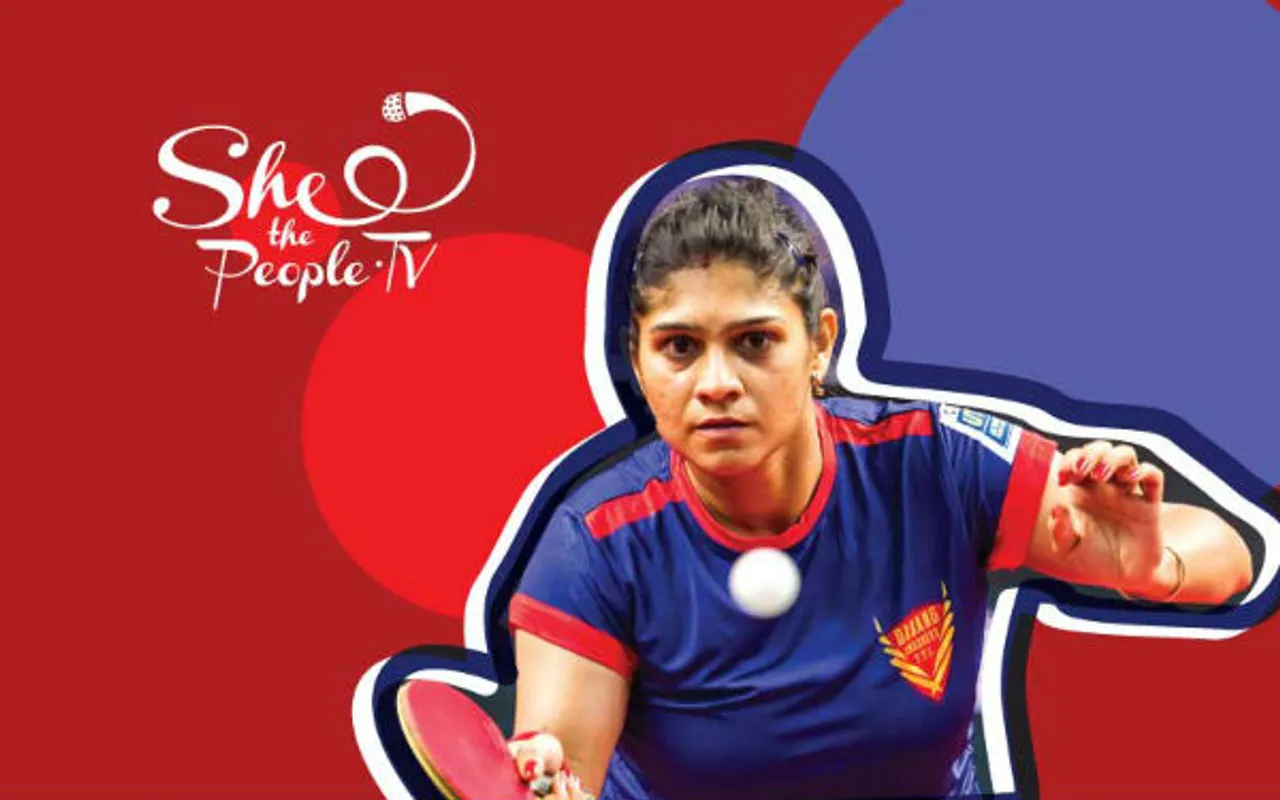 After winning the Indian women's team's historic gold at the Commonwealth Games in Gold Coast last year, ​always high on confidence, paddler Madhurika Patkar is making big progress. Unlike most of the players, she found her true calling in table tennis earlier in life and held a paddle in her hand for the first time at the age of seven. Since then she hasn't looked back. The 2017 National Champion has many accomplishments to her name, most notable ones being the semi-final match against England at the 2010 Commonwealth Games, and Gold medal win in the 2nd Division of the Women's Team event held at Kuala Lumpur in 2016.
But she claimed her place in the spotlight with the 2010 South Asian Games at Dhaka where she earned four Gold medals, and a Silver medal in the 2010 Commonwealth Games at New Delhi.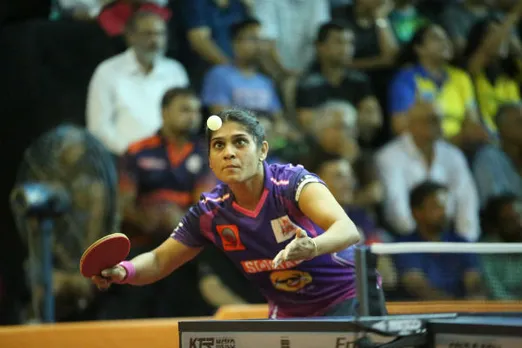 Madhurika Patkar - the star table-tennis player
The 31-year-old, who is a former national singles champion, talks to SheThePeople.TV about her quest for a medal at the upcoming for 2020 Tokyo Olympics and about the scope in Table Tennis for aspiring girls in the country.
How can you describe your childhood and what inspired you to choose table-tennis?
I started playing TT at the age of seven. I was a mischievous kid with a lot of energy. That's when my dad thought of capitalizing that energy and put me into sports. It was his dream for me to represent India at International Level and win medals for the country.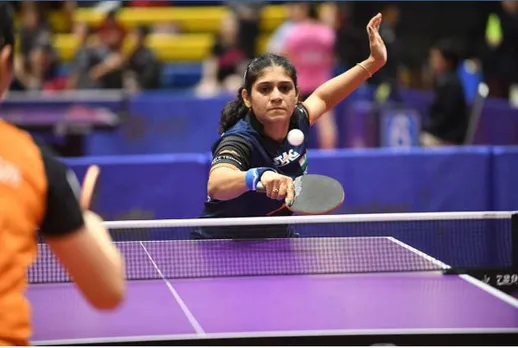 I used to go for swimming, dancing, drawing and Table Tennis classes when I was young. After a year my (current) coach, Shailaja Gohad told my dad that she sees a lot of potential in me but I should focus on one thing to excel in it. The decision was on me as to which sport I want to continue with. For some unexplained reasons at that time I choose Table Tennis over all the other activities. My dad supported my decision as he has always supported me.
When I was in Class 10th, I had joined coaching classes as I wanted to come into Merit list in 10th board exams. (I am a competitive person, My club mates had come in merit the previous years so even I wanted to give them a competition) but at that time I was number one in India in Sub Junior Girls Category (under 12) and I had played my first International Tournament in China. I had won silver medal too. Joining coaching classes means less time for practice, less time for practice means it would affect my performance at National and International levels. It was my dad and my coach who told me that I am unique and not everyone gets a chance to win medals for their country and the decision to continue with TT or coaching classes was again left to me.
Of course I chose Table Tennis again. But this time I knew why I was choosing it. I realized I couldn't live without it, I am born and destined to play TT
You made it big at the international level with the support of your family but not all girls are that lucky. How often do you think girls from the country consider taking up sports as full time profession? Is it risky considering societal pressure?
The percentage is very less for two reasons. Firstly, it is not perceived as a safe option by parents due to the possibility of the success rate – for example currently if you are in Top five in the country then it's a good career, otherwise the struggle to find a job or get a good sponsorship or exposure is inevitable. Secondly, awareness regarding the sport is scarce. We Indians are conditioned to be doctors, engineers, lawyers, or accountants but the thought of becoming a sportsperson seldom comes in the mind. We don't have a sports culture. So a shift in mindset can change the numbers drastically.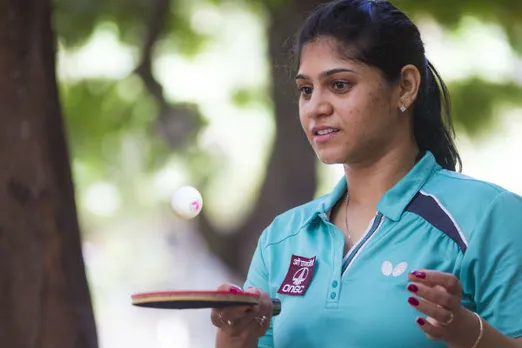 Also Read: Does India take its sportswomen seriously?
What have you learned from Table Tennis?
Every sport teaches you things like the spirit of sportsmanship, how to be competitive, how to face challenges, how to be grounded after success if you want to succeed for a longer period of time but most importantly it has taught me how learning is a continuous process, how not to get bogged down by defeat, how to rise after failure and most importantly to enjoy this process as the journey is all that life is .
I was a mischievous kid with a lot of energy. It was my father's dream for me to represent India at International Level and win medals for the country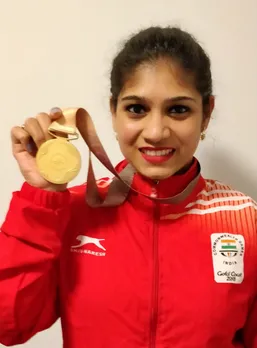 How is the table-tennis scene in India for women?
After getting medals in Common Wealth Games and Asian Games, there is an increase in the number of girls playing the sport. Parents are ready to put their child into academies as they see hope fame in this sport now. But the number is still less. If you compare the draws of boys categories to the girls at the National, State or District level there is a huge difference. The number of girls is less and it keeps shrinking till you come to the Senior Category. Many girls drop out after their 10th or 12th. Earlier players retired after getting married but now that scenario has changed. Professional players are now playing even after giving birth to a child. So like I said the scenario is changing. Overall, sports is growing in India.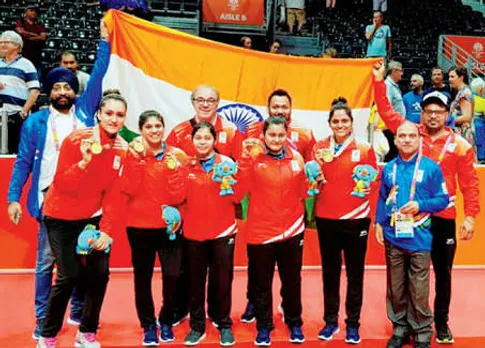 The Golden team
There's no lack of opportunities as they are the same for girls and boys. Various government sectors are employing players. In fact, in India, players get to secure jobs while their sporting career is at its peak. In abroad the players can only earn through leagues or sponsorship. They don't have jobs. They earn money and fame till the time they perform. Indian sportspersons are fortunate to have jobs to continue their passion and balance financial burden. Only in some companies the players have to work even when they are professionals and many players give up because it's difficult to work and manage practice schedule. So that's a loss for our country. We lose budding talents along the way. I am fortunate that my company supports me and other sportspersons in our organisation.
At the National Table Tennis Academy in Ajmer, the ratio is 10:3 for Boys:Girls. I along with my husband Omkar Torgalkar sponsor girls in training at Palava Sports Club in Mumbai. I aim to sponsor more girls all over Mumbai and then expand its reach across India.
READ: Know about the Rising Tennis Star Karman Kaur Thandi
Could you briefly tell us about your goals and upcoming tournaments? 
This is the Olympic year. I am preparing for 2020 Tokyo Olympics. I am participating in many International Tournaments to improve my World Ranking. Now the Nationals season will start, so I have to focus on that as well to qualify for the Olympic trials. We have Team qualification event in January 2020. This tournament is very crucial. We need to finish in top nine to qualify for it.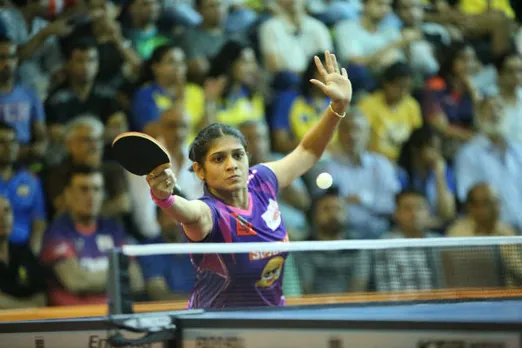 Share your strategies and insights for it. What do you think before a game?
I do a video analysis of my opponent and make strategies accordingly. I visualise the night before as to what I will play in the match (that includes my strong points and advantages). I meditate before the match. It helps me calm my mind, getting away from distractions, clearing all the irrelevant thoughts, it helps me gain confidence and focus more.
When it comes to strategies to achieve my goal, then we have a yearly plan. My coach has hourly plan for me as well. I get very less time to train in Mumbai as we have many tournaments and National training camps.
What are your biggest challenges you face?
The biggest challenge is patience. Sponsorship is a big challenge too.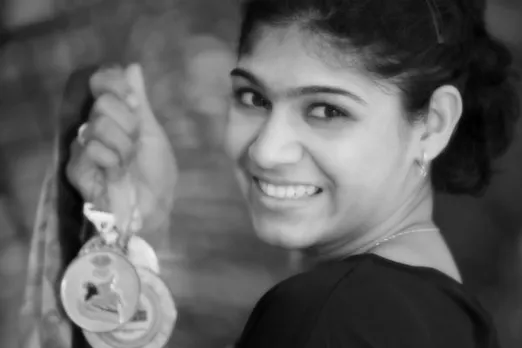 Your message to young aspirant girls is?
I would tell them to believe in themselves, to follow their passion. Barriers are psychological and once you dedicate yourself and your life to something you love everything else falls into place. What's important is to have that persistence and never give up attitude.
Your take on women sportspersons and gender discrimination in our country overall.
There is no gender discrimination in our country in TT. We have been given equal opportunities, and the same facilities (except for the difference in prize money).
Feature Image Credit: Madhurika Patkar