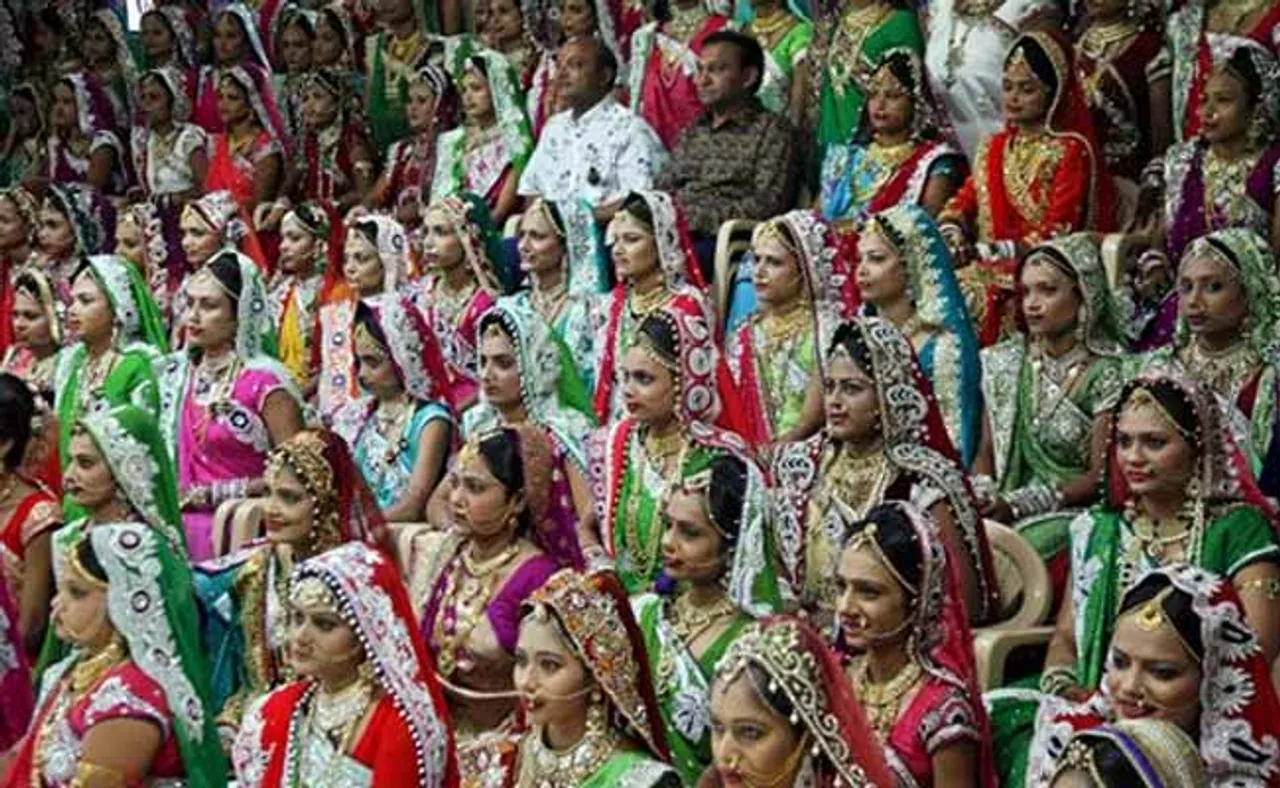 Remember Mahesh Savani – the Diamond Merchant in Surat, who had earlier adopted over 470 daughters in Gujarat and spent Rs 4 Lakh on their wedding? He has done it again! The businessman has recently funded the mass wedding of 250 girls who couldn't afford the expenses.
Indian brides pose for photograph before a mass wedding in Surat, India, Sunday, December 24, 2017. 251 young couples, including five Muslim couple and one Cristian couple, tied the knot at the mass wedding hosted by Indian diamond trader Mahesh Savani. (Ajit Solanki/AP Photo) pic.twitter.com/fYiJl2Vm4S

— SIBOMANA Jean Bosco (@sibomanaxyz999) December 26, 2017
Savani gave his blessings to 250 young couples in Surat on Dec 24, including five Muslim couples and a Christian couple, two HIV positive women -- and hosted a grand wedding
Savani believes in karma. He is a strong believer of good deeds and thinks that the act of giving away brides is a blessing from God. Savani has been funding and organising weddings since 2012.
251 couples tied the knot at a mass wedding ceremony in Surat, Gujarat yesterday (ANI) pic.twitter.com/pT66eTIVGQ

— NDTV (@ndtv) December 25, 2017
An Indian bride poses as others show off their decorated hands at a mass wedding in Surat, Gujarat pic.twitter.com/0dtU87qYtd

— AFP News Agency (@AFP) December 25, 2017
The venue was lit bright with hundreds of brides in colourful ethnic attire and ornaments. Thousands of guests were invited to watch the experience of the mass wedding where Savani himself did Kanyadaan.
251 fatherless girls married off at mass wedding in Surat https://t.co/aDZHCb67Oz via @TOICitiesNews

— Himansshu Bhatt (@HimanshubhatTOI) December 25, 2017
According to Savani, it's not only his but a 'social responsibility' to help women who can't afford their own weddings
Around a decade ago, Savani did the same deed when his nieces were getting married and their father had passed away. He took up the parent's responsibility and performed their 'kanyadaan'.
The mass wedding in Surat featured 251 young couples, including five Muslim couples, a Christian couple and two women who are HIV positive.

The celebration was hosted by Indian diamond trader Mahesh Savani in the western state of Gujarat. pic.twitter.com/cNoBmUWHmp

— RobertRobi (@Robertdreco) December 25, 2017
#Gujarat: 251 couples tied knot at a mass wedding ceremony in #Surat. pic.twitter.com/pfeXgvJiX4

— APN NEWS (@apnnewsindia) December 25, 2017
This very incident helped him realize that there's countless girls who had lost their fathers or did not have a father figure to look up to.
"It is challenging for a woman who has lost her husband to get her daughter married," Savani told TOI
Since then, he swore to never leave any woman fatherless. In previous weddings, Savani has gifted the brides gold and furniture worth Rs 500,000 to each to help them start their married lives. They are expected to receive similar gifts this year too.
The mass wedding in Surat featured 251 young couples, including five Muslim couples, a Christian couple and two women who are HIV positive.

The celebration was hosted by Indian diamond trader Mahesh Savani in the western state of Gujarat. pic.twitter.com/p827UgFFHc

— RobertRobi (@Robertdreco) December 25, 2017
A bride and a groom perform rituals during a mass wedding in Surat, India. pic.twitter.com/1zplo1i79P

— Matta Abraham (@MattaAbraham1) December 26, 2017
A total of 251 fatherless girls were married off to partners in the mass wedding organized by the charitable PP Savani & Movaliya Groups in Surat, India on Dec. 24. (VCG/Sam Panthaky) pic.twitter.com/rcz6FxA796

— Global Times (@globaltimesnews) December 25, 2017
Also Read: At the tipping point: How ten women entrepreneurs are breaking new ground