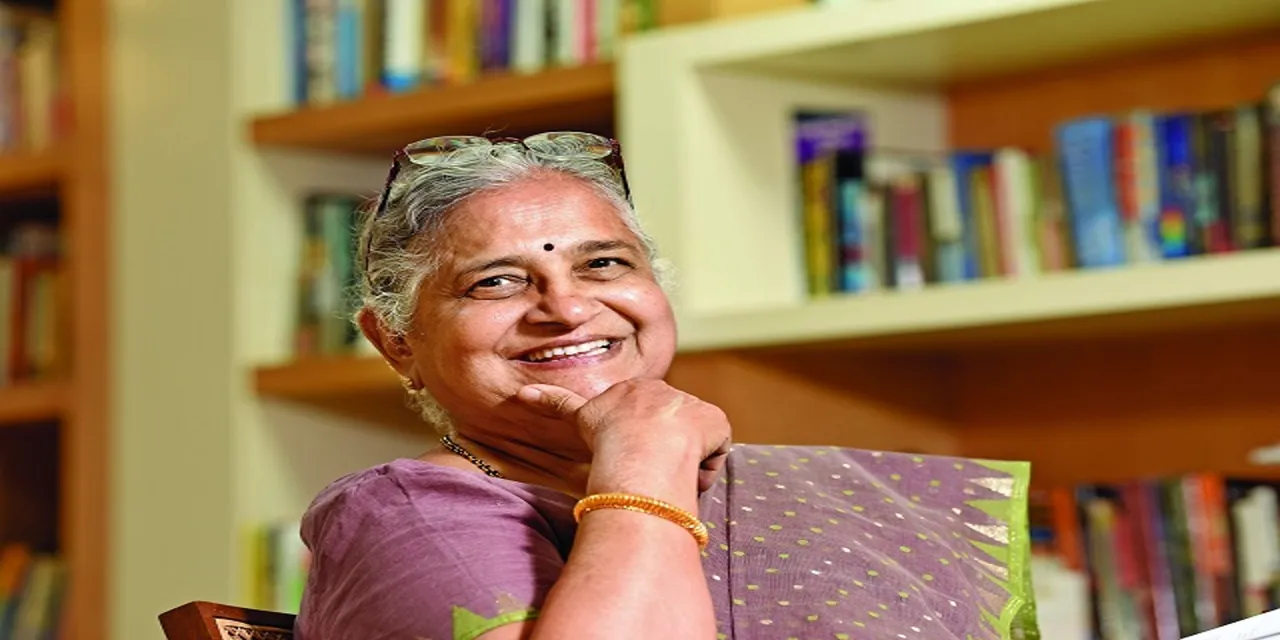 Sudha Murthy, the acclaimed author, and philanthropist, found herself trending on Twitter following a captivating interview where she discussed her food choices and culinary habits. In the YouTube interview 'Khaane Mein Kya Hai,' the chairperson of Infosys Foundation shared intriguing insights into her vegetarian lifestyle and concern over cross-contamination between vegetarian and non-vegetarian food.
During the interview, Sudha Murthy revealed, "I am adventurous in my work, not in my food. I am a pure vegetarian, I don't even eat eggs or garlic. What I am scared of is that the same spoon will be used for both vegetarian and non-vegetarian food. It weighs on my mind a lot! Hence when we go out, I only search for veg restaurants. Or, I carry one bag full of eatables. I carry ready-to-eat stuff that you have to just heat in water, I carry poha."
Her candid remarks prompted Twitter users to humourously question whether UK Prime Minister Rishi Sunak ensures separate spoons for Sudha Murthy, who happens to be his mother-in-law, as he's seen relishing an assortment of meat in a photo.
Someone tell Sudha Murthy not to touch her son-in-law, daughter and their kids. pic.twitter.com/rIdqOnIeL5

— Grouchy Maxx (@softgrowl) July 25, 2023
While Sudha Murthy admitted that she considers herself a foodie, she humbly stated that she is not a skilled cook. She attributed her husband, Narayana Murthy's maintained weight to her lack of culinary prowess but proudly mentioned her ability to brew great tea and prepare poha.
Despite her busy schedule and frequent travels abroad, Sudha Murthy makes sure she has a stash of home-cooked delicacies with her. Sharing her habits while travelling, she said, "I carry a bag full of eatables when I go abroad. I make 25-30 chapatis and take roasted suji so that it is ready to eat when added to hot water. I also carry a cooker. This I learned from my grandmother. No matter which country I go to, I carry my food."
Many Indians pack food while travelling abroad. Food is a choice. #sudhamurthy is any elderly woman in our household who likes to chat.

— Dharanya (@Dharanyamsu) July 26, 2023
The interview offered glimpses into Sudha Murthy's persona and garnered praise for her down-to-earth attitude. Beyond her culinary preferences, Sudha Murty's exceptional contributions to social work earned her the prestigious Padma Bhushan award this year, further solidifying her place as a remarkable figure in India. Her daughter Akshata Murthy, the UK's first lady, was present at the awards ceremony, highlighting the family's continued support and impact on society.
Sudha Murthy is so vegetarian, she carries her own dishwasher and cleans all spoons

— Ray Stings (@Purba_Ray) July 26, 2023
Why travel at all? Why not live in the pure and glorious mud house in an Indian Village entire life and never set foot in the beef eating Christan West for dollar bills. #sudhamurthy https://t.co/EDHkiMowKW

— Sanjukta Basu (@sanjukta) July 26, 2023
Some critiques pointed out that Sudha Murthy's fear of using the same spoon for both vegetarian and non-vegetarian food implied a stereotype often associated with caste-based dietary restrictions. This raised questions about the underlying casteist assumptions in her statements.
The tweets sparked discussions on how such remarks might perpetuate caste-based stereotypes and discrimination. Some users expressed disappointment that a figure as influential as Sudha Murty could inadvertently propagate such notions.
It is essential to note that Sudha Murthy herself did not make any explicit casteist remarks in her interview. The controversy primarily stems from the interpretations and implications of her statements on food preferences and the related stereotypes they might perpetuate.
how do people still deny vegetarianism being more about caste purity in India when people like Sudha Murthy exist crying about "omg muhhh spoon what if it was used for non veg food before eww" https://t.co/jjXeNDx0k5

— ana (@mightbeana) July 25, 2023
Sudha Murthy is what I call a Passive Aggressive Casteist.

Very careful to maintain plausible deniability by avoiding any mention of caste or brahmin while sending a thousand coded messages about her brahminical supremacy.

"Pure veg carries food cos scared of nonveg spoon"

— Gaurav Sabnis (@gauravsabnis) July 25, 2023
---
Suggested Reading: Caste-Based Discrimination In Educational Institutions At Rise: Are We Tackling This Right?