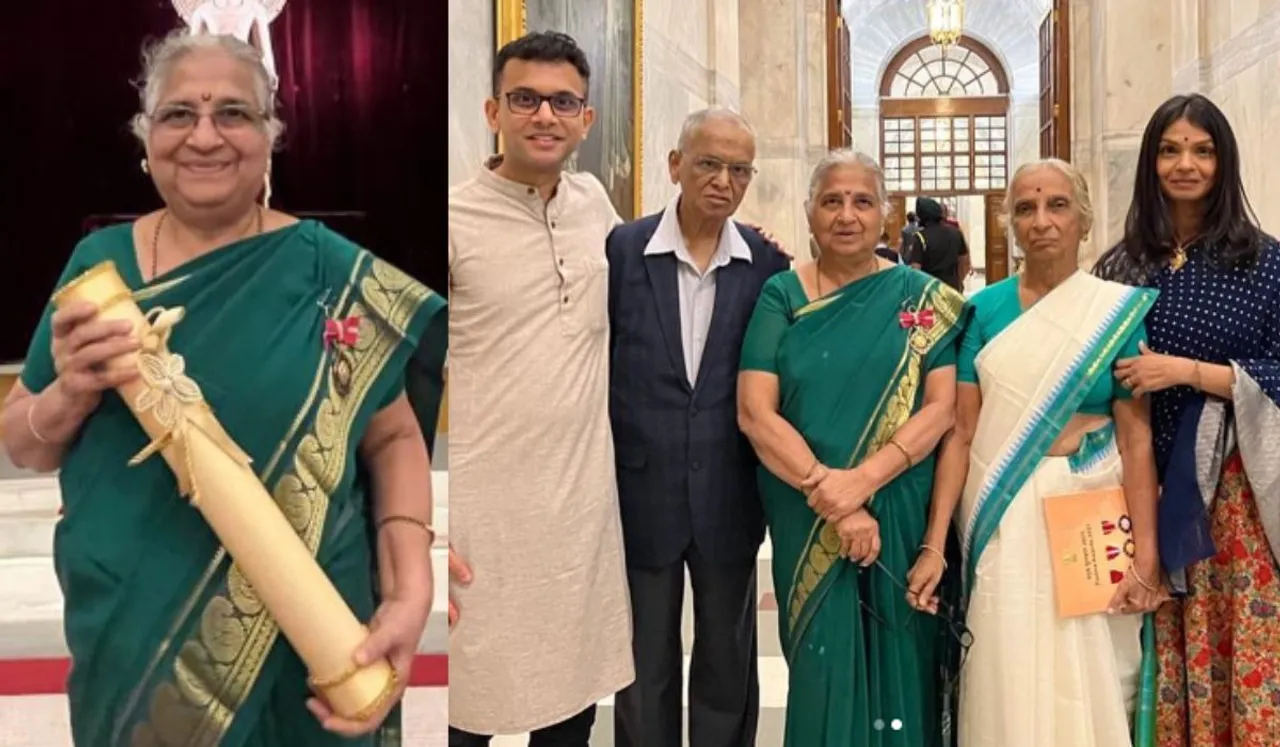 Renowned author and philanthropist Sudha Murthy was conferred the prestigious Padma Bhushan for her immense contribution to the field of social work. The award ceremony took place on Wednesday at the Rashtrapathi Bhavan.
Sudha Murthy's daughter, Akshata Murthy, who is UK's first lady as she is married to British Prime Minister Rishi Sunak, was present at the award ceremony. Sudha's husband and Infosys founder NR Narayan Murthy, her son Rohan Murthy, and her sister Dr Sunanda Kulkarni were also present in the audience.
Sudha Murthy Awarded Padma Bhushan
Sudha Murthy received the esteemed Padma Bhushan award from President Droupadi Murmu. Dedicating the award to the people of India, Murthy thanked the people of India for their unconditional love and support in her acceptance speech. She also said that she hoped that this would lead to more youngsters taking up social work as a full-time profession in the future.
"I owe this award to the people of India. I hope my recognition today inspires the younger generation to take up social welfare as a vocation. It is needed for the continuous development of our nation. I always feel that the generosity of a few gives hope to a million," said Sudha Murthy.
Akshata Murthy shared on her social media handle how proud she was of her mother for being honoured with the Padma Bhushan. She expressed how her mother's charitable and volunteer efforts have served as her greatest inspiration.
"My mother doesn't live for recognition. The values my parents have instilled in my brother and me—hard work, humility, and selflessness—mean she is always on to the next thing. But it was such a moving experience to see her have a moment of recognition yesterday," she wrote on Instagram.
Sudha Murthy was the first female engineer to have worked at Tata Engineering and Locomotive Company. She served as the chairperson of the Infosys Foundation until 2021, after which she retired to focus on serving society.
Under her leadership, Infosys launches a slew of initiatives aimed at educating and empowering people from underserved communities. Murthy is also the author of acclaimed books, including Three Thousand Stitches, Wise & Otherwise, and Mahashweta.
---
Suggested Reading: Vani Jairam To KC Runremsangi, These 16 Women Are 2023 Padma Awardee
---