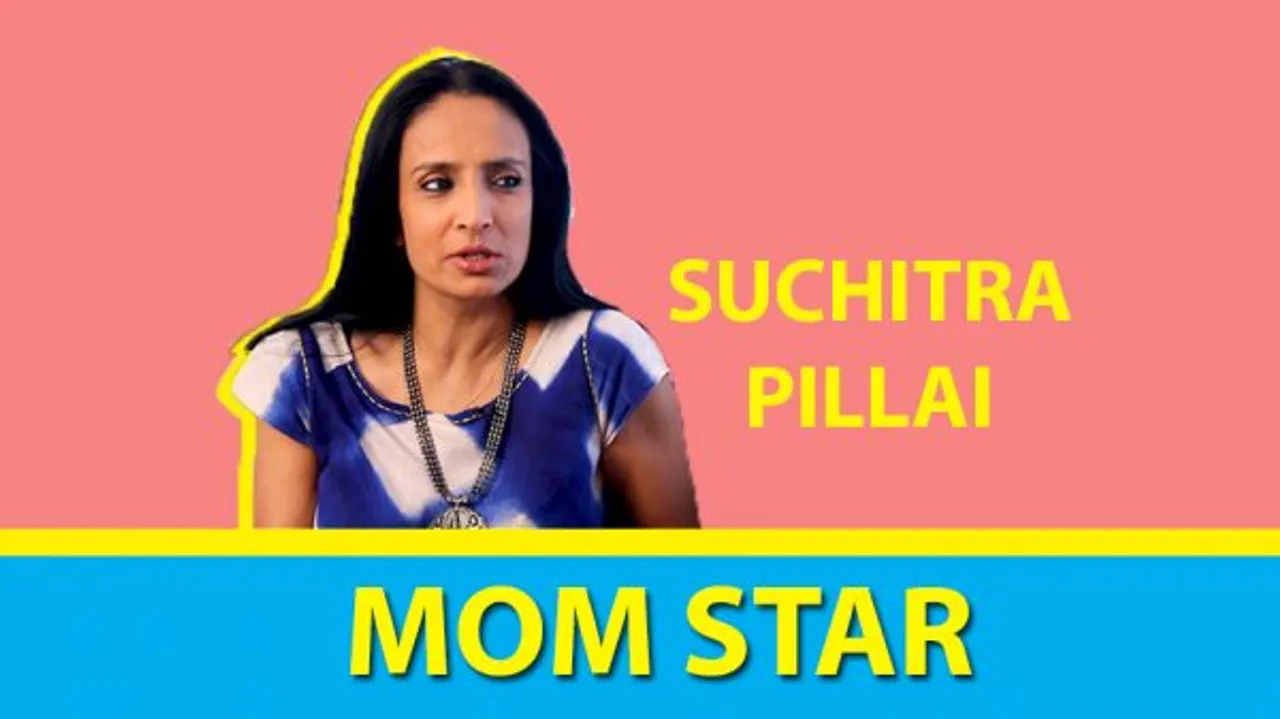 "It's good that us women know how to multi-task because that's one of the biggest words in my vocabulary," says actor, model, and VJ, Suchitra Pillai as she sits for a chat with SheThePeople.TV on her experience as a working mom.
Motherhood has always been seen as the primary duty of a woman. However, with changing times, traditional roles assigned to women can be seen altering. They are now working outside of their homes, earning money and creating an identity of their own, all the while balancing their duties towards their families. But the burden of stereotypes is yet to fully lift from women's shoulders. So we sat down Suchitra Pillai to broaden the dialogue on motherhood, especially from the point of view of a working mom.
https://www.facebook.com/SheThePeoplePage/videos/vl.2175314609222233/2416326505267839/?type=1
Adjustments and Apprehensions
"My only apprehension was that I had signed a movie," reveals Pillai, as she narrates her initial days of pregnancy. A woman of will, Suchitra tells us that she wore a bikini for the movie whilst being 3.5 months pregnant.
Motherhood can be a tough journey a woman, especially with respect to both mental and physical health. Our bodies go through drastic changes and gaining weight is one of them. "I had put 18 kgs when I was pregnant," tells Suchitra, as she talks about the pressure celebrities face post motherhood, to get back in shape and lose weight.  "Literally 1.5 months after she was born, I had already lost weight..my work didn't allow me to stay with the weight," she adds, revealing the kind of pressure to look fit celeb moms have to deal with.
"I will never give up  on my identity"
Motherhood also means that women have to entertain the plethora of unsolicited advice which comes their way. This holds especially true for working mums who are automatically labelled callous, simply because they refuse to put their career on the backburner. Working or not motherhood is a unique experience and differs for every woman. No two babies are alike. Then how can we parent them on identical standards? There is no better teacher than experience when it comes motherhood, and Pillai agrees. "Yeah...a lot of people think they know better because they've experienced motherhood before," she comments, further adding, "It is your experience to have and it's okay if you make a few mistakes."
On one thing she loves and hates about being a mom? Suchitra says, "One thing I love is that it is a new experience every single day. It makes you wake up from your stupor and just go, Wow...and one terrible thing as a working mom is that you don't have enough time." However she continues, "People always say make a choice. But if you are one of those who doesn't want to lose their identity, sense of who you are...and it is not necessary for any mom to give up who they are just because they had a child." Pillai further explains, "Take your time off, get back into it..because in the end that is the person you want your child to grow with, and not the person you changed into after becoming a mother"
Read Also : Serena Williams' Message For Working Moms Is A Must Read
Snigdha Gupta is an intern with SheThePeople.Tv