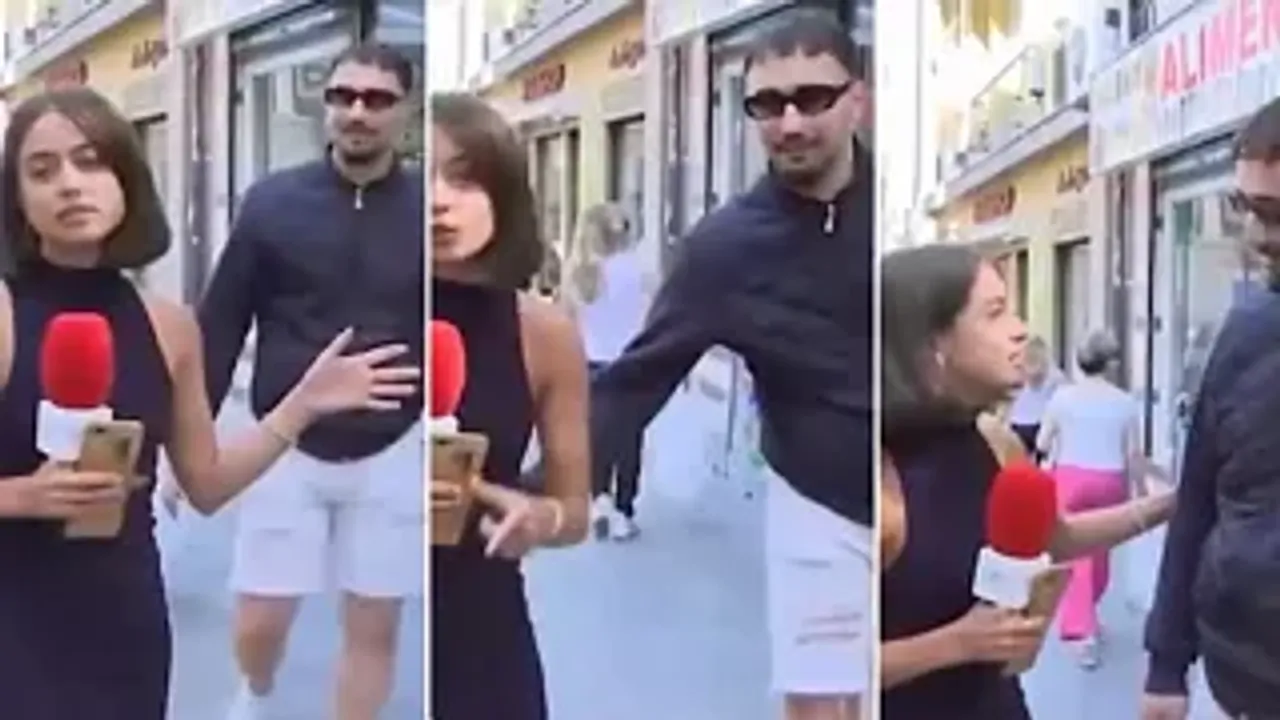 On September 12, a Spanish man was apprehended for inappropriately touching a Spanish TV journalist while she was on air in Madrid.
According to Sky News, journalist Isa Balado was covering a robbery in Madrid on behalf of the Cuatro channel when an individual approached her from behind, placing his hands on her and inquiring about her channel affiliation.
What Was The Incident?
Despite the incident, the journalist continued with her report, while the program's host, Nacho Abad, was taken aback and interjected, asking, "Isa, please forgive me for interrupting you... but did he just touch your butt?"
Upon the journalist's confirmation, he urged her to capture the man on camera, expressing his astonishment, saying, "I simply can't comprehend it. Can you bring that man in front of me, please? Present this thoughtless individual to me! This individual is behaving foolishly." Subsequently, the reporter confronted the man, remarking, "Regardless of your curiosity about our channel, is it truly necessary to touch my backside? I'm in the middle of a live broadcast, and I'm working."
Why Do We Let Groping Pass As Nothing?
When a girl experiences an uninvited touch on her body, she is overwhelmed by a sense of confusion, vulnerability, and profound disgust.
Groping defies easy categorization because it occurs routinely in virtually every conceivable scenario. We often ponder why it happens to us and may even inquire of those responsible for their motives. Nevertheless, we struggle to completely comprehend the rationale behind this intrusive and unwelcome physical contact.
In a deeply disturbing manner, men who harass girls derive a twisted sense of power by transferring their own vulnerability onto someone else, often targeting women.
Another aspect of the issue stems from how we continue to raise boys in a traditional manner. Expressing emotions is often discouraged in boys, and they are taught not to rely on others and not to display tenderness.
While many men may be curious about physical contact with women as a novel and thrilling experience, it is my hope that the majority of older men have acquired the wisdom to discern when it is appropriate to touch and when it is not.
To take groping lightly causes more such occurrences because men believe they can get away with it without zero accountability. This needs to be addressed urgently!
What Is The Solution?
Addressing the issue of men groping women, or any form of sexual harassment, requires a multifaceted approach involving individuals, communities, institutions, and society as a whole. The solution involves a cultural shift toward respect, consent, and equality. It requires the collective effort of society to create an environment where harassment is not tolerated, and all individuals can live free from the fear of such misconduct.
Views expressed by the author are their own. 
---
Suggested Reading: Not Your Fault: Chinmayi Tells Women Molested At AR Rahman's Concert