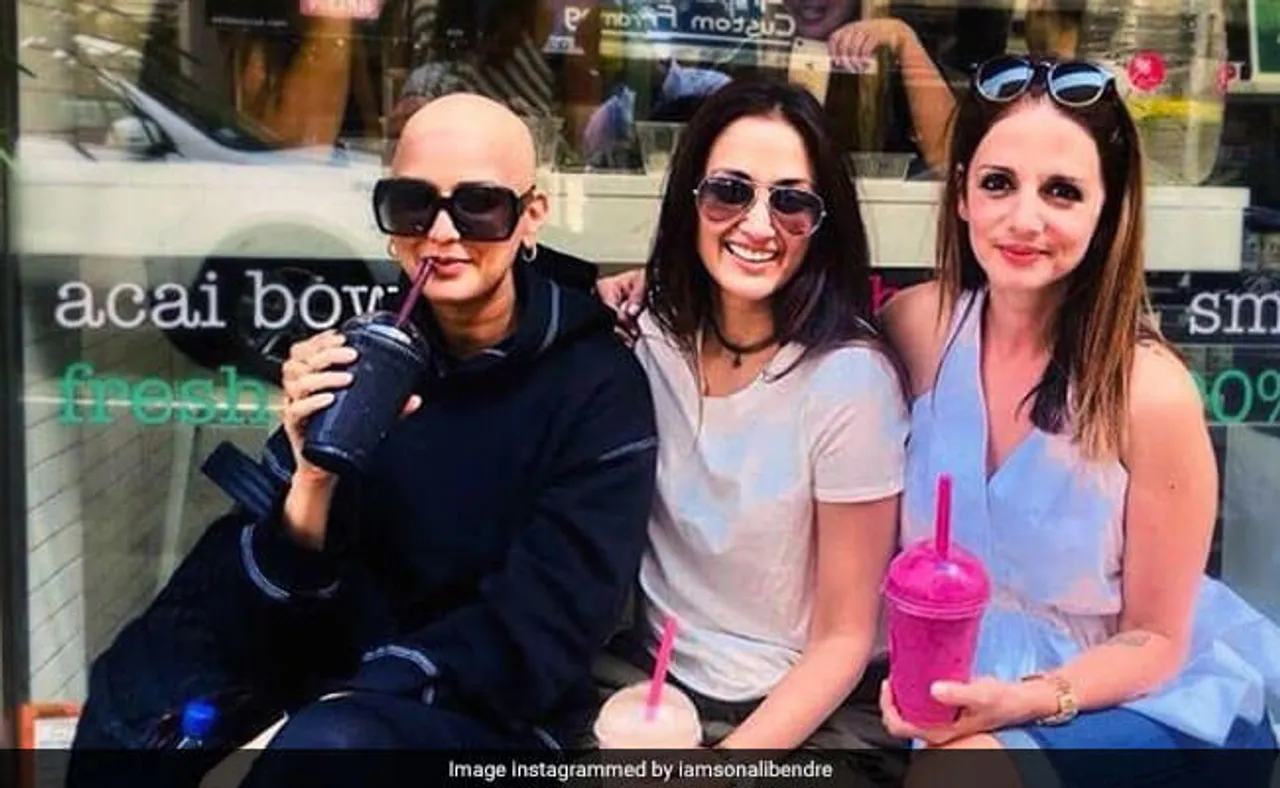 Sonali Bendre is celebrating Friendship Day with her best friends Sussanne Khan and Gayatri Joshi in New York, where she is currently undergoing treatment for cancer.
Sonali takes to Instagram
She shared a photo on Sunday with both her best friends where she was seen sporting a bald look.
She wrote, "Nowadays I spend far less time getting ready because I don't have to fuss over my hair! #BaldIsBeautiful #FindThePositive #OneDayAtATime."
The 43-year-old actress is getting treated for metastatic cancer in the Big Apple and appears to have begun with chemotherapy sessions, reported NDTV.
Bendre says in the post, "This is me. And in this moment, I am really happy. People give me strange looks when I say that now, but it's true and I'll tell you why. I am now paying attention to every moment, looking for every opportunity to find joy and #SwitchOnTheSunshine. Yes, there are moments of pain and low energy, but I am doing what I like, spending time with people I love, and feeling very loved and happy."
She also thanked both her friends for flying to New York just to be with her on Friendship Day.
"I am extremely grateful to my friends, my pillars of strength, who at a moment's notice, arrived to be with me and help me through this. In between their busy schedules they find time to visit, call, message, FaceTime... basically never leaving a moment for me to feel alone. Thank you for showing me what true friendship is. #HappyFriendshipDay, ladies. Blessed to have you all in my life (including the ones not in the picture... You know who you are)."
The photo, captured by Hrithik Roshan, has garnered thousands of likes and comments with fans wishing Sonali a speedy and healthy recovery.
Connecting with fans
Since the time Bendre was diagnosed with cancer, she and her family have never shied away from talking about herself and the treatment.
She often takes to social media to share her photos and connect with her fans, keeping them informed.
Just last week, her husband Goldie Behl had tweeted, saying that the actress is fine and stable.
Read Also : Sonali Bendre's Health Update: 'She is Stable', Tweets Goldie Behl
Thank you all for the love and support for Sonali... she is stable and is following her treatment without any complications. This is a long journey but we have begun positively.🙏

— goldie behl (@GOLDIEBEHL) August 2, 2018
Sonali had also shared photos of her sporting short hair and pictures of her with her son, both of them showing her in full strength and positivity.
Picture Credit: NDTV
Read Also: Sonali Bendre battling cancer, says sharing her story gives her strength
Kriti Dwivedi is an intern with SheThePeople.Tv