If we increase the female labour participation rate to 75%, India will have the economic empowerment it deserves, said Manish Kumar, MD and CEO of National Skill Development Corporation at She Means Business. The event was organised by Facebook India in partnership with SheThePeople. As he talked about women's empowerment in the digital world, he also recollected his first rendezvous with Facebook founder, Mark Zuckerberg.
"I was in Harvard in 2004 and one of the professors taught us Sustainable Development there and we had to work late at nights. So one day when I was trying to submit an assignment from my dorm at midnight, the intranet did not work and in the morning we got to know that there is somebody called Mark Zuckerberg who had actually fiddled with the intranet at night. That was the first day of Facebook which apparently was called The Facebook at that time. Interestingly the guy who ran the intranet at that time runs the intranet today, but one can see where Facebook has gone in the time," he said at the event on Tuesday.
"I plan accordingly to each platform. You have to create content that engages people and evokes emotions in them" - Author @shuchikalra#SheMeansBusiness @facebook pic.twitter.com/H7csPvCwzv

— SheThePeople (@SheThePeopleTV) August 7, 2018
Kumar spoke about how he leveraged his position to empower women in the Northeast during the 90s. "Tripura was a killing field in the early 1990s and it was almost impossible to stop that. I worked to contain violence in the area using development as a tool."
"A local person told us that the first people to support insurgency in Tripura were women because those who were in insurgency portrayed that they wanted to reform the society, which could end a lot of evils happening in that part of the country. So we realized that if we turn around the women and change their mindset, then that will help contain the violence," he said.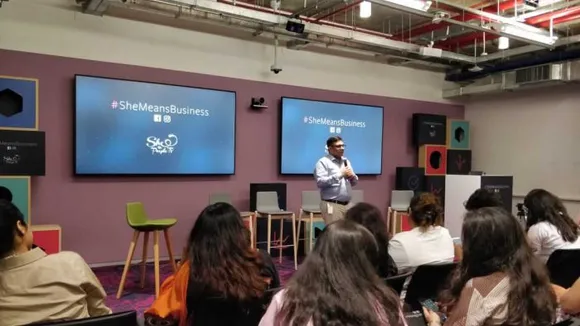 Rajat Gupta, Facebook
Starting self-help groups
Kumar revealed that he gained the women's confidence by prolonged communication and eventually instilling the idea of starting self-help groups. Then he directed that whatever government fund is allocated in that area, women will be in charge of deciding how they want to spend it.
He experimented with this idea and found that when women took charge of the money, they wanted to enhance their skills as a group. And within a year, they multiplied that money by large numbers. The way women spend their money is extremely different from how men spend their money, he said.
The Tripura women sent their children to school, so not only did the current generation benefit, but also the next generation. "Three years into this project, the Tripura government declared the state as developing and they had their first woman Gram Pradhan. This is the power of financial empowerment when women start taking care of the money. While this was a build-up of many things, it also helped in women's empowerment in the state," said Kumar.
Key Takeaways
Involving women in development can root out unrest
Forming SHGs for women helps empower them financially
The way women spend money is different from the way men do
Only 28% women are in the labour force compared to 80% men
ALSO READ: Two Indian Pilots Embark On Flying Trip Across World
He also touched upon the rate of women's participation in the labour force, which currently stands at 28% compared to almost 80% men. And the way to build India into a superpower is to have at least 75% women in the labour force, he stressed.
With emerging times, entrepreneurship has become a standpoint where women's representation and growth is increasing. The way digital space has given women opportunities and benefits of working from home etc. is certainly helping the cause of women becoming strong stakeholders in the country's growth.
She Means Business by Facebook is powered by SheThePeople to help women learn ways by which social media platforms help their businesses grow in the online space. It also helps in making women entrepreneurs understand how they can build communities and networks online and bring socio-economic impact for the larger good.