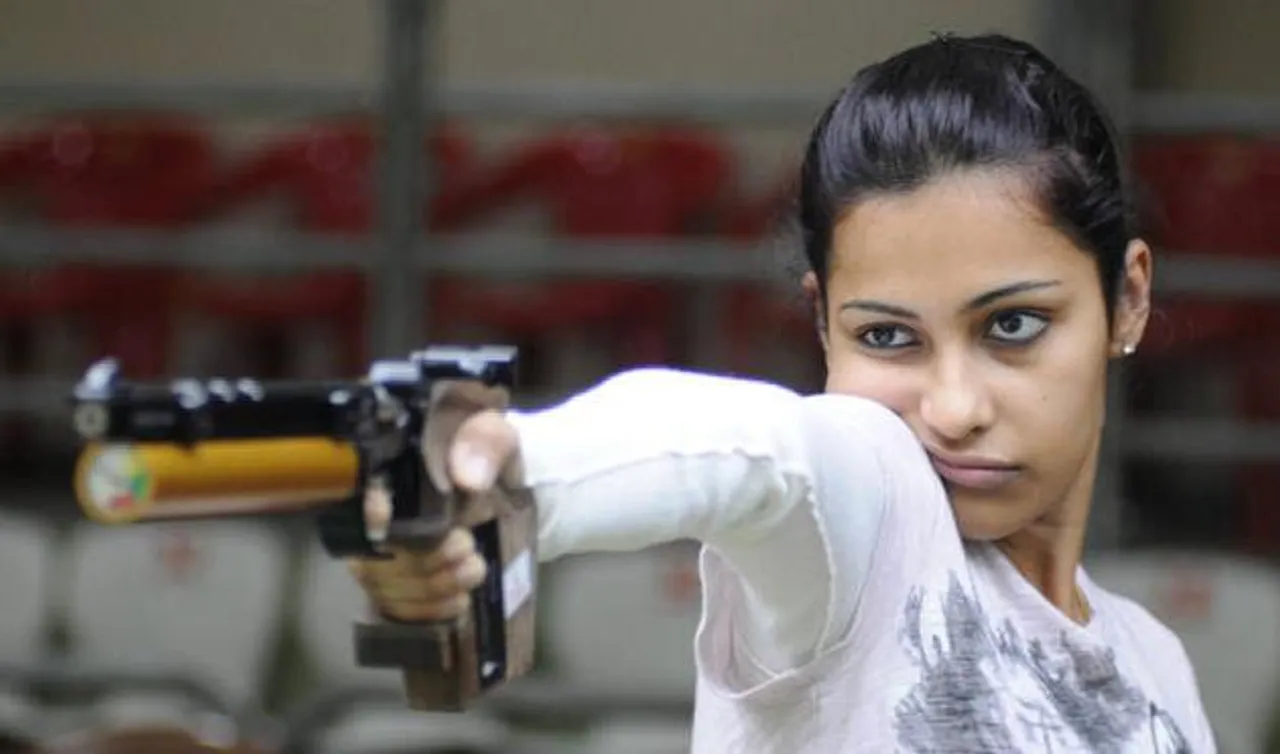 Renowned pistol shooter Heena Sidhu gave a stellar performance in the ISSF World Cup at the Karni Singh Ranges in New Delhi today, where she teamed up with another ace shooter Jitu Rai and won the 'gold badge' on the fifth day.
Proud moment 4 #India: @JituRai /@HeenaSidhu10 won #Gold against #Japan #Final Mixed Team 10M AirPistol #Shooting @ #ISFWC .Congrats! #SAI🇮🇳 pic.twitter.com/I6YaOwEMPX

— SAI Media (@Media_SAI) February 27, 2017
The first Indian pistol shooter to be ranked World No.1 by the International Shooting Sport Federation (ISSF), Heena was competing in the in 10m pistol mixed team event to clinch the second medal for India in the ongoing ISSF World Cup. Jitu, who is a gold medalist at the 2014 Asian Olympic Games at Incheon and a winner of many such World Cup medals, partnered with Heena to dash out Japan in the final.
Congrats @JituRai @HeenaSidhu10 for gold in team air pistol beating Japan in final #ShootingWC in Delhi @OGQ_India pic.twitter.com/h1JdnKX12A

— Viren Rasquinha (@virenrasquinha) February 27, 2017
CONGRATULATIONS!#India win 10m pistol mixed team event GOLD medal through @JituRai and @HeenaSidhu10 in @ISSF_Shooting World Cup.
#ISSFWC pic.twitter.com/WFM8uf3Lv5

— Vijay Goel (@VijayGoelBJP) February 27, 2017
Pooja Ghatkar was the first Indian to bring a medal (bronze)  in the women's 10m air rifle in the competition.
Wife of pistol shooter Ronak Pandit, Heena Sindhu, who is also the first Indian pistol shooter to win a gold medal in an ISSF World Cup Finals, now stands on top with her partner.
. #ISSFWC Ace pistol shooters @JituRai & @HeenaSidhu10 win the Gold medal in the first ever Mixed 10m Air Pistol event at Shooting World Cup pic.twitter.com/dZyAAiB3pY

— India Sport (@indiasportorg) February 27, 2017
After Pooja Ghatkar's 10m air rifle triumph, India couldn't clinch a single medal till now.
Ronak Pandit was coaching Heena for the ongoing competition.
Also Read: Heena Sidhu Bows Out Of Iran Games Over Hijab
However, these mixed team events are not official competitions and medals are not presented to the winners.
But kudos to the duo, anyway!
Join Us on https://www.facebook.com/SheThePeoplePage
Follow Us on https://twitter.com/SheThePeopleTV