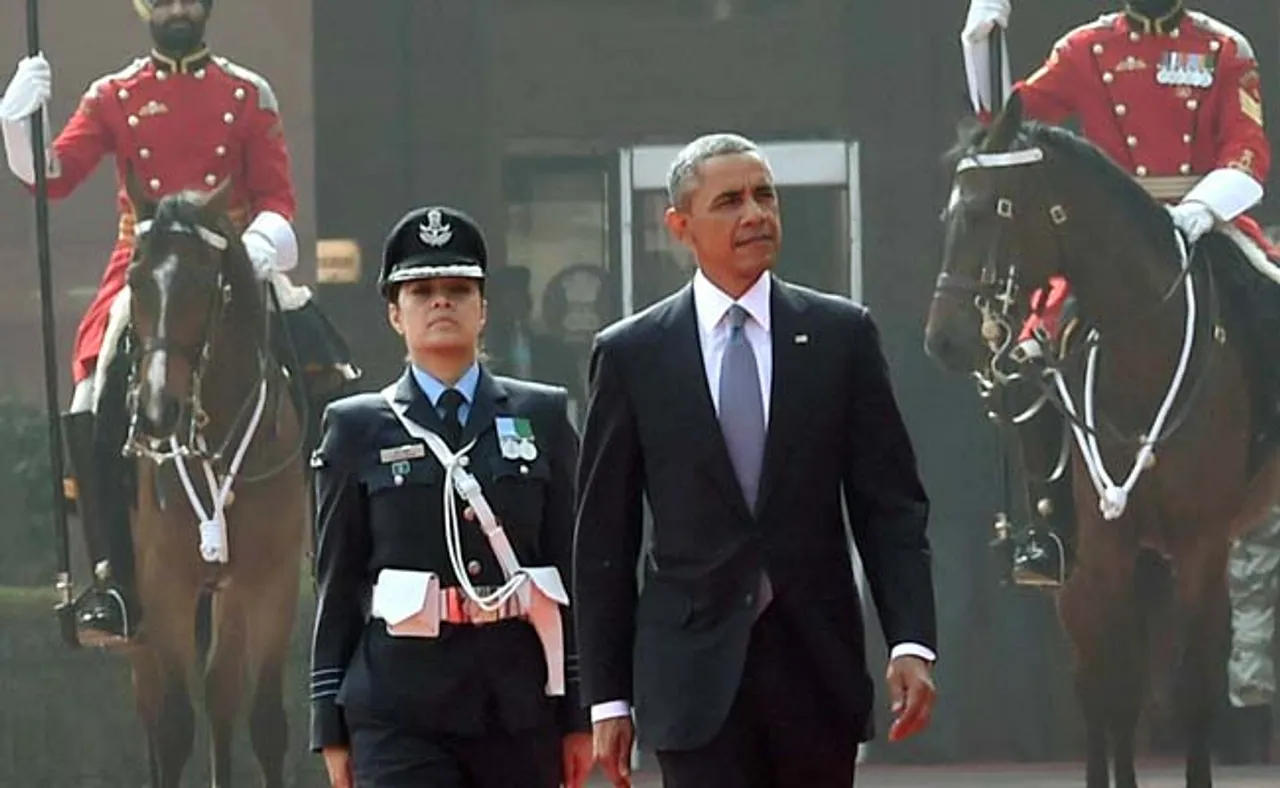 In an unexpected turn of events, Wing Commander Pooja Thakur, who came into limelight after leading the Guard of Honour for US President Barack Obama last year, is taking the Indian Air Force (IAF) to court over permanent commission. She reached out to the Armed Forces Tribunal for justice after being denied full service by IAF.
The officer in her petition explains that the IAF's decision of denying her Permanent Commission is "biased, discriminatory, arbitrary and unreasonable".
Here is what happened. According to senior IAF officials, Wing Commander Pooja's batch had 12 women officers, out of which 10 women opted for Permanent Commission excluding Wing Commander Pooja and one other officer. This year in June, two weeks before she retires, she turned to seek out Permanent Commission from the IAF which was declined because of official reasons. She is currently posted at 'Disha', the publicity cell under the Directorate of Personnel Officers at the Air Force Headquarters. The Armed Forces Tribunal is currently inspecting her plea and the IAF has been given four weeks to respond.
Also Read: Gunjan Saxena, salute the first Indian woman who flew in Kargil's combat zone
Pooja began her Air Force career in 2000 and was placed in the administrative branch. Hailing from an Army background family as her father served in the Army and retired as a Colonel, she was commissioned into the IAF in 2001. As per News18 she was offered Permanent Commission in 2014 but refused to take it  because her mother-in-law was suffering from cancer.
Also read: Muslim woman ditched arranged marriage to join British Army 
Pooja Thakur was the first lady officer to lead the Inter-Service Guard of Honour at Rashtrapati Bhavan  when US President Barack Obama visited India in January 2015. The  defence forces, in a first, made a woman officer lead their marching contingents during the Republic Day parade last year. President Obama back then had applauded the fact of "incredible" Indian women leading in the armed forces and had mentioned that this is one of his "favourite things" about India.  Since then of course we have come to a stage where the IAF has inducted it's first batch of women fighter pilots.
Feature Image Credit: www.ndtv.com