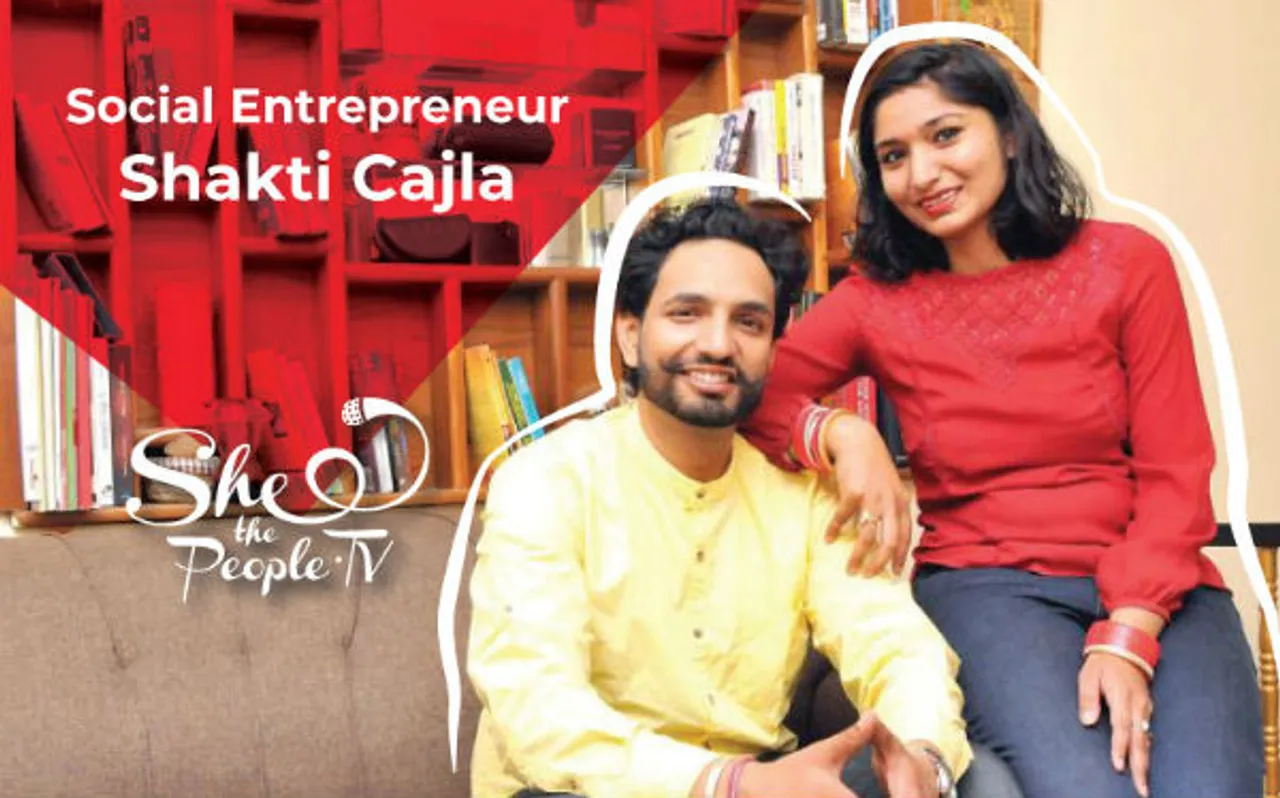 To make India accessible for differently-abled, Shakti Cajla co-founded Bangalore-based NGO Anuprayaas, to provide facilities and the much-needed solution this country needs. Shakti with partner Pancham Cajlas advocates for inclusive public places more specifically - railway stations for the visually-impaired. The aim is to enable them by giving them choices to commute easily without the need to rely on help from strangers.
A few years back the team came to the spotlight after making the Mysuru Railway Station, India's first blind-friendly station. Since their inception in 2014, the NGO continues to make bigger transformations that include helping convert Mumbai's Borivali station, Bengaluru's KRS station, the Mysore-Varanasi Express, and a blind school in Mysuru, into more accessible spaces for disabled people.
SheThePeople.TV talks to the social entrepreneur, who is a true humanitarian at heart about her venture. Excerpts of the interview
As a social entrepreneur, how would you describe your childhood and what personal reason made you to start a platform for the differently-abled?
I come from a very small town called Bazpur in Uttrakhand. As a child, my upbringing was in a society where people care for each other and their environment. Empathy and helping those in need is a way of life from where I come. My father, who is a lawyer by profession, taught me the value of helping those in need and how important it is for us to stand for truth and do the right things. So, right from my childhood, my parents encouraged me to go out and help others. Be it a clothes collection drive for cyclone-hit areas or donating my used books to the library in the town.
I remember, how my mother used to teach the kids of our household help and made sure that the kids received basic education.  That has set a very strong foundation.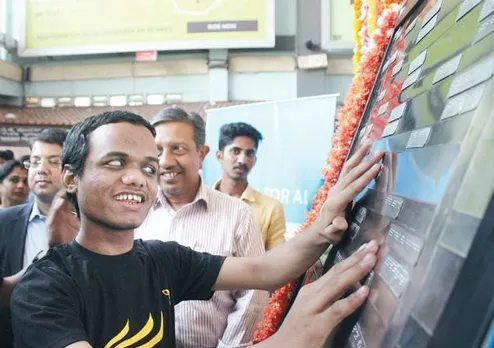 Anuprayaas Team Member Adil using Braille Tactile Map at Banglore Railway Station
When I started my corporate life and shifted to Mysore, it was then that I got an opportunity to interact with people with disability. Pancham introduced me to kids in a blind school. Honestly, my heart broke to see the struggle of these kids. A person who is blind fights a hundred battles every day, from the time he wakes up to the time his day ends. Every day, for his whole life!
Our intention of starting Anuprayaas which means "a small effort" was to reduce these battles one at a time.
When we initially started visiting blind schools, we had a very sympathetic attitude towards people with disability. But soon we realised that sympathy is not the answer to the problems that visually impaired people face. We started visiting them regularly, and counselled blind students. We started to understand their day-to-day problems and challenges that they face. Soon, the students opened up to us and shared their challenges with us. One day we received a call from one of the blind students. He was very upset. We went to the blind school to see what happened. That student was supposed to go to his hometown on vacation. He went to the railway station to catch the train. Not being very familiar with the facility there, he inquired from the passengers at the railway station regarding the platform on which his train was supposed to arrive. He went to the platform and waited for his train. Being a shy person, which most of the visually impaired persons are, he didn't interact much with the people around. After waiting for a long time, when his train didn't arrive at the station, he inquired around to find out if the train is delayed. Soon, he realised, that he was waiting on the wrong platform for all this time. His train had already left. Disheartened and feeling helpless he came back to his hostel.
This incident left a deep impact on us. We started figuring out, how can we solve this problem.
Train Mysore Varanasi Express
Making the first ever blind-friendly railway station in Mysuru and continuing to contribute to society in your own way, who are the people who have helped you in your journey so far?
We are blessed to have received huge support from colleagues, friends, and strangers. Anuprayaas is a collective effort of all of them, right from our first project. Would like to acknowledge the Indian Railways, who supported us and backed our projects, there are a lot more names who silently play their part wherever required and whenever needed.
Anuprayaas's disability awareness and etiquette programs are focused to sensitise people towards various disabilities. We educate people on do's and don't of behaviour while interacting with people with various disabilities. And help them break the barrier of sympathy.
The kind of work you do, you need to be alert and available 24/7. How hard it is to find the right team? 
As a social organisation, I will not disagree that we need people with passion for our team. We have made a lot of mistakes while hiring people in the past, but we learnt from our mistakes. We are still learning. We keep transparency and give them the freedom to be open and speak their mind and implement their ideas.
I think it's very important to set up a culture where the team member is given not just the work but also a sense of ownership.
And what about the system? Is it still inaccessible for the differently-abled or things are slowly changing?
We are a developing nation and we have a long way to go. Accessibility is comparatively a new concept in India, therefore, there is a lot of work and awareness required. But yes things are changing. With the launch of Accessible India Campaign by the government, it has become a lot more accepted concept. We have always received positive support from the government organisations including Railways when it comes to our projects with accessibilityand awareness programs. So we are very sure that the systems in our country are changing in the positive direction.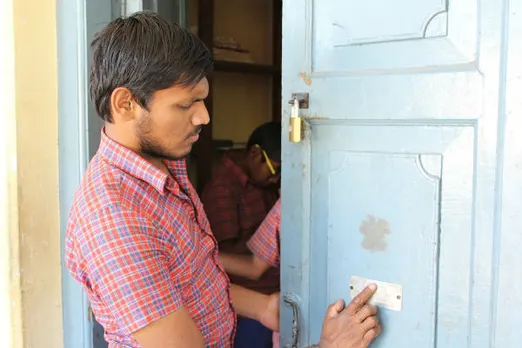 Visually impaired student finding class rooms out by touching braille indicator plate
READ: Preeti Monga: She may be blind, but she's far from disabled
What have been your biggest challenges so far?
As a young organisation, our biggest challenge is to raise funds to sustain beyond our projects. That's where Braillemate plays the part for us, helping us to raise funds.
Take us through your experiences with young people who have just started their lives but are unfortunately differently-abled in this system. How are they coping?
The biggest challenge that young blind people face is the attitude of other people towards them. People treat them with sympathy instead of empathy. I meet a lot of young students who want to do things independently and live with dignity. They don't want to be treated as someone who needs help all the time. That is where creating an environment where blind people don't have to depend on others becomes extremely important. That's why we designed our disability awareness and etiquette program that we conduct for schools, colleges, corporate, and public offices.
Explain why the venture you've founded is so efficient when it comes to being the best for disabled?
It's simply because we work on the ground level with blind people and all the verticals that we have today are an outcome of problems, feedback, and inputs we received from people who are blind. Anuprayaas has evolved through the years to where we are now by doing what people with a visual disabilitywanted us to do for them. We are an organisation for them. So, listening to them is the key.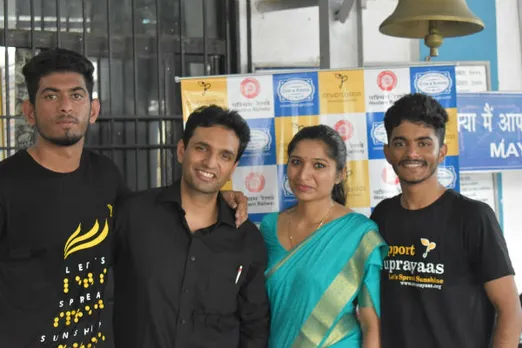 Team Anuprayaas at borivali
What motivates you to play the role of a motivator to the disabled in daily life?
The happiness that I get when I receive a random call of appreciation from a blind person motivates us the most. And when I see people with visual disability using platform indicators installed at a railway station and travelling on their own is another high.
Any future plans with a women-only platform?
I aim to work to create an impact and empower people. If an opportunity comes my way that allows me to work for women empowerment specifically I will be happy to be a part of the support system.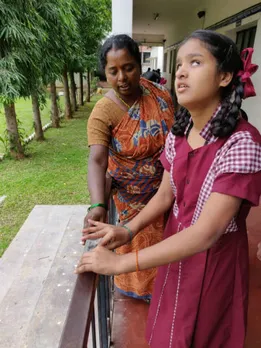 Blind Student at Randarao school learning to use a braille platform indicator
READ: Meet Premlata Agarwal, The First Indian Woman To Conquer Seven Summits
Do you think the entire system will take a long time to transform to become more disabled friendly space?
I rather believe that the process has already taken a fast track with government campaigns that mandate that public places should have accessibility facilities. So, acceptance is there. That is the most important part. Providing facilities will take a while but we are on the right path.
What makes you passionate about what you do?
I take pride in being an Indian, and I strongly believe that it is each one of our responsibilities to contribute to making this nation how we want it to be. Therefore, I get up every day and do the right things in the right direction.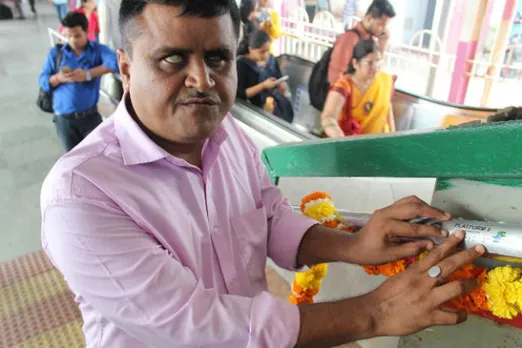 Borivali railway Station Mumbai
Could you briefly tell us about future campaigns or initiatives? 
Apart from our current verticals, we are starting a new initiative called Project "Keytaab" in association with a Mumbai based NGO, which will focus on conducting personality development and upbringing classes for blind students. This will enhance personality and self-confidence of the students.
What was the reaction of the society when you started?
We feel blessed to be loved for all the effort that we have put in. We received tremendous support. Though, eyebrows did rise when I quit a good corporate job for social work. There are believers and there are non-believers. I have always channelised the criticism and doubts on my capabilities as a positive motivation to put twice the effort in what I do. The best way to handle criticism is amplify your efforts in the positive direction and let your success answer for you.
What inspires you every day?
The fact that I am able to do what I love and in the process help others, gives me the motivation to carry on.
Feature Image Credit: Shakti Cajla