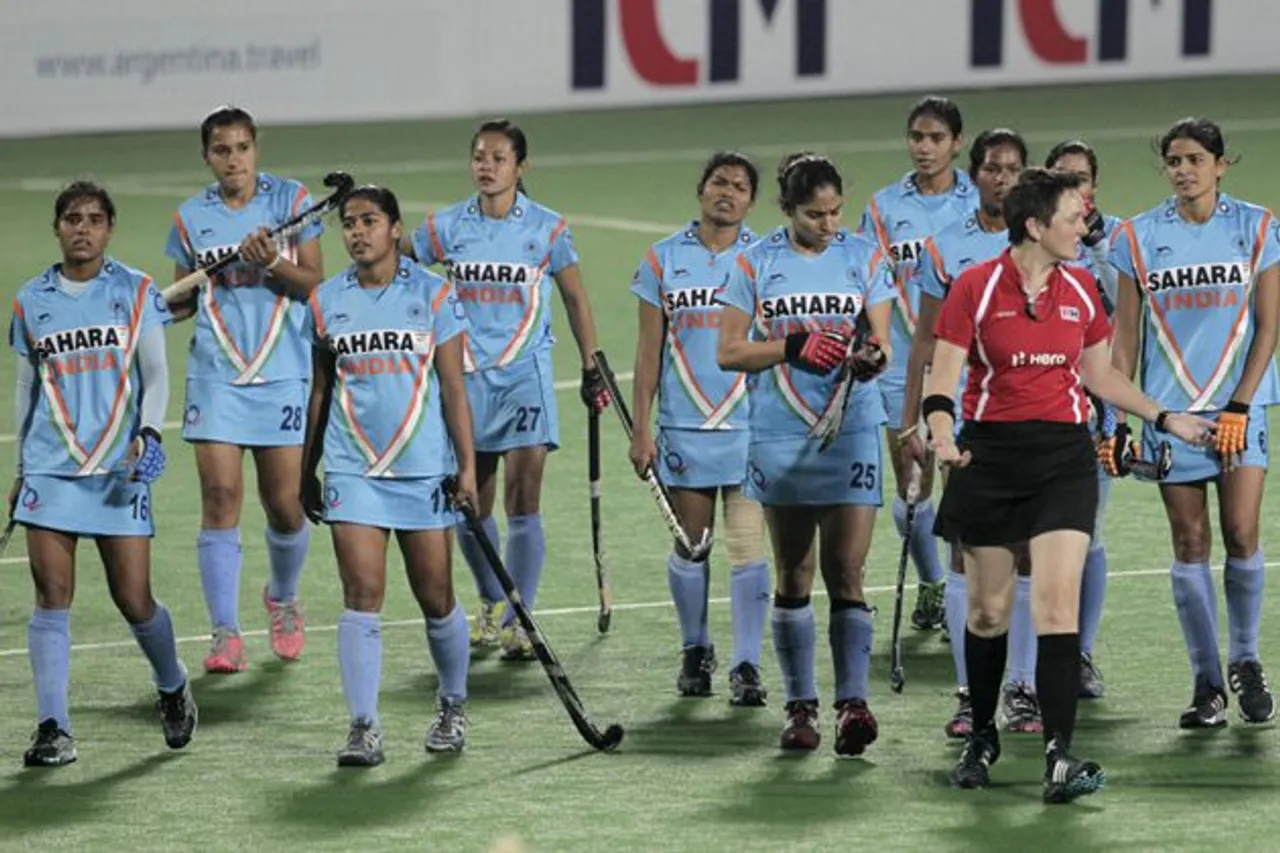 Hockey India, the apex body for hockey in India, today announced the 18 member Indian senior women squad for the international matches to be played in Argentina from 18th – 30th November 2015.
The 18 member India squad announced today in the midst of the on-going National camp at Bhubaneshwar, Odisha will be led by experienced campaigner Ritu Rani. The second in command will be Deepika who is the Vice-Captain of the team. The Indian goalpost will be guarded by Savita and Rajani Etimarpu. The defence line will see vice-captain Deepika alongside Sunita Lakra, Susila Chanu Pukhrmbam, Jaspreet Kaur and Deep Grace Ekka. The midfield will have Captain Ritu Rani with Renuka Yadav, Lilima Minz, Navjot Kaur, Monika and Namita Toppo. Navneet Kaur, Rani, Poonam Rani, Vandana Kataria and Anuradha Devi Thokchom will complete the forward line for team India.
The Indian Women's team has been on a high this year winning the second round of the Hockey World league earlier this year which was held in Delhi. The team gained 5th position in the Hockey World League Round 3 by the virtue of which they qualified for the Rio Olympics for the first time in 36 years.
"The team has been practicing together since the camp started. We believe in putting excessive emphasis on team work and the new team of Coaches and Support Staff are working hard to increase the work rate of each player. We have an experienced Captain and she knows how to lead by example. The qualifications for the Olympics have been a boost and we will be playing in similar conditions to that of Rio which will give us advantage in our Olympic campaign. I have full faith in the girls and I hope we will put up a good show together," said Neil Andrew Hawgood, Chief Coach, Indian women's hockey team.
Dr. Narinder Dhruv Batra, President, Hockey India said, "The girls have showcased what they are capable of with their recent achievements. Qualifying for the Olympics for the first time in 36 years is by itself a huge testimony to their hunger to succeed and capabilities. The inclusion of Support Staff to the team will only add to the teams confidence level and I am hopeful that we are up for some exciting results in the months to come, post which they would be gearing up for the biggest moment in an athlete's life - the Summer Olympics 2016 in Rio."
The Indian Women's Squad for the Argentina tour is as follows:
GOALKEEPERS
1. Savita
2. Rajani Etimarpu
DEFENDERS
3. Sunita Lakra
4. Deepika (Vice Captain)
5. Susila Chanu Pukhrmbam
6. Jaspreet Kaur
7. Deep Grace Ekka
MIDFIELDERS
8. Renuka Yadav
9. Ritu Rani (Captain)
10. Lilima Minz
11. Navjot Kaur
12. Monika
13. Namita Toppo
FORWARDS
14. Navneet Kaur
15. Rani
16. Poonam Rani
17. Vandana Kataria
18. Anuradha Devi Thokchom