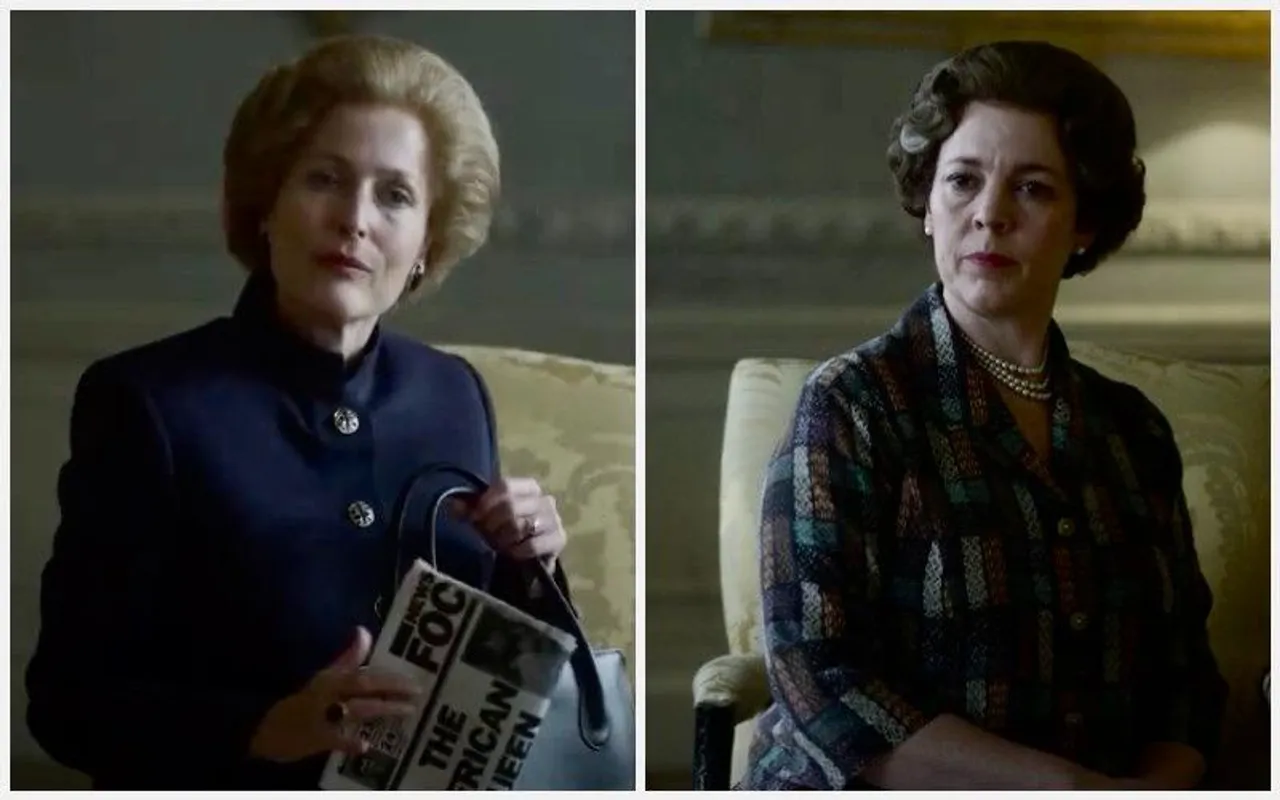 Who doesn't love a show about the deliciousness of royal madness? And not just any madness, madness whose aftermath we see quietly whispering from Buckingham Palace. After three captivating and ridiculously popular seasons, Season 4 of 'The Crown' will drop on Netflix on November 15th, ending the royal wait. The season will focus on the rise of Margaret Thatcher, the induction of Princess Diana, and the dynamic between three women; Diana played by Emma Corin, Margaret Thatcher played by Gillian Anderson, and Queen Elizabeth by Olivia Colman. What do long standing fans of the show have to look forward to in Season 4?
#1 Viewers will find parallels between Diana and Meghan Markle.
Diana, played by Emma Corrin, struggled to fit in the institution, the rules and regulations that sought to mould her into the 'ideal' princess, hopefully queen some day. We can see the same parallels between her and Meghan Markle, who, just with her racial identity and occupation, struggled to fit in. 
Read also: The Crown Season 4 Teaser celebrates the free spirit of Princess Diana
#2 The show will focus on Thatcher's years as Prime Minister.
Just like the third season focused on PM Harold Wilson, Season 4 will focus on Prime Minister Margaret Thatcher, the first female PM of the country played by Gillian Anderson. Even if Thatcher held the title from 1979-1990, the season will start from the year 1977. 
#3 Princess Diana's struggles with paparazzi will be depicted in the show.
Princess Diana dealt with a lot of tragedy in her life, from not getting along with her parents to overwhelming public scrutiny with the royal life. The paparazzi were, as with any celebrity, incredibly invasive and dangerous, and even more so because Diana was a royal. 
#4 The tangled romance of Camilla Parker-Bowles and Prince Charles will come to life!
Before he even met Diana, Charles met and fell in love with Camilla Parker-Bowles, played by Emerald Fennel. At the time, she'd been dating her future husband, Andrew Bowles, for five uncertain years. Even after his marriage with Diana, he continued to see Camilla. The entire dynamic of their unhappy marriage shadowed with Charles' infidelity will be shown from the perspective of Charles and Camilla in Season 4. 
#5 Princess Margaret will be more supportive this season.
Although Queen Elizabeth and her sister, Princess Margaret, are like chalk and cheese, the princess will be more supportive in Season 4. According to Vanity Fair, Helena Bonham-Carter, who plays Princess Margaret says that she will be more of a confidant to her sister, the queen. They both enjoy each other's company, and have a more softer relationship in Season 4. 
Also read: Taking A Look At The Women Protagonists Of Netflix's The Crown 
After a stunningly-crafted three seasons, viewers are expected to get ready for a rocky, royal ride that only shocks and enthrals you, brimming with the most turbulent years for the royal family in terms of politics and a growing divide behind the doors of Buckingham Palace. 
Watch the official trailer for Season 4 of 'The Crown' here: