A class 12 student from Delhi has designed a prototype of a 'magic-fridge' that could end the struggles Indian go through with wastage of food, reports SwachhIndia. This fridge is a saviour for farmers and villagers since there's no need of electricity to run this magical box.
Dikshita Khullar, who studies in a Vasant Kunj school, has created the product in order to provide sustainability needed for the farmers and middlemen who deal with fruits and vegetables. "From the beginning, I was always inclined towards environmental issues and wanted to find sustainable solutions," says Dikshita.
Also Read: Innovation from IIT Hyderabad: Eco-Friendly Sanitary Napkins
The invention is a boon for the middlemen who lack storage facilities and struggle daily to maintain a minimal supply chain of vegetables and fruits.
"Living on a farm for most of the time with my family, I used to see a lot of food wastage happening around me. On speaking with the vendors and middlemen there, I realised they are struggling badly because they don't have proper storage facilities with them to store the food items. As a result, a lot of it gets wasted even before the food reaches our plates. That was the time I started looking for sustainable options," claimed the inventor
Using her school education, Dikshita has used the passive evaporation concept to make this magic fridge. The product has raw materials like bricks, sand, jute bags and bamboos as layers. She has dedicated this cost-effective prototype to farmers and middlemen.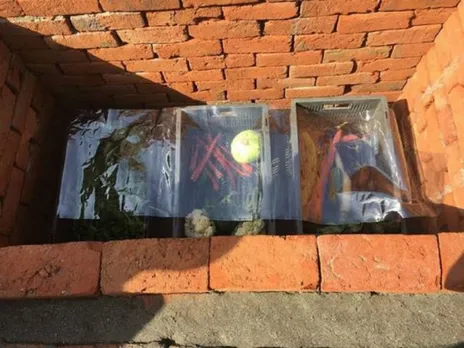 READ: Avantika Jalan, on Sustainable Management of her Family's Tea Estate
"Imagine one big rectangular structure constructed with bricks and another small rectangular structure built inside the big rectangular chamber. The catch is to leave some space in-between both of these structures, so that it can be filled with sand. The upper part of the chamber is covered with the bamboo lid and that's all that there is to this structure." she added.
READ: Green Design and Sustainable Style for The Eco Conscious Fashionistas
"The methodology is simple, the vegetable vendors have to water the chamber every two hours because that's what will keep the inside area cool. This chamber can keep the temperature 10-15 degree Celsius lower than the outside temperature and maintain about 90% relative humidity," adds Dikshita.
The Magic Fridge (Photo Credit: Swachh India)
Dikshita's invention took just a few months of research.
"What I learnt in my science classes in school, I simply started using that information into the making of the magic-fridge. I used the concept of passive evaporation and built my prototype with easily available materials, so that the farmers don't have to rely on costly things," says Dikshita
Designing the product cost Dikshita approximately Rs 4,000. Currently, the chambers of this fridge can hold up to 6 crates or 120 kg of vegetables and keep it fresh up to 7 days.
Watch: She Leads India: Three Women, A Baby Monitor & A Ray Of Hope
READ: How An All-Women Fundraising Team Is Working To Strengthen The Arts
Feature Image Credit: Swachh India
Join Us on https://www.facebook.com/SheThePeoplePage
Follow Us on https://twitter.com/SheThePeopleTV