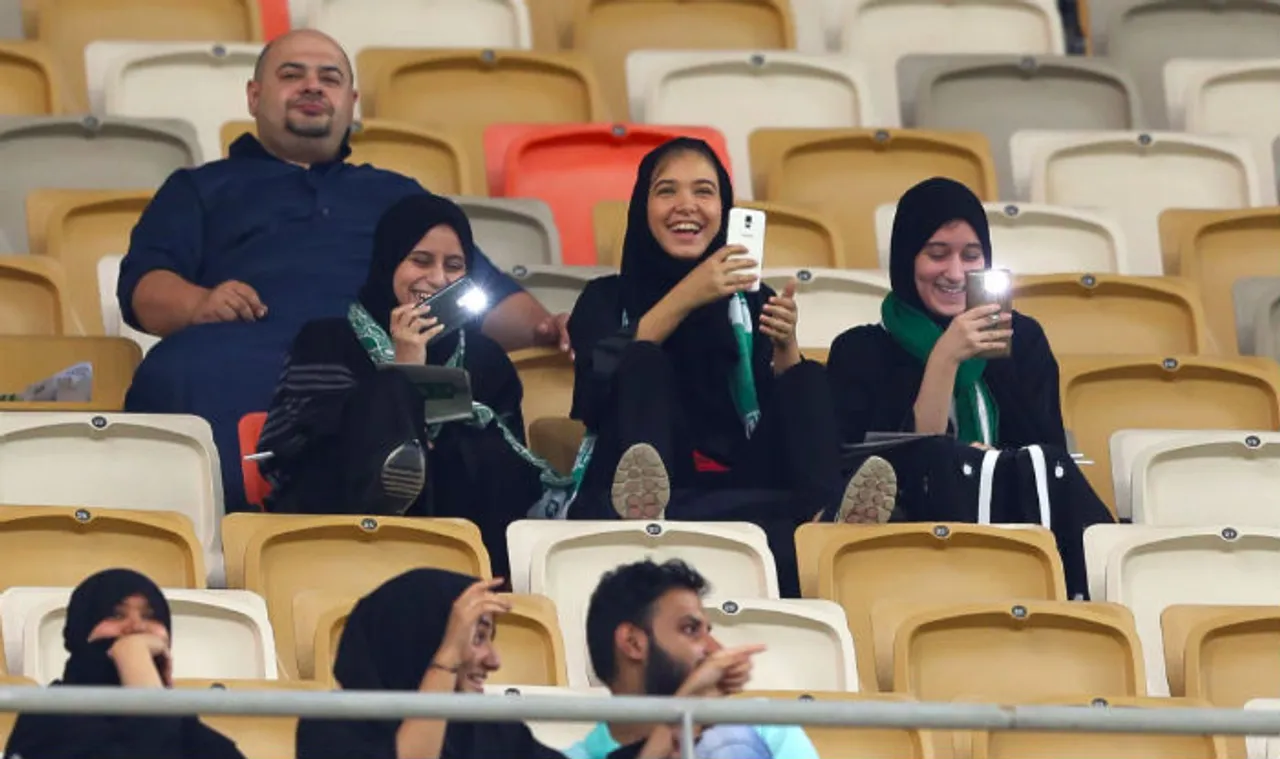 Amidst the latest cyclone of societal changes in Saudi Arabia, women yet again witnessed a landmark development. For the first time ever, they were allowed to watch men wrestle live in the ring.
Photos of women in Saudi Arabia cheering on in a World Wrestling Entertainment Inc.'s Greatest Royal Rumble went viral on Friday. This was the first time that such a societal norm was broken for women.
The audience in Saudi Arabia reacting to Carmella making an on-screen appearance at #WWEGRR. pic.twitter.com/ECM0XElVxO

— Ryan Satin (@ryansatin) April 28, 2018
In a bid to make life a 'wee bit' entertaining for Saudi's men and women, the kingdom authorities recently hosted the wrestling match at the King Abdullah Sports City Stadium. Women who were separated from such entertainment so far because of cultural and religious restriction, were encouraged to attend.
'

They'll tell me that wrestling is too violent for girls, it's a boys sport. But I don't care.

' 
"It's flowy and black, so really, what's the difference?," May Omar, 27, said who for a day wore the T-shirt instead of the abaya. "It's really fun to wear the T-shirt of the wrestler you support," she told The Wall Street Journal.
Found a longer version and it definitely sounds like the crowd got pretty excited to see Sasha, Bayley and Carmella in their ring gear. pic.twitter.com/ptsZdAngfR

— Ryan Satin (@ryansatin) April 28, 2018
Some women attending the event abandoned Saudi tradition of  head scarf, while some covered entirely. "Teachers considered it indecent and inappropriate to look at male wrestlers," according to some of the girls interviewed.
Also Read: Saudi Arabia Celebrates Its First Women's Day
As per reports, landmark changes for women are being made possible by Crown Prince Mohammed bin Salman. The authorities reportedly aim to give women access to most public places in the deeply conservative Muslim kingdom.
"Women should have been attending these events a long time ago," said Majid AlSulami, an Arabic teacher who attend Friday night's event by himself.
"The authority also disapproved any promotional stuff with pictures or videos showing women in an indecent way."
READ: Saudi Arabia Opens Doors To Women-Only Gyms
Since 2017, the Prince has been pushing the government to lift the ban as part of several ambitious economic and social reforms. He has been striving to bring fundamental rights to women. Clearly, winds of change are blowing in the Saudi Kingdom!