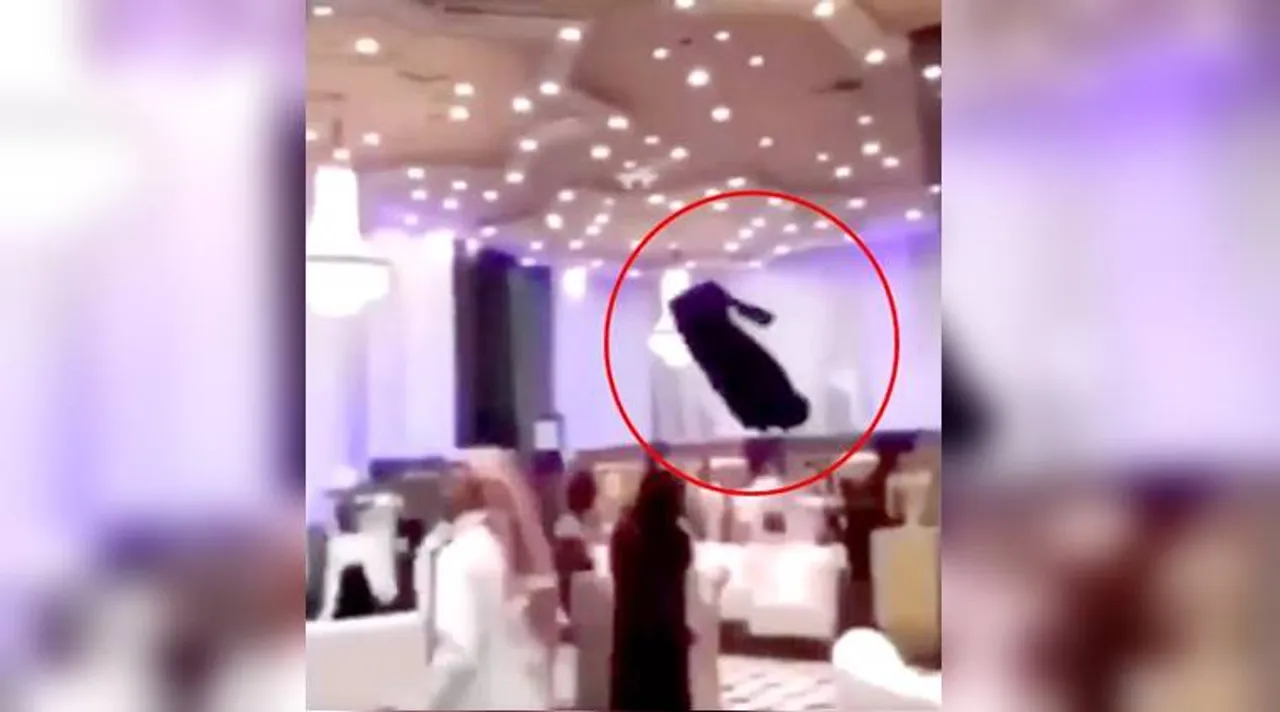 In a bid to make life a wee bit shocking for Saudi's women, the kingdom has now crossed every line and lived up to its gender parity expectation to the fullest.
Jina, a Kurdish woman, shared this video on Twitter with the caption, "I'm dying at this fashion show in Saudi, they weren't allowed, female models".
Watch the video here:
I'm dying at this fashion show in Saudi?? they weren't allowed female models pic.twitter.com/5xxpMBk4Nr

— jina (@jinakhoushnaw) June 6, 2018
READ: Saudi Arabia To Open Sports Stadium Gates To Women
And folks, her reaction wasn't overrated as the organisers of a fashion show in the country thought it'd be hilarious to replace its women models with clothes on hangers suspended on a cable
It is rather unsettling to see a fashion show which denies actual women models but since any fashion show is incomplete without women, they chose to put clothes exhibited 'in air'. This video has gone viral.
The deeply conservative Muslim kingdom still denies women access. So instead of female models walking the ramp, the organisers replaced them with hangers
Also Read: Saudi Arabia Celebrates Its First Women's Day
Since the video has gone viral, some of the reactions her post garnered have made us realize the ground reality:
Tbh idk if they're living in 3018 or 1018 💀 https://t.co/PXu8e064bU

— Ali San 🪐 (@TheSanPlanet) June 7, 2018
Yoooooo niggas said ghost gonna wear this shit before we let women https://t.co/4Cu1LPQaQD

— Qᴜᴇᴇɴ ᴏғ Aᴍᴇʀɪᴄᴀ (@KorySKirk) June 7, 2018
wow, yet another unrealistic body expectation for women smh https://t.co/U8uWFeee4n

— ashtyn (@ashtynmckayla) June 6, 2018
LOOOOOOOOOOOOL are you bantering? Some jinn fashion show ? https://t.co/riCY7VwVBy

— ASAD (@asad_abdullah20) June 6, 2018
the first one reminded me of the dementors from Harry Potter https://t.co/8vlOPCiPmO

— ? (@itshvda) June 6, 2018
The country has numerous gender inequality rules. However, since 2017, Crown Prince Mohammed bin Salman has been pushing the government to lift the ban as part of several ambitious economic and social reforms. He has been striving to provide fundamental rights to women. In such a scenario, having hangers in place of women models does seem strange!
Feature Image Credit: Jina / Twitter
READ: Saudi Arabia Opens Doors To Women-Only Gyms
READ: Saudi Arabia Opens First Car Showroom For Women
Also Read: Creating 'inclusive' fitness fashion: Arshiya Kherani of Sukoon