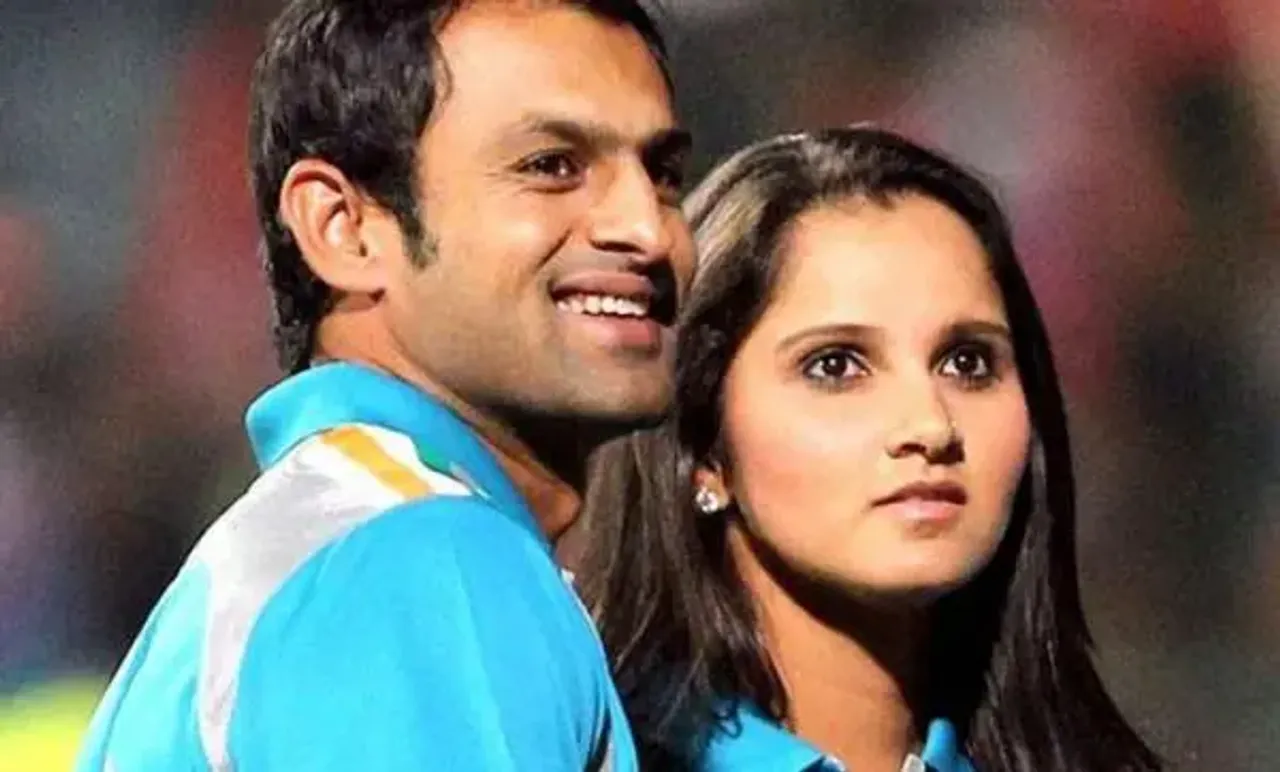 Former Indian tennis star Sania Mirza and Pakistani cricketer Shoaib Malik's relationship seems to be under the rocks. Recently, Mirza shared a cryptic message on her social media: "Where do broken hearts go. To find Allah." The message sparked rumours about Mirza and Malik's marriage.
The tennis star and cricketer married in April 2010 and their union stirred up controversy due to their nationalities. The couple faced backlash as people questioned why Mirza was marrying a Pakistani.
Amid the couple's separation rumours, the two have announced that they will soon host a talk show, The Mirza Malik show. The latest development was shared on Instagram along with a poster featuring the couple. The show will air on a Pakistani channel - Urduflix official.
The text attached to the post read, "The Mirza Malik Show very soon only on Urduflix."
Fans too were quick to share their excitement in the comments section.
Sania Mirza And Shoaib Malik Getting Divorced?
Recently, Pakistan media reports have been speculating that the couple has separated and no longer lives together. Some reports claim that Malik allegedly cheated on Mirza while he was filling a television show.
Reports have also claimed that the couple is co-parenting their son Izhaan Mirza Malik.
Speculations about the couple's marriage also rose after their son's birthday. The occasion was celebrated by the pair in Dubai and Malik released images of the event while Mirza did not.
Mirza instead shared throwback pictures of her and her son and shared a heartfelt note. She wrote, "You made me better and taught me the selfless and unconditional love I never knew".
A few days prior, Mirza had also shared a picture with her son on social media with the caption, "The moments that get me through the hardest days".
While media reports and rumours debated the status of Mirza and Malik's marriage, neither of them has commented on their rumoured separation yet.
Amidst the rumours, one of their close friends anonymously revealed to Zee News Hindi that the couple had decided to part ways and that only the paperwork was left. The close friend said Mirza and Malik would be divorced soon and the two were already separated.
The reasons behind their separation are unclear. However, a Pakistani actor's name is currently popping up amidst speculation about the couple's divorce. Pakistani Actor  Ayesha Omar, who worked with Shoaib Malik for a campaign shoot, is claimed to be involved in Sania Mirza and Shoaib Malik's break-up.
---
Suggested Reading: Sunil Gavaskar Roots For Sania Mirza At Wimbledon: Here's Why It Matters
---
Sania Mirza And Shoaib Malik
Mirza and Malik got engaged in 2009 but their wedding was called off shortly after. On April 12, 2010, the two got married in a traditional Hyderabadi Muslim wedding ceremony, followed by Pakistani wedding customs.
Then their Walima ceremony was held in Sialkot, Pakistan.
Eight years later, the couple announced their first pregnancy on social media on April 23, 2018. In October 2018, Malik announced on Twitter that his wife had delivered a baby boy and named him Izhaan Mirza Malik.