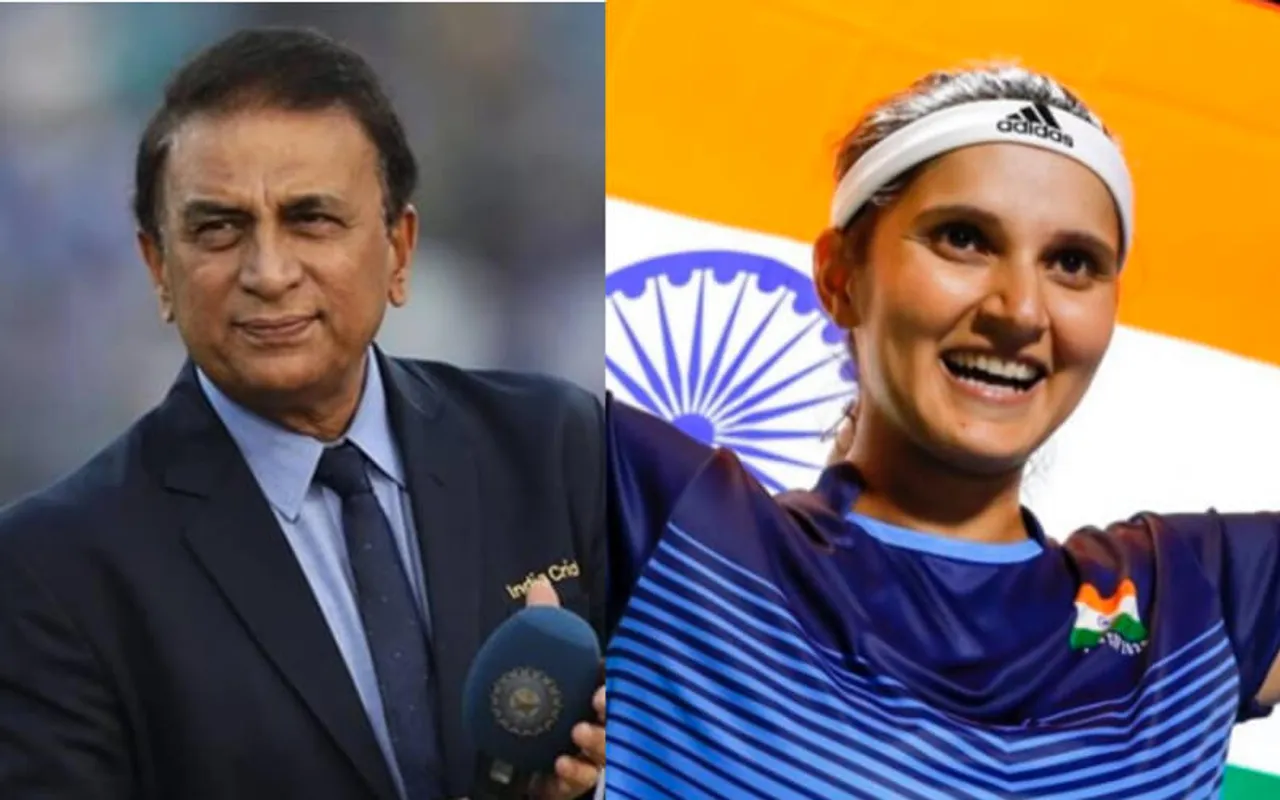 The past few days have been very emotional for Indian tennis player Sania Mirza as she took a shot at the Grand Slam for one final time - decking up in all white for the tennis' biggest event - the Wimbledon Championships. However, Mirza's Wimbledon campaign ended on Wednesday after she and her Croatian partner Mate Pavic lost in the 2022 mixed doubles semi-finals.
Despite the heartbreaking end to her well-fought campaign, there is a silver lining- legendary Indian cricketer Sunil Gavaskar was spotted cheering for Mirza at Wimbledon. While reports have also surfaced that MS Dhoni too attended the prestigious tennis tournament, and was even snapped with Gavaskar during a match, it has not been confirmed whether he witnessed Mirza in action or not.
Earlier this year, Mirza had announced her intention to retire from the sport after the end of the 2022 season.  She had said that her body is "wearing down" and the motivation and energy for the everyday grind were not the same anymore. "I think it is time to move on. There are things in life which take priority over playing tennis matches and I am at that stage now," she said with a tinge of sadness in her voice, in an interview.
Sunil Gavaskar at Sania Mirza Wimbledon Match: When men encourage women
The simple act of watching a woman player's match by the former cricketer tells us a lot about good sportsmanship. The deed amplifies a voice, a voice to have more women join the sport, and encourages young minds toward the field. It's not just a lack of opportunity that plagues young women, it can also be a lack of encouragement.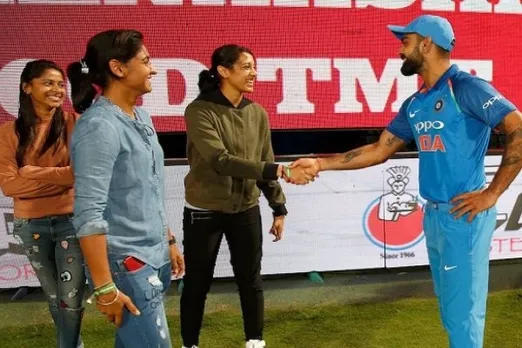 Virat Kohli was pictured meeting star women cricketers Smriti Mandhana & Harmanpreet Kaur after an ODI match against Australia in 2017
A balanced ecosystem
Women in sport have to fight hard to defy gender stereotypes and social norms, thus they are inspiring role models who showcase men and women as equals.
Male athletes cheering for sportswomen is never about seeking validation from men, instead levelling a powerful coalition to make gender equality a lived reality in and through sport.
Together, this coalition will accelerate efforts to provide equal opportunities for girls in sports, promote women's leadership forums, equal economic opportunities, and include a bias-free representation in media.
---
Suggested Reading: Why do Indian women not play enough sport?
---
In a historic move last week,  New Zealand female cricketers and male cricketers signed a five-year deal that ensures equal pay. According to the agreement, women's players will be paid the same match fees as men in all forms and events at both the domestic and international levels.
New Zealand women's national cricket team captain Sophie Devine said that the agreement was "a massive step forward and will be a huge drawcard for young women and girls".
How does it help
While there have been many popular campaigns in recent years promoting girls' participation in sports, many girls still view sports as a primarily "male" activity. This perception can take root at a young age and eventually lead to a girl's decision to quit playing sports as an adolescent. Girls may also quit sports out of a desire to avoid social stigmas, fit in with their peers, or pursue alternative activities such as arts, music, or education.
The best and easy way to advocate participation is by supporting women's sports by attending female sporting events or signing up to coach a girl's youth team. Help girls recognise that athleticism and femininity are not mutually exclusive and that sweat, hard physical work, and strength are not solely masculine realms.
Promoting girls' sports participation is not just a trendy idea. It's a smart, powerful action we can take as individuals and as a community to improve girls' physical, mental, and emotional health. The ability to drive gender equality by teaching women and girls self-reliance, resilience and confidence lie with us.
Views expressed are the author's own.