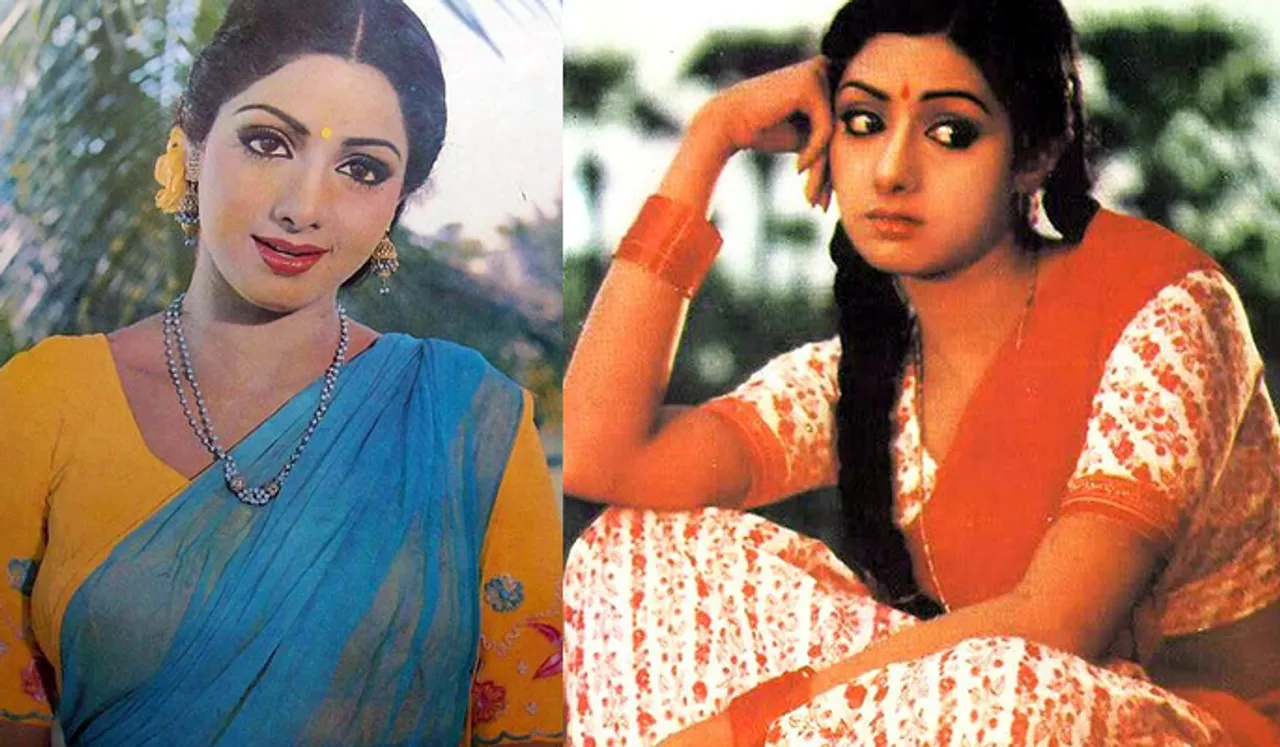 The whole country woke up to the shock of veteran actor Sridevi's demise in Dubai on Saturday night (Feb 24) due to cardiac arrest. The famed actor had just made a comeback a few years ago with English Vinglish and released Mom in 2017. Both these films received rave reviews from critics and audiences alike. Just when our younger generation was getting familiar with the brilliant actor, this has come as a huge blow to one and all.
The actor was the first woman who became a superstar and played such a diverse array of roles in her first innings as a heroine. She broke the boundaries of what roles a female actor should play and went on to essay character roles in her career span. While it is supremely difficult to choose ten most iconic roles of her, I will give it my best go:
Her most recent film English Vinglish that came out in 2012 taught us all one thing for sure—never to make fun of anyone on the basis of language, and specifically not of our mothers. Sridevi made a comeback about six years ago and what an absolutely stunning comeback it was. Directed by Gauri Shinde, Sridevi played the lead character of Shashi Godbole in the film where she struggles with self-esteem issues because she does not speak in English as well as her husband and daughters do. This film makes one introspect on how much importance we give to the English language and sometimes end up judging the people we love.
This multi-starrer film released in 1997 when Sridevi was already a big star. Anil Kapoor and Urmila Matondkar joined her in the film. It had a very different concept where Kajal (Sridevi), who is married to Raaj (Anil Kapoor), forces her husband to marry a rich girl Jahnvi (Urmila Matondkar) who falls in love with Raaj and promises to give Kajal all her wealth in lieu of her husband. Sridevi essayed this role brilliantly and showed an array of emotions on the silver screen.
ALSO READ: A film on mother-daughter relationship; Sridevi comes back with MOM
A big star by the time the movie released, Laadla became a box office hit only because of Sridevi's presence in it. She plays the role of a snooty, ambitious and competitive career woman to perfection. The movie gives a whip to stereotypical gender roles in many ways. It shows a strong female character in the role of Sheetal which Sridevi plays but also goes on to show how a strong woman is often on the border of arrogance.
A box-office superhit of 1992, Khuda Gawah is an epic romance between two superstars—Sridevi and Amitabh Bachchan. The lead cast also had Nagarjuna and Shilpa Shirodkar. The film became the second highest-grosser of the year and the lead pair won critical acclaim. Pakistan's TV industry went on to adapt the film as a series by the same name.
One of the most iconic films of the Indian cinema directed by Yash Chopra, Lamhe is a classic whose success went beyond India and was a success even in the UK in 1991. The movie shows Sridevi in two characters where she plays her own daughter too. A liberal movie for its time and era, it defies the logic of who a person should or should not love and that love does not see the age of a person. One will have to see the film to understand its uniqueness.
This is another iconic film in the career of Sridevi and another highest grosser of 1989. The film which had South Indian superstar, Rajnikanth, was actually a joyride because of Sridevi's character and how she played it. In a twin avatar, Sridevi played a damsel in distress as the first sister and a rowdy chalbaaz as the second sister. Words fail in describing her acting prowess. Comedian Varun Grover aptly said, "There was a gracefulness even in her goofiness."
Another Yash Chopra-Sridevi concoction, Chandni is also one of her most admired works. Sridevi displays a range of emotions in this one as she loves, loses, goes on to live a new life and then comes across love again. The film is critical in romantic dramas through the years as it pulls up a great script with even better acting.
The little things she does as part of her character shows how deep she can go to to prove the realness of her film role
While this film focuses largely around Anil Kapoor"s character, Sridevi who is paired opposite Kapoor leaves her own palpable energy in her character of Seema. Sridevi portrayed the popular song "Kaate nahi kat te ye din ye raat" with great aplomb on the screen. Overall, the film is a great rom-com that also was a huge-hit in the box office.
A 1986 release, the film revolves around Sridevi. When today we talk of female-driven films with labels like progressive, this film breaks that myth that it is now that women are leading movies. Not just this, it was also a commercial success as it became one of the highest grosser again in that year. A cult classic, Sridevi essayed the role of a Nagin in the movie. With this film her character became the benchmark for Nagin characters yet to come in Indian cinema.
One cannot talk about Sridevi's most iconic fims without talking about Sadma. It is a 1983 film with Sridevi and Kamal Hassan in the lead roles. Sridevi's character (Nehlata) in the film acquired mental disability after she met with a car crash. Through the film, Sridevi draws on to the nuances of a young girl in a fully grown woman's body. This film is an embodiment of Sridevi's acting skills. The little things she does as part of her character shows how deep she can go to to prove the realness in her character.
Long live Sridevi's legacy!
Picture credit- DESIBlitz