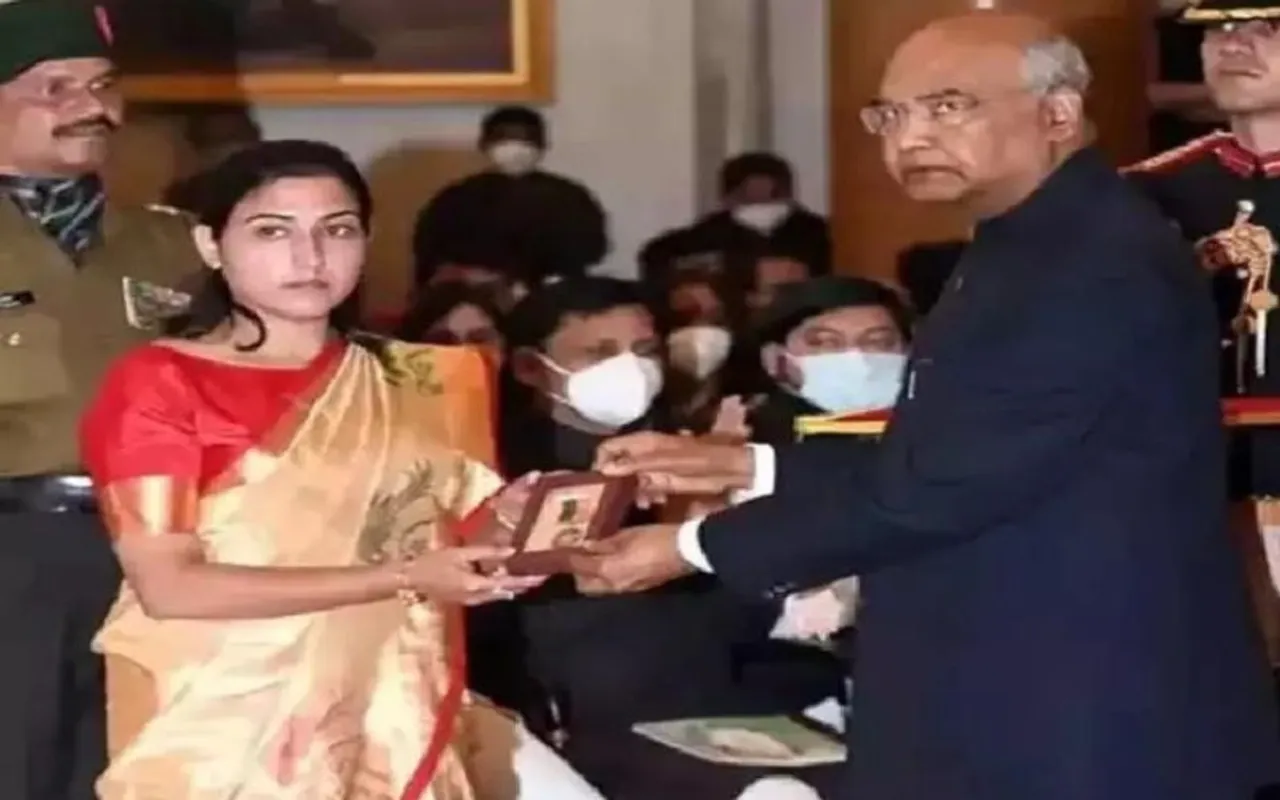 Rekha Singh wanted to keep her husband Naik Deepak Singh's legacy to go on after he was killed in Galwan in June 2020. Singh was one of the 20 soldiers killed in a skirmish with the Chinese People's Liberation Army. The 23-year-old Rekha, keeping it true to the promise, has started training at the Officers Training Academy (OTA) in Chennai.
Rekha was all set to pursue her career in the army after clearing the Services Selection Board (SSB) interview, in order to be joining OTA. She was the wife of Singh, who belonged to the 16th Battalion of the Bihar regiment and was awarded Vir Chakra posthumously by the President of India Ram Nath Kovind in November 2021.
Vir Chakra is considered the third highest wartime military honour after Param Vir Chakra and Maha Vir Chakra. On behalf of Singh, his wife Rekha had accepted the award.
---
Suggested Reading: Galwan Valley Martyr's Wife Joins Indian Army to Carry Forward His Legacy
---
Rekha Singh Galwan Valley
Her training at the academy will be nine months long, after which she will get a short-service commission (SSC) in the army as a lieutenant. According to the officials at OTA, she reported for training on May 17. SSC women officers are now eligible for permanent commission.
The permanent commission was agreed upon by the army after a petition had been filed in the Supreme Court of India by eleven women who alleged that their application was rejected despite meeting the mentioned criteria. The agreement came after SC issued a warning that the army officials will be held guilty of contempt if they failed to abide by the order.
Speaking to ANI, she had said, "It was my husband's dream that pushed me to strive hard to make it to the Indian Army. I made up my mind to leave my job as a teacher and become an officer in the army."
In another interview, she also explained that it was difficult for her to prepare for the entrance exams. In fact, she failed in her first attempt but kept striving and studying hard. Resulting in her clearing that exam on her second attempt.
She is one of the army wives who have taken the responsibility of carrying forward their husband's legacy.