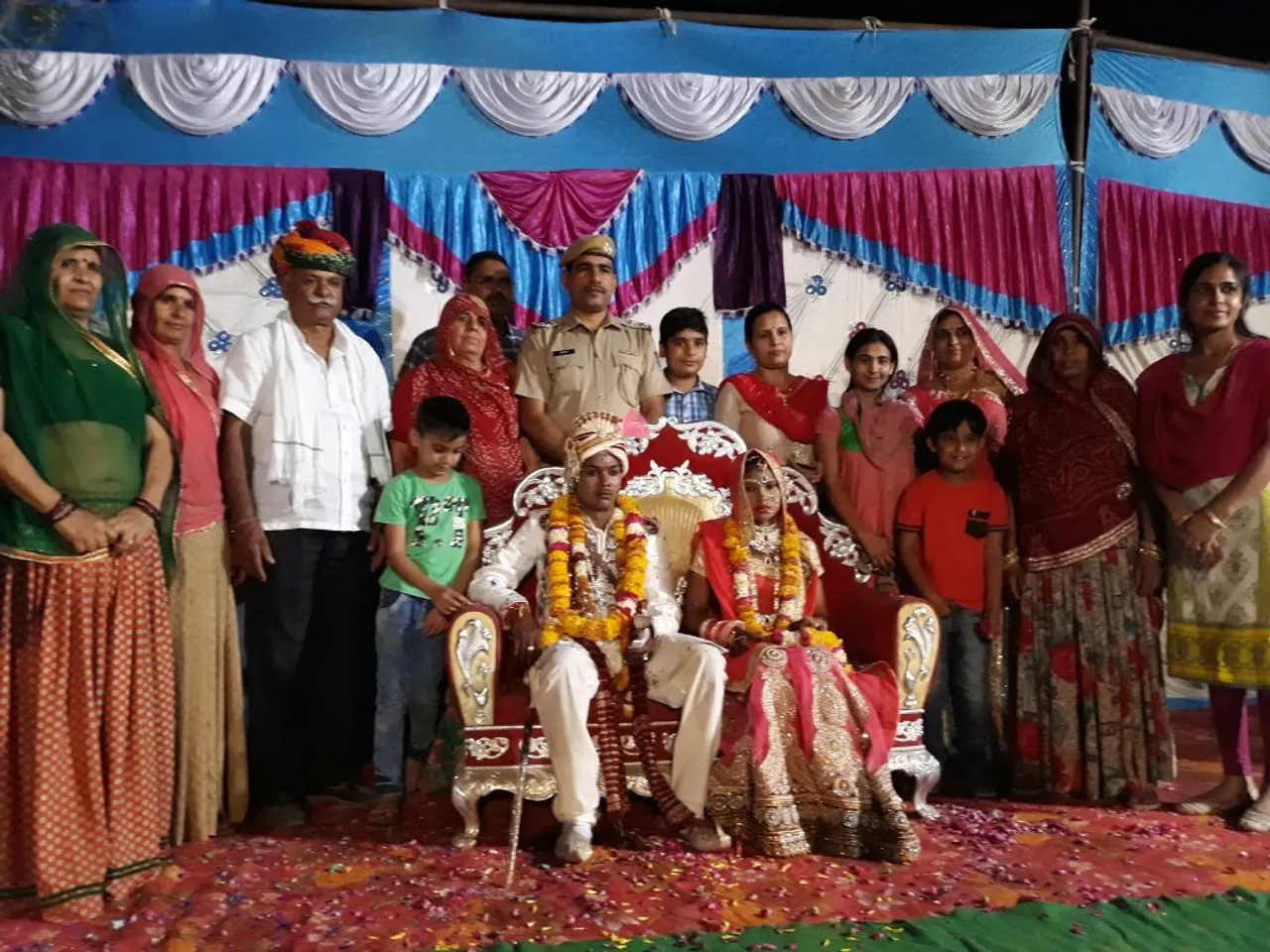 Police officers are generally categorized as the saviour of the society. So, a few cops at the Datwas Police Station answered beyond the call of their duty by sponsoring and hosting a village girl's wedding. The good Samaritan turned the police station into a wedding venue and even did kanyadaan.
Datwas PS in Rajasthan's Tonk could possibly inspire a Bollywood flick! SI Dayaram Chaudhary & colleagues from @PoliceRajasthan sponsored marriage of very poor Mamta after adopting her. What's best, marriage ceremony was held in the Police Station on #AkshayaTritiya. We're proud! pic.twitter.com/6WwnrBgAdv

— IPS Association (@IPS_Association) April 19, 2018
Mamta Mahawar who works as MGNREGA labour (national scheme for "Right to Work") was deep in debts. When she decided to get married on Akshaya Tritiya on April 18th, the cops came to her aid. Not only did they pay for the wedding but also organised the function at Datwas Police Station in Rajasthan's Tonk district. The local police station premises was decked up with lights and flowers to welcome the baraat.
Read Disguised As Bride & Groom Lesbian Couple Gets Hitched at Mass Wedding
Living in a backward district like Tonk, Mamata, wouldn't have dreamt of such a wedding.
The police station lit up with decorations and the duty staff stood with the bride and the groom, smiling for the pictures.
The young girl lost her father when she was a kid. Two years ago, she lost her only brother too. After his demise from illness, Mamta took up the responsibility to repay the loan taken for her brother's treatment. Her daily job includes working inside the police station premises, so the staff there was aware of her financial condition and willingly supported for her wedding.
According to The Rajasthan Post, she could not afford the wedding expenses so the staff chipped in. SHO Dayaram Choudhury said that the Sarpanch failed to provide hence the cops helped her to get married. They also played host to the groom's family at the station, where Mamta's wedding took place.
The gesture also made the officers the new heroes of the society.
READ: Surat Bizman Marries Off 251 Girls In A Mass Wedding, Again