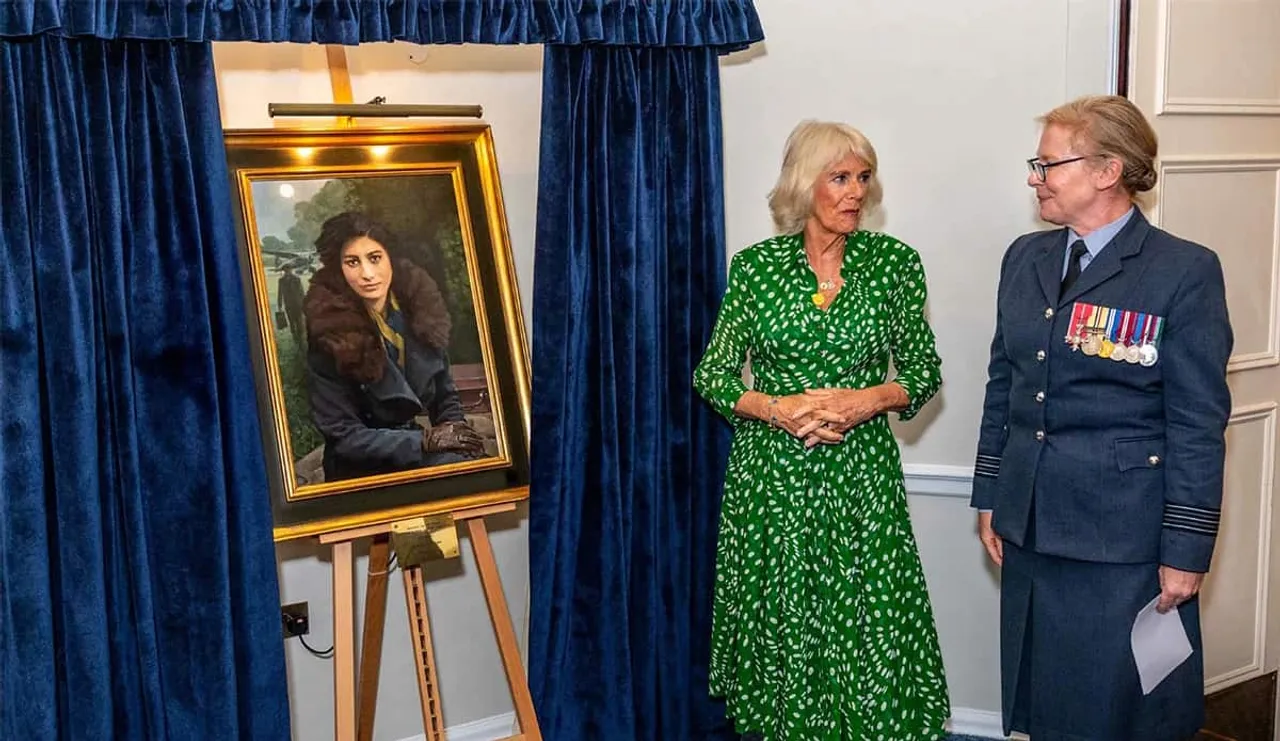 In recent news, Queen Camilla of the United Kingdom unveiled a portrait of Noor Inayat Khan, at the Royal Airforce (RAF) Club. The occasion? To celebrate her extensive work and honour her sacrifice as an undercover agent for Britain's Special Operations Executive (SOE) during the Second World War. 
On Tuesday, the queen consort formally named a room at the RAF club as the "Noor Inayat Khan Room." The portrait hangs in that room, opposite a stained-glass window inaugurated by the late Queen in 2018 that celebrates women in the RAF. 
Who Was Noor Inayat Khan?
Born Noor-un-Nisa Inayat Khan in Moscow, in 1914, Noor Inayat Khan was the descendant of the famous Tipu Sultan. She moved to London when she was young, before moving to Paris during her school years. When France was invaded by Nazi Germany during WWII, she escaped to England and subsequently joined the RAF's Women's Auxiliary Air Force (WAAF). She was recruited as an undercover agent/spy for Britain's Special Operations Executive (SOE) in 1942 and became the first woman SOE operator to be sent into Vichy France in 1943, according to a statement by the RAF Club. 
"During the following weeks, the Gestapo arrested most of the Paris Resistance Group in which she worked," the statement continued. "Despite the danger, Noor refused to return to England because she did not wish to leave her French comrades without communications and she hoped also to rebuild the Group," the statement added. 
The Portrait
Created by the celebrated British artist Paul Brason, the portrait was based on the few accessible images of the female spy, and was aimed at displaying her steely character. Khan, who was shot by the Gestapo at Dachau in 1944, became one of only two members of the WAAF to be awarded the George Cross (GC)- the most prestigious honour awarded for acts of great courage in greater danger. 
At the portrait and room unveiling, the queen consort was presented with a copy of Shrabani Basu's biography of Khan- Spy Princess:The Life of Noor Inayat Khan. On the unveiling, the British Indian author said, "It was a proud moment to have the Queen unveil the portrait of Noor Inayat Khan at the RAF Club."
"For me, it has been a privilege to tell her story," she commented."This wonderful portrait will now be seen by many young men and women for generations."
"Noor's story will never be forgotten," she said. 
---
Suggested Reading: Noor Inayat Khan Becomes First Indian-Origin Woman To Be Honoured With Blue Plaque