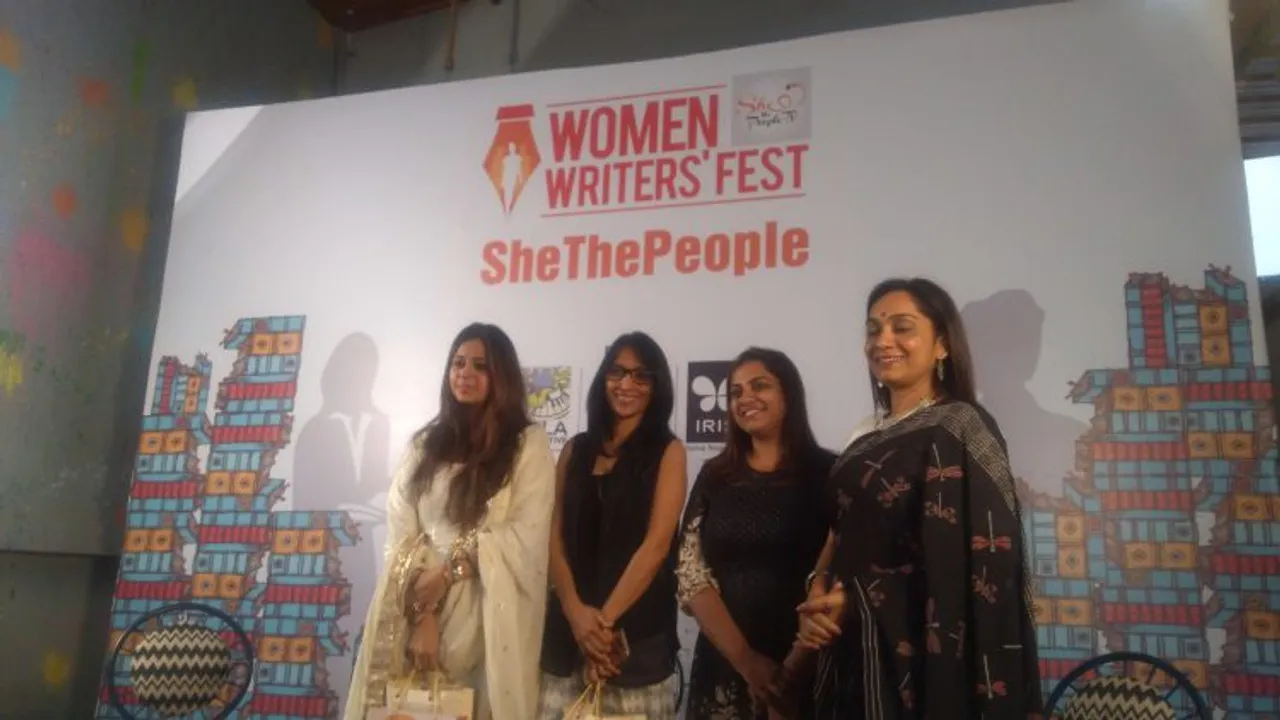 Like the tangy, spicy Puneri misal, with its sharp flavours, its mixture of assorted ingredients cooked to perfection and its penchant to not just gratify your taste buds but leave you with to a lingering, delectable aftertaste, the SheThePeople.TV's #WomenWritersFest, held at Kala Kollective was a scrumptious, mixed bag of wholesome interactions – intense, funny, serious, sassy, and extremely insightful. Curated by author and biographer, Sudha Menon and supported by former journalist and independent editor, Archana Pai Kulkarni, the fest attracted aspiring writers, published authors and book lovers across age groups.
The evolution of Marathi Literature
It opened with the introductory note delivered by popular Indian author, Kiran Manral, the Ideas Editor at SheThePeople.TV. The session began with a panel discussion on 'The changing paradigms in regional language literature'. Gracing the panel were Sahitya Akademi Award winning author, Dr Uma Kulkarni, popular author Leena Sohoni, and Founder President of a non-profit voluntary organisation (BHAASHAA), Swati Raje. Moderated by Archana Pai Kulkarni, this session broke language barriers, as the authors spoke in their native Marathi, offering honest insights into the evolution of Marathi Literature, the trends in writing, the new noteworthy authors, and more.
We are starting with our first panel on "The changing paradigms in regional language literature" with @archcoolcarnee @LeenaSohoni, Uma Kulkarni & Swati Raje #WomenWritersFest #Pune pic.twitter.com/cMPfoDGWOZ

— SheThePeople (@SheThePeopleTV) September 8, 2018
Writing noir
It was followed by a panel discussion titled: 'Still waters run deep: Women writing noir', moderated by journalist, Anjali Shetty. With speakers like authors Tanushree Podder, Sucharita Dutta Asane and Kiran Manral, the discussion veered around the creation of atmosphere and mood, choosing the POV that suits the story best, easy ways to insert a mystery and other nuts and bolts of exploring this interesting genre.
Our next panel is on Still waters run deep: Women writing noir#WomenWritersFest #Pune @kala_kollective pic.twitter.com/IBnjLkmXC7

— SheThePeople (@SheThePeopleTV) September 8, 2018
Women enjoy both having sex and writing about it.
The next session was on 'Writing on Love and Lust'. Moderated by Kiran Manral, it was a no holds barred session, where Sudha Menon, RJ Shubhra and Swati Shome spoke on dropping inhibitions, breaking taboos, and writing on matters of the heart and the most intimate, without fear or shame. It also reiterated that women enjoy both having sex and writing about it.
Writing on love and lust @KiranManral @sudhamenon2006 @shubhra22jan Swati Shome #WomenWritersFest #Pune pic.twitter.com/LM0WcPzeJe

— SheThePeople (@SheThePeopleTV) September 8, 2018
Challenges of writing the very first sentence of a novel
The post-lunch session was a Workshop on 'Getting your first draft done', with author of Urmila, Pervin Saket, who in her conversation with Archana Pai Kulkarni, addressed the challenges of writing the very first sentence of a novel, dealing with the critic in the head, choosing from the several different points of view available, research, plotting, characterisation, the works, offering a wholesome takeaway to aspiring writers.
Extremely stimulating conversation with @PervinSaket at the Women Writer's Fest yesterday. Wonderful takeaways, practical tips, new insights and sage advice on writing the first draft. https://t.co/XUgYNrEbt9

— Archana Pai Kulkarni (@archcoolcarnee) September 9, 2018
Authors, books and book spaces
The focus shifted from authors to books and book spaces during the session on 'Indie Bookstores: Building reader communities and creating cultural hubs', in which Ramesh and Rasika Rathiwadekar of Akshardhara Book Gallery, winner of the Publishing Next Industry Awards 2017 for 'Bookshop of the Year', and Vishal and Neha Pipariya, the feisty young couple whose book space Pagdandi has created new pathways for readers and writers alike,  spoke at length about the challenges in luring readers, their passion for books, their efforts to connect the reader with the writer, their success mantras and their optimism that bookstores are here to stay and thrive.
What goes into the making of an RJ?
The venue was injected with more cheer and liveliness as the feisty RJs, Sho Sho Shonali, Smita and Tia took to the stage. They elaborated on 'Talking their way into our hearts and homes', to Sudha Menon. What goes into the making of an RJ? What are the identities that they assume from time to time? How does one keep listeners engaged day after day?  What does one do to stay upbeat? How to use their voices to entertain and influence?  They also spoke of the various initiatives they take up from time to time to support causes.
.@rjshonali talks about the various initiatives she has taken as an RJ to bring about a change #WomenWritersFest in #Pune pic.twitter.com/ek4VjrNNZI

— SheThePeople (@SheThePeopleTV) September 8, 2018
Making people look at the lighter side of life
Soon, the venue saw a laugh riot as the unstoppable stand-up comics, Ayushi Jagad, Sweta Mantrii and Niki Ray (Madbai) began performing. The topic? What else, but 'Life is a laugh. Scripting their way to being stand-up comics'. But, as the trio confessed, it wasn't easy being one. There is the censorship to deal with, the trolling which can get merciless, and the courage which they have to muster to go on making people look at the lighter side of life, when the going gets tough, the taboos which prevent them from tapping certain subjects. All three had the audience in splits with their irrepressible wit and humour.
Storytelling: The power of stories
What would a fest be without stories? The storytelling session began with Kakoli Bagchi narrating a story from Sucharita Datta Asane's 'Cast Out and other Stories', a dark, riveting piece, and Seema Gaurav following it up with a funny story written by author Ismat Chughtai. The contrasting moods highlighted the power of stories from different genres to hold the listener spellbound, even as the storytelling generated conflicting emotions.
Today's women writers speak their minds
RJ Smita moderated the next session: 'Writing through the Gender lens' which saw a fierce discussion among Lalitha Suhasini, Vibhawari Deshpande and Sowmya Rajendran. They were unanimous in their opinion that today's women writers can speak their minds boldly and fearlessly, and this paves the way for others to follow suit. While gender discrimination still exists at workplaces, women can fight this by asserting themselves and not allowing their own conditioning or external pressures to suppress or silence them.
The bonhomie and camaraderie among the writers was palpable, as the audience mingled freely with the speakers, sharing views, asking questions, discussing books and writing, and of course, signing books. If there was enough wholesome food for thought, there was also some spicy stuff to please the palate – pav bhaji and pulao and endless cups of steaming hot chai and coffee, not to mention a goody bag to take home. Though Shaili Chopra, the force behind the fest could not be present, it reflected her zest and vision, all through.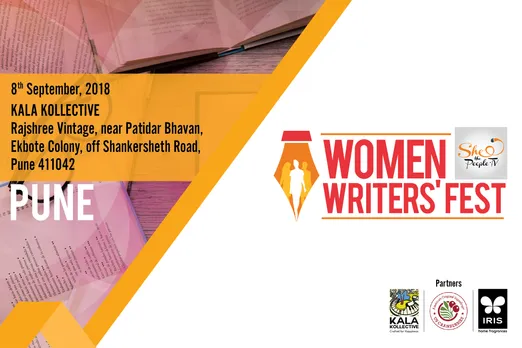 The programme ended with a note of thanks delivered by Sudha Menon, with a promise that the coming year, the fest would definitely be bigger.