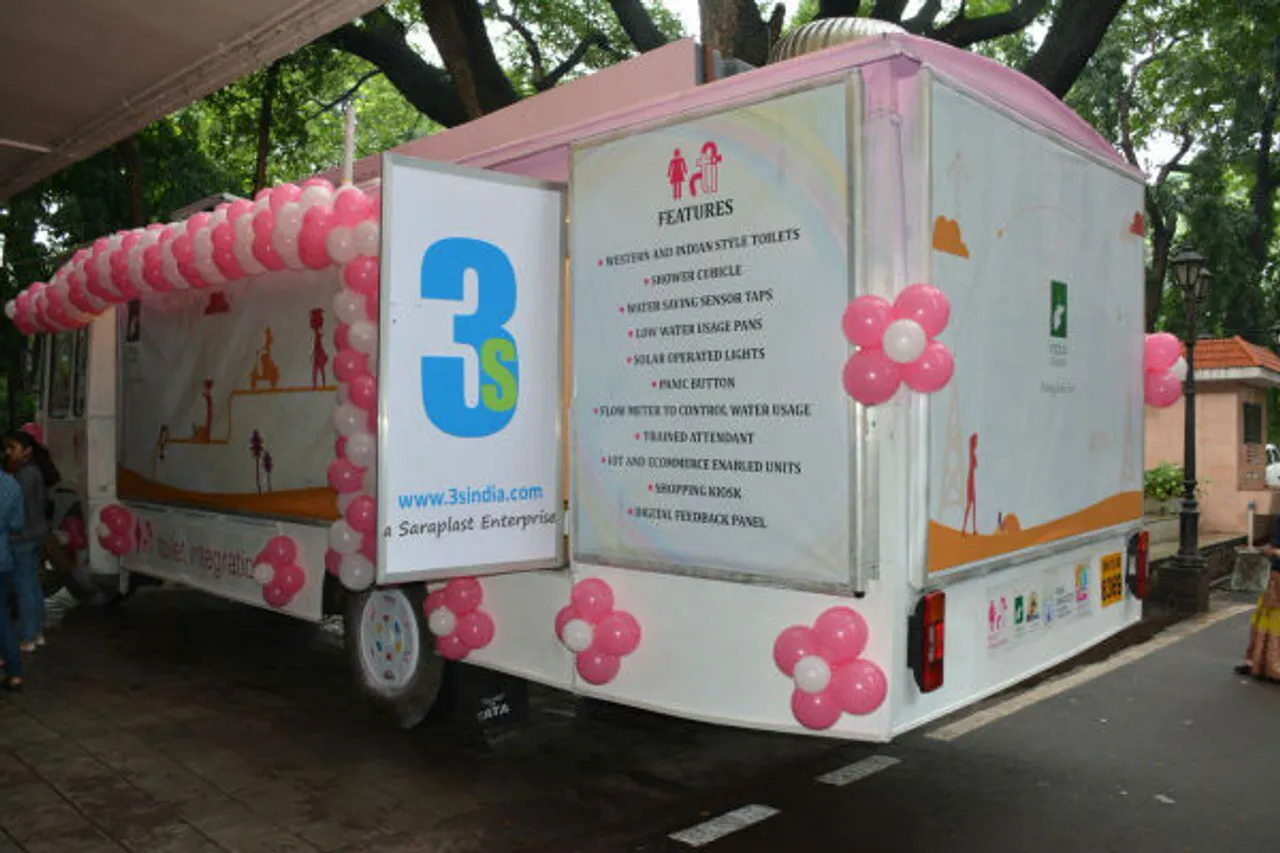 If you thought mobile toilets exclusively for women were hard to find in your city, then Pune is the place to be. Puneites, here's a much appreciated move -- mobile toilets for women -- with features like a panic button, western-style bathroom fittings and water-saving taps, will soon be the norm in your city, TOI reports said. The special toilets were launched recently, but will soon be implemented in the entire city.
Also Read: Girl Builds Toilets For Needy With Her Pocket Money

These toilets in the city are intended to increase safety for women using public toilets. The prototype -- first batch of these toilets, which would be facilitated with water-saving features, will be available in markets like Shivajinagar and JM Road. The other areas will also be covered soon.
Presenting "Ti": Mobile toilets exclusively for women by PMC.#pune #pmc #hygiene #toilets pic.twitter.com/I9Aje8r66Q

— PMC Care (@PMCPune) December 1, 2016
"These toilets will be different from the existing ones. They will be more user-friendly. After these facilities are introduced, the number of toilets in the city will increase and the problem of non-availability of toilets for women will be solved up to some extent," head of PMC's solid waste management department Suresh Jagtap said.
Also Read: Without toilets, women wait for the dark
There is no doubt that the city lacks proper toilets, on top of that building many such would be a hurdle, after all finding proper space in a busy city like Pune is hard. So rather, these portable toilets will make it much easier to be stationed in a small area, thus solving the problem.
PMC recently launched mobile toilets initiative called "Ti" exclusively for women.#pune #pmc #worldtoiletday #services #Hygiene pic.twitter.com/WXYW1tANUq

— PMC Care (@PMCPune) November 19, 2016
In 2011, a public charitable trust had filed a public interest litigation against the Pune Municipal Corporation stating that the civic body had failed to provide adequate toilet facilities for women.
Also Read: Gender Bender: Brave women who are forced to use public toilets in India
"Portable toilets can be one of the solutions. These facilities are equipped with new-age technology. Different services such as a panic button will make them safer," said Rajeev Kher, founder of a sanitary firm, which is operating and maintaining these toilets.
According to Kher, nearly 100 portable toilets are coming in the city's different areas in order to facilitate sanitation awareness.
Also Read: Right to Pee: Lack of Public Toilets Puts Women's Health at Risk
According to the group, approximately 17 lakh women reside in its jurisdiction, but there are only about 180 urinals that are currently functional. The petitioner had questioned the dismal condition of the women's toilets. The last time PMC has constructed toilets in phases was in 2011, but the National Urban Sanitation Policy indicates 100% availability of toilets, which are not even slightly touched till date. The Government has spent over Rs 4.28 crore since 2011 for building public toilets for women. Since then, the number of public toilets in Pune has increased only by 103.
You May Also Like: Women Panchayat finds a new way to stop people from openly defecating
In case you are still wondering about the magnitude of the problem, here is are some quick facts:
Around some 130 million households in India lack toilets.
70% of Indians living in villages defecate in the open and women especially are affected by the lack of access to toilets. That is where many rapes occur. Remember the rape and murder of two Badaun sisters in 2014 who had left their homes to relieve themselves outside?
India accounts for nearly 600 million of the 1 billion people in the world who have no toilets.
67% of all Hindu households, rural and urban, practice open defecation, compared with 42% of Muslims.
More public toilets for women in Pune is surely a welcome move!
Feature Image Credit: Twitter
Join Us on https://www.facebook.com/SheThePeoplePage
Follow Us on https://twitter.com/SheThePeopleTV