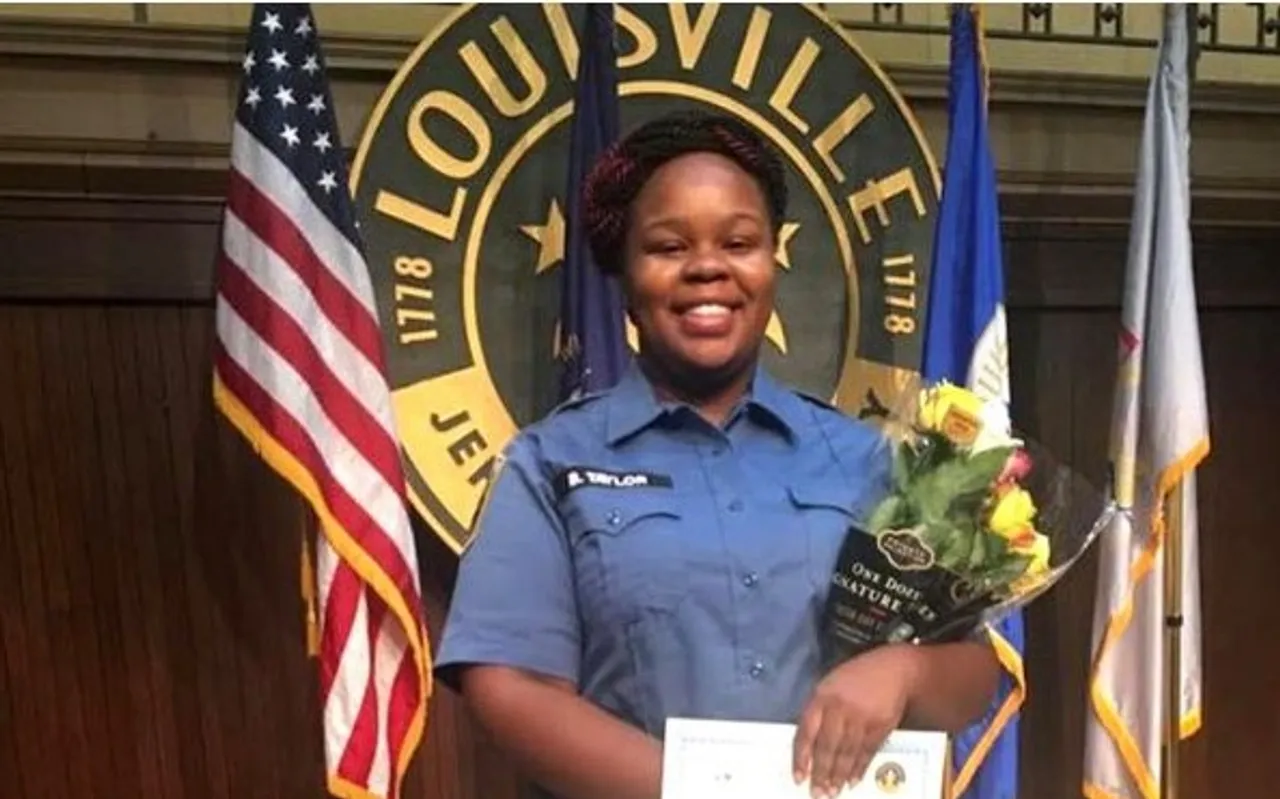 Protests have broken out in parts of USA after a grand jury on Wednesday announced its judgment in the Breonna Taylor case, charging none of the three police officers involved in her killing. Cries of "Say her name! Breonna Taylor" and "No justice, no peace" resounded in major cities through the night, as protestors marched through the streets with placards and posters.
Taylor, a 26-year old Black woman, was shot and killed in Louisville, Kentucky in March this year, inside her residence by three officers from the police department executing a "no-knock" search warrant. Her death had sparked a nationwide call for an end to racism and police brutality, which gained bigger significance after George Floyd's murder in May.
The Jefferson County grand jury has now decided to only indict one out of the three officers for "wanton endangerment" for shooting (or, for putting Taylor's neighbours' lives in danger), while the use of force by the other two has been justified citing self-protection. This essentially means that none of the officers have been charged with actually killing her.
Also Read: Why Are Women Labelled Troublemakers When They Refuse To Remain Silent?
Family And Leaders React To The Judgment
The judgment is being deemed unfair by dissenters, who believe Taylor deserves more justice than this. In the wake of this decision, protests are erupting everywhere, from Los Angeles to New York. Some locations are seeing the protests turn violent. In Louisville, two police officers were shot during the protests, sustaining injuries. In other places like San Diego, where the demonstrators clashed with law enforcement, "unlawful assembly" has been declared, which could lead to the arrest of protestors.
Reports say that as the judgment was announced, there was "a lot of sadness and weeping" in Taylor's family. A source present at the location was quoted saying, "We didn't fathom that it would be a situation where they would indict on charges against the neighbors and absolutely nothing on Breonna."
"We will go to our graves proclaiming that Breonna Taylor did not get justice from the Kentucky attorney general's office," Ben Crump, the attorney for the Taylor family told CNN.
Also Read: US Supreme Court Justice And Women's Rights Advocate Ruth Bader Ginsburg Dies At 87
VP candidate Kamala Harris also reacted strongly to the issue:
Tonight, I'm thinking of Breonna Taylor's family who is still grieving the loss of a daughter and sister.

We must never stop speaking Breonna's name as we work to reform our justice system, including overhauling no-knock warrants.

— Kamala Harris (@KamalaHarris) September 24, 2020
Current US President Donald Trump meanwhile said on the issue, "My message is that I love the Black community & I've done more for the Black community than any other president... I don't know enough about it. A decision was just made..."
Here are visuals from the protests:
Hundreds of people gathered in downtown Louisville tonight to protest the lack of charges in Breonna Taylor's killing https://t.co/foZQRuiYIu pic.twitter.com/c8tGAB4ll2

— BuzzFeed News (@BuzzFeedNews) September 24, 2020
Settlement For $12 Million
Taylor's mother, Tamika Palmer had filed a civil lawsuit over her daughter's wrongful death, including how officers handled the situation. "Please continue to say her name," Taylor's 
mother
 had said, breaking down at a news conference.
It was announced in September that Taylor's family had agreed to a settlement of $12 million in the wrongful death suit with the city of Louisville.
Following this, Mayor Greg Fischer had
reportedly
"announced reforms to the city's police department, such as funding for social workers to accompany officers on certain calls."