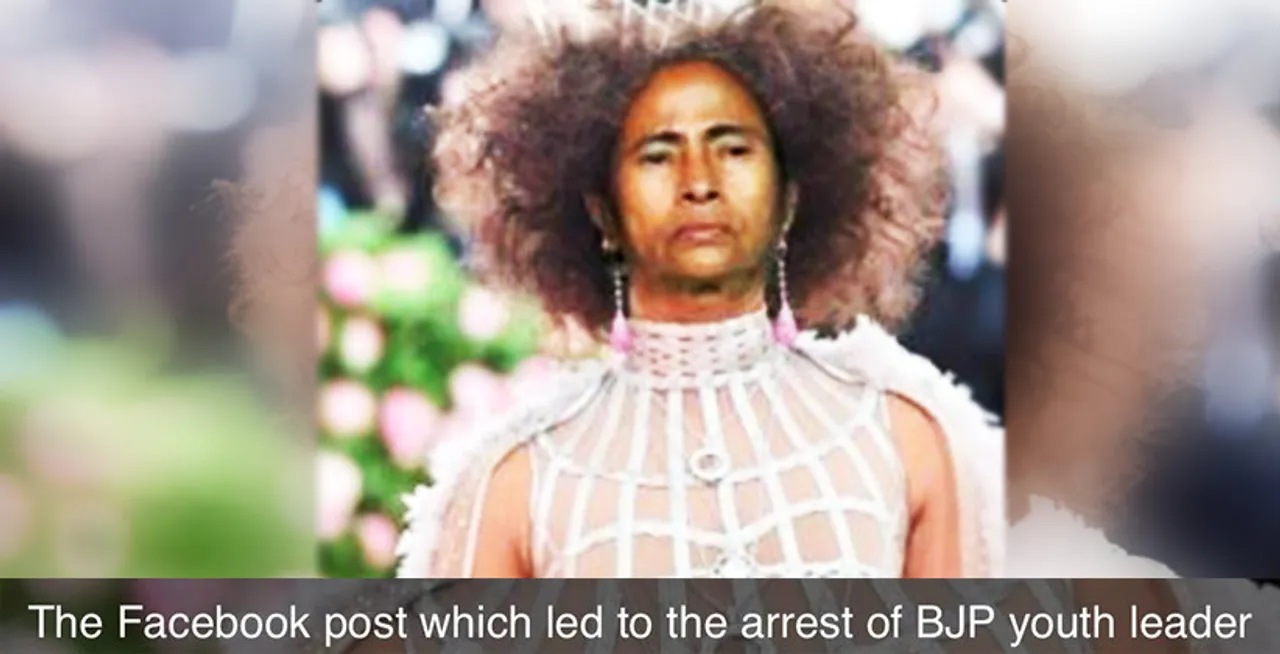 Mamata Banerjee has often accused the BJP of being intolerant. However, she proved that she is no different.  She got Priyanka Sharma, a member of the Bharatiya Janata Youth Morcha (BJYM) arrested. Sharma was arrested because she had posted a meme of Banerjee.
In the meme, Banerjee's face was superimposed on Priyanka Chopra's popular MET Gala 2019 look. This photo-shopped picture is posted on the Facebook account of Priyanka Chopra. Her profile on the platform reportedly describes her as the Howrah District Club Cell Convenor of BJYM.
This created a buzz because she is the Chief Minister of West Bengal and has been critical of the ruling party.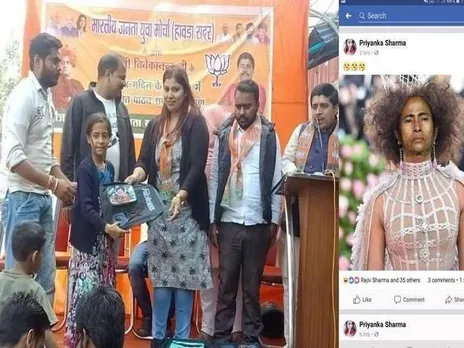 Priyanka Sharma Arrested For Posting A Meme Of CM Mamata Banerjee
As a result of this post, Priyanka Sharma was arrested and presented in Howrah court. However, the post has been taken down from her timeline now.
The fact that the police was involved which led to the arrest has opened doors for heavy  criticism of Banerjee. People argued that arresting someone for just a meme was incorrect, and that the West Bengal administration has taken the case too far.
#ISupportPriyankaSharma: Twitter erupts in support of BJYM activist arrested for posting Met Gala-themed meme on Mamata.
BJP's nominee for the South Parliamentary constituency Tejasvi Surya, in a tweet compared a situation in which the Congress had posted an image of Narendra Modi with a Hitler moustache along with the meme Sharma had created. He compared both the meme's and the reaction that BJP had given and the reaction by the West Bengal administration.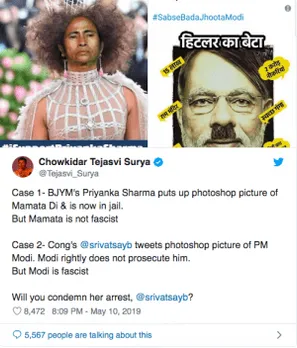 Pic Credit: Twitter
Another Twitter user, Rishi Bagree tweeted: "I don't know her, I never met her. But still I can feel the pain of Priyanka Sharma who has been arrested for sharing a viral meme on Mamata. Just imagine what her family is going through right now. What if this happens with your daughter or sister?"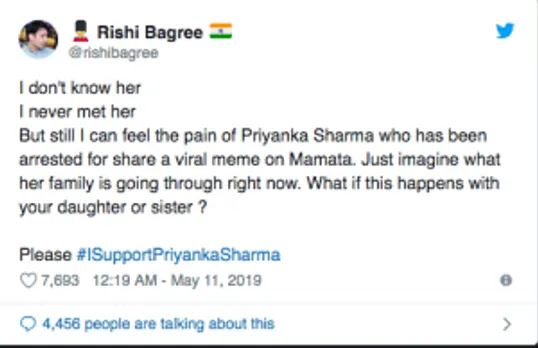 Pic credit: Twitter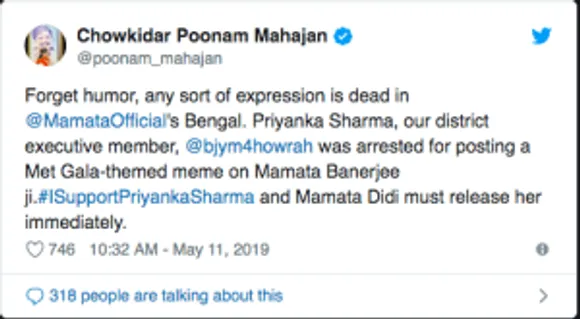 Pic credit: Twitter
Several people are demanding the release of Sharma and have already tweeted their thoughts in support of Sharma as they feel her arrest is unjust.
Priyanka Chopra In List Of Most Influential Asians
With over 50,000 tweets, Twitter hashtag #ISupportPriyankaSharma has been trending since May 10.
Read also - 10 Things To Know About West Bengal's CM Mamata Banerjee
Kavya Shah is an intern at SheThePeople.TV