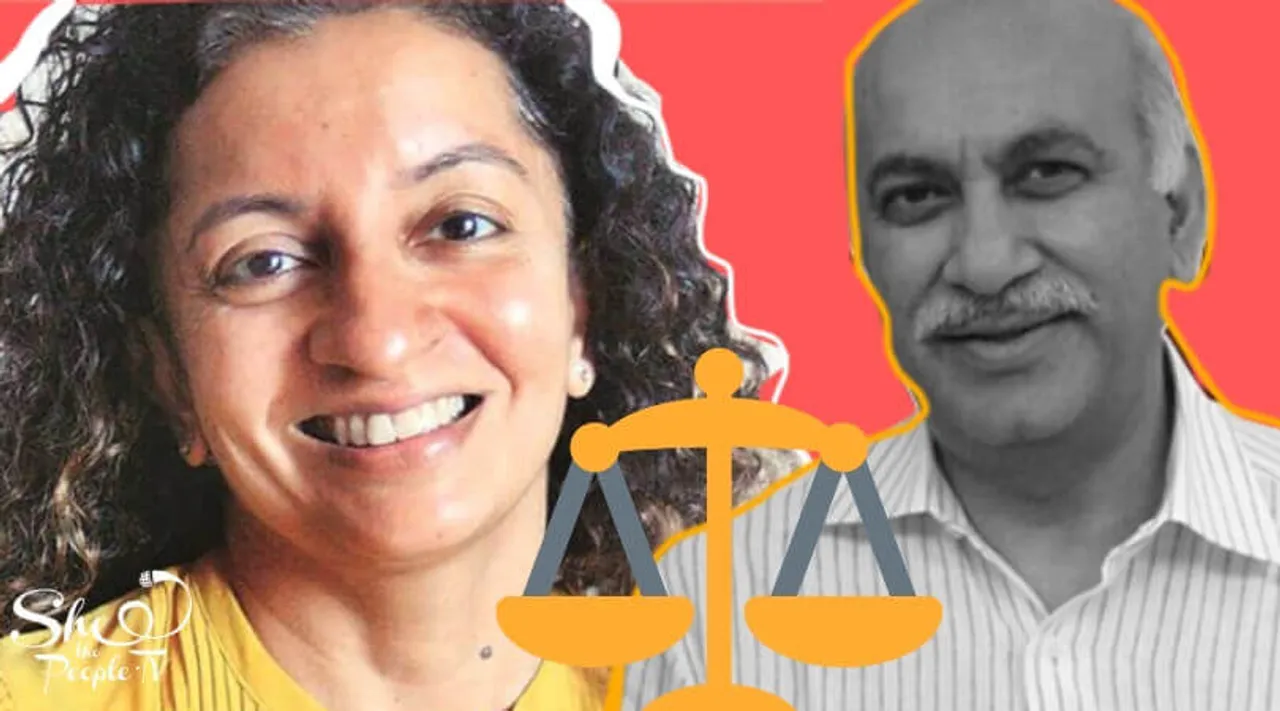 Reactions pour in after Priya Ramani acquittal: A Delhi court Wednesday acquitted Priya Ramani in the defamation case filed against her by MJ Akbar, concluding the two-year-old legal battle between the two journalists. The judgment contended that "sexual abuse takes away dignity and self-confidence" and that a man of Akbar's stature too could be a harasser. 
Ramani, between 2017 and 2018 had made allegations of sexual harassment against Akbar, prompting several other women, including journalists, to level similar charges against him. Akbar, denying all #MeToo allegations, on October 15, 2018, filed a private criminal defamation complaint against Ramani, claiming his name and reputation were tarnished. 
Priya Ramani Acquittal Hailed As A Landmark Moment
The Delhi court observed that "a woman has right to put her grievance even after decades" and noted that "Even a man of social status can be a sexual harasser." 
When Ramani's #MeToo allegations came to light, the movement against harassment and abuse of women was still in its nascent stages in India.
That the journalist took on a figure as powerful as Akbar is being hailed as a watershed moment in India's feminist movement. Prominent women, from various fields especially journalism, have reacted to the Priya Ramani acquittal news on social media. 
Here are some reactions: 
This is historic, thank you Priya Ramani for this fight for truth, for equality and for us all. https://t.co/wcuYcYyHox

— Priyanka Chaturvedi (@priyankac19) February 17, 2021
Truth prevails. What a resounding victory for India's women, for all who spoke up and continue to do so. For Priya Ramani for refusing to be intimidated and giving courage to so many more who will continue to speak up. #MeToo #TimesUp

— Namita Bhandare (@namitabhandare) February 17, 2021
2 years after #MeToo storm, watershed moment for women in India. Delhi Court says right to dignity is sacrosanct and a reputed man can be a sexual harasser. #PriyaRamaniAcquitted

No More Fear!

— Marya Shakil (@maryashakil) February 17, 2021
2 years after women in India started speaking out about sexual harassment at the workplace, this is a landmark judgment. Especially since court notes that it's ok for women to speak even after some time has lapsed. It doesn't take away from their credibility. #MeToo

— Padmaja joshi (@PadmajaJoshi) February 17, 2021
This is really progressive, enshrining the women's right to speak out instead of bullying them into absolute silence through defamation laws and the threat of malicious litigation. This legal protection is a success for #MeToo https://t.co/xlGjRyKZIH

— andolanjeevi dr. meena kandasamy | #FreeNodeepKaur (@meenakandasamy) February 17, 2021
A huge shout out to Priya Ramani and to her incredible lawyer Rebecca John. This was a very very tough fight against a powerful man. This is a landmark ruling for sexual harassment fights in the country

— Nidhi Razdan (@Nidhi) February 17, 2021
Amidst all the wrongs n unfairs happening around this did bring a ray of hope that somewhere something is keeping our hope in righteousness alive. Long live truth and justice ! https://t.co/uo6gUNPWca

— taapsee pannu (@taapsee) February 17, 2021
Background To The Case
In 2017, via an article, Ramani had revealed that a senior editor had sexually harassed her at an interview in 1993. A year later, in 2018, she took MJ Akbar's name in connection to her allegations. "Time to tell our side of the story," she had written on Twitter.
Following Ramani's revelations, another journalist, Ghazala Wahab, had opened up and revealed details of how Akbar allegedly abused her, elaborating in an article.
Since then, multiple women have spoken about Akbar's alleged sexual misconduct in public. Among them, journalists include Sutapa Paul, Suparna Sharma, and internationally, Ruth David and Majlie de Puy Kamp.
Amid building rage and widespread social media backlash, Akbar resigned from his post as Minister of State (MoS) for External Affairs on October 17 in 2018.