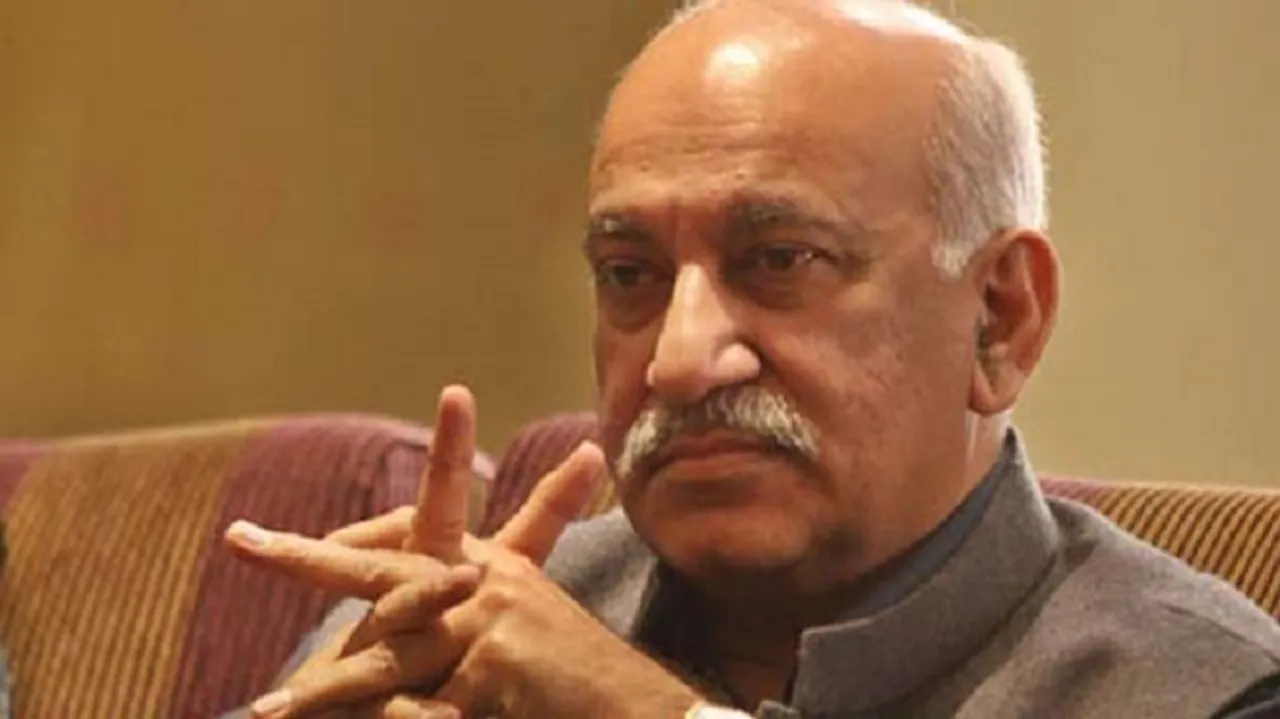 After the former Minister of State of Foreign Affairs, MJ Akbar's deposition ended on July 6 in the defamation case that he filed against Priya Ramani, it was now time for his witnesses to come to stand at the district court for cross-examination. While he has named a total of five witnesses, the first one to depose today was journalist and Tarot card reader, Veenu Sandal who was present on the stand today. In her deposition, she refuted knowing about journalist Ghazala Wahab's account of alleged harassment by Akbar that she wrote for The Wire but acknowledged that she was made aware of it in which Wahab had mentioned her.
However, she told the judge that she "did not deem it necessary to confront her (Wahab) or talk to her about the said allegations because I knew there was no truth in them."
Veenu Sandal's background and acquaintance with MJ Akbar
At the start of the cross-examination, Sandal stated about her background. She said "I am a journalist by profession and have been working for over 25 years. I started working with the Asian Age around 1994-95.
She said that she got to know Akbar when she started writing for the Asian Age. "I wrote columns (for Asian Age) till 2009. I was also writing for The Covert and The Sunday Guardian," Sandal said.
She recounted in the court, "While I was writing these columns for the Asian Age, I was going regularly to the Asian Age office. As I had knowledge of Astrology and Tarot Cards, many of my colleagues often brought professional and personal issues before me for suggestions.
Not once did anyone ever say or even hint at any inappropriate behaviour from Mr Akbar."
Sandal goes on to praise Akbar, "I have always held Akbar in high esteem and have always admired him. His being an author acclaimed globally for his scholarly work, an editor who transformed the face of Indian journalism. At the personal level too, I had great respect for him because he had many qualities. Simply by observing him, I learnt a lot."
ALSO READ: #MeToo: MJ Akbar Cross-examination, "I Don't Remember"
Priya Ramani tweets and impact on her
She then remembers that on October 8, 2018, she heard about the tweets made by journalist Priya Ramani alleging sexual misconduct by Akbar and disclosing that it was him that she talked about in an article she wrote in 2017 right after the Harvey Weinstein case unravelled.
"I was shocked and it came as a huge jolt to me especially that Ms Priya Ramani had called Mr Akbar a predator and the other revelations she had made in her article. I was deeply distressed that someone I had placed on a pedestal could be what was alleged."
His image in my eyes fell and his entire persona before my eyes was dented and it was greatly embarrassing when friends and family and others began asking questions that left me red-faced.
All these embarrassing questions and situations made me realise that his image had been tainted not only on my eyes but also in the eyes of others. His reputation had been damaged and dragged through the mud.
Subsequently, my head was in a spin and thought I had known him for so many years and I have never seen or heard any such thing before. Since he was out of the country at that time, I could not question him about the allegations," she added.
However, she said that once M J Akbar, who was on an official visit to South Africa, returned and she had "several" conversations with him on the day of his return after which she was convinced that the allegations were baseless.
Pre-summoning and post-summoning statements
The court showed the statements made by Sandal before summoning her and the statement she made after she was summoned for comparison and finding contradictions. To this, she responded saying, "I have not deliberately introduced new quotes to improve upon my earlier statement."
Ramani's counsel, Rebecca John, suggested that Sandal had deliberately given evidence to state that never did any colleague said or hint at any inappropriate behaviour by Mr Akbar or she selectively and deliberately gave evidence against Ms Ramani although she was aware of other allegations, to which Sandal denied the suggestion.
It is incorrect to suggest that friends, family, and others I met publicly did not ask questions about Ms Ramani's tweets or that I introduced these facts to solely fulfil the legal requirements of the case, Sandal said.
In her deposition, she refuted of knowing journalist Ghazala Wahab's account that she wrote in The Wire but acknowledged that she was made aware of it in which Wahab had mentioned her.
She agreed that "some of the friends who spoke to me about the allegations against Mr Akbar by Priya Ramani also discussed the allegations made by other women in other tweets and articles."
Finally, she rejected the suggestion made by John that she is a biased and a tutored witness.
MJ Akbar had to step down from his position as a Union Minister due to sexual harassment allegations by at least 18 women which included a rape allegation made by NPR business editor Pallavi Gogoi in November last year in an article in the Washington Post. These women had worked with him over the years of his journalistic career.
Picture credit- DNA india