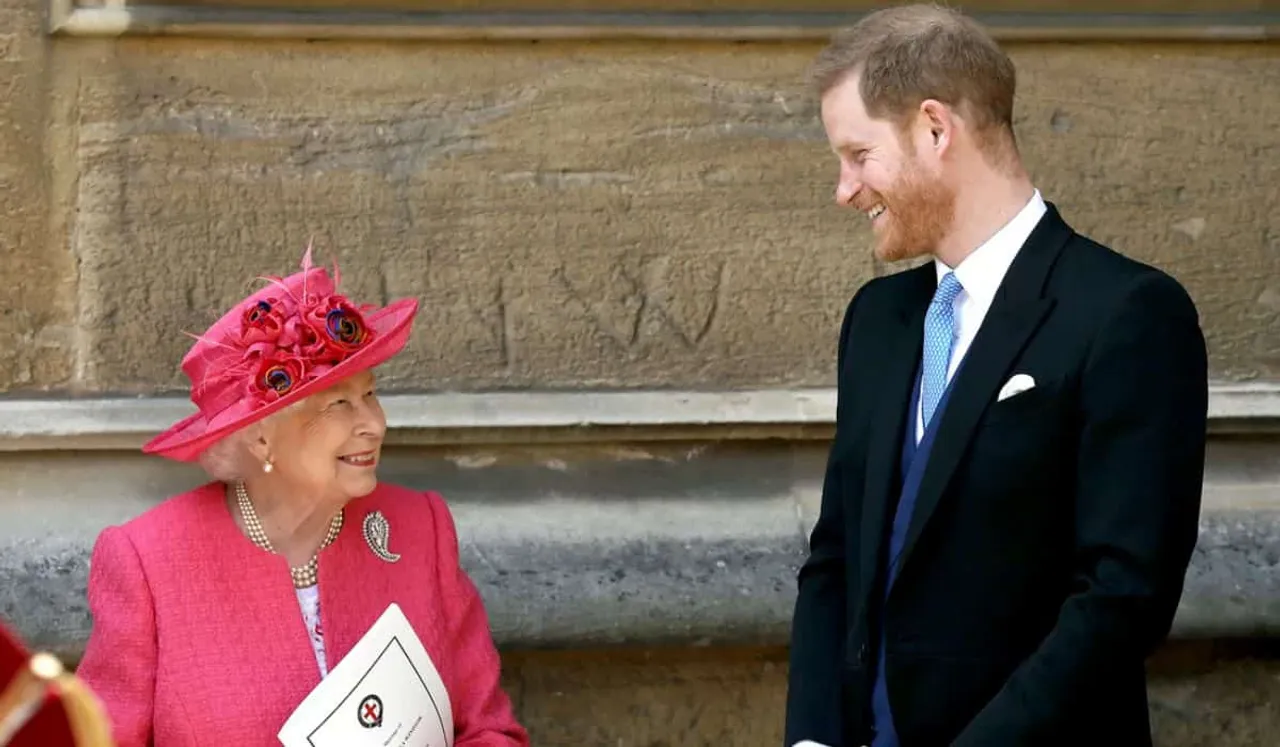 Prince Harry's memoir has reportedly become a 'real stumbling block' for the Royal Family, as claimed by The Sun's Editor in Chief Victoria Newton Laura Kuenssberg's on the BBC Sunday show.
Harry, on announcing his literary memoir last year, said that it will be "the high and lows, the mistakes, the lessons learned … a first-hand account of my life that's accurate and wholly truthful".
Aside from a press release and a brief statement, not much has been revealed about Harry's memoir which is written with the help of ghostwriter JR Moehringer. However, certain news reports claim that the Royal Family is said to be dreading the prospect of Prince Harry publishing his tell-all memoir, which reportedly contains some hard truths about the royal members.
Newton said that the the issue of the book is writing is going to be at the forefront of many discussions.
"And the Royal Family are going to want to feel assured that there's not going to be something too negative in there. So, I think that's going to be a real stumbling block for them. But hopefully, they can move on from it. But as I said, they're both very keen that this doesn't overshadow what is really about the Queen."
Ten things we know about Prince Harry's memoir
Prince Harry's memoir is expected to hit shelves at the end of 2022. However, speculations arose that the book will be pushed back to 2023 out of respect for the Queen Elizabeth, who passed on September 8. No official confirmation has been made yet.
The book is not titled yet.
"Prince Harry will share, for the very first time, the definitive account of the experiences, adventures, losses, and life lessons that have helped shape him," publisher Random House had said about Prince Harry's memoir in a statement.
Royal commentator and author Tina Brown told the the Daily Beast that the memoir "will resurface a particular agony for Charles". She also said that Harry will open about his mother Diana's untimely death when he was just 12.
Harry is expected to write about his childhood growing up in the Royal family, his stint in the Army and his postings in Afghanistan, his marriage to Meghan, stepping away from the Royal family, and fatherhood.
According to the The Sun, King Charles seems particularly stressed that Harry could take aim at his wife, Queen consort Camilla. A source told The Sun that "Charles has shared his concerns with William and is keen he somehow goes on the record and sticks up for Camilla should the book attack her. But as much as William loves his father, he's unlikely to want to get involved. In all likelihood, he will try and stay neutral."
The Telegraph reported that King Charles and Prince William haven't seen "any part of the manuscript" or been told "when the book will be published." Apparently, Charles "indicated" that he and his team wanted a copy of the book in advance.
Prince Harry may reportedly make some changes in the memoir involve Queen Elizabeth, out of respect for her. "Plus, he will want to describe his feelings about the Queen's passing," a source told Page Six.
What has Prince Harry actually said about the memoir? Here's his statement: "I'm writing this not as the prince I was born but as the man I have become. I've worn many hats over the years, both literally and figuratively, and my hope is that in telling my story—the highs and lows, the mistakes, the lessons learned—I can help show that no matter where we come from, we have more in common than we think. I'm deeply grateful for the opportunity to share what I've learned over the course of my life so far and excited for people to read a firsthand account of my life that's accurate and wholly truthful."
---
Suggested Reading: Meghan Markle And Prince Harry Greet Crowd Of Mourners, Pay Tribute To Queen Elizabeth II