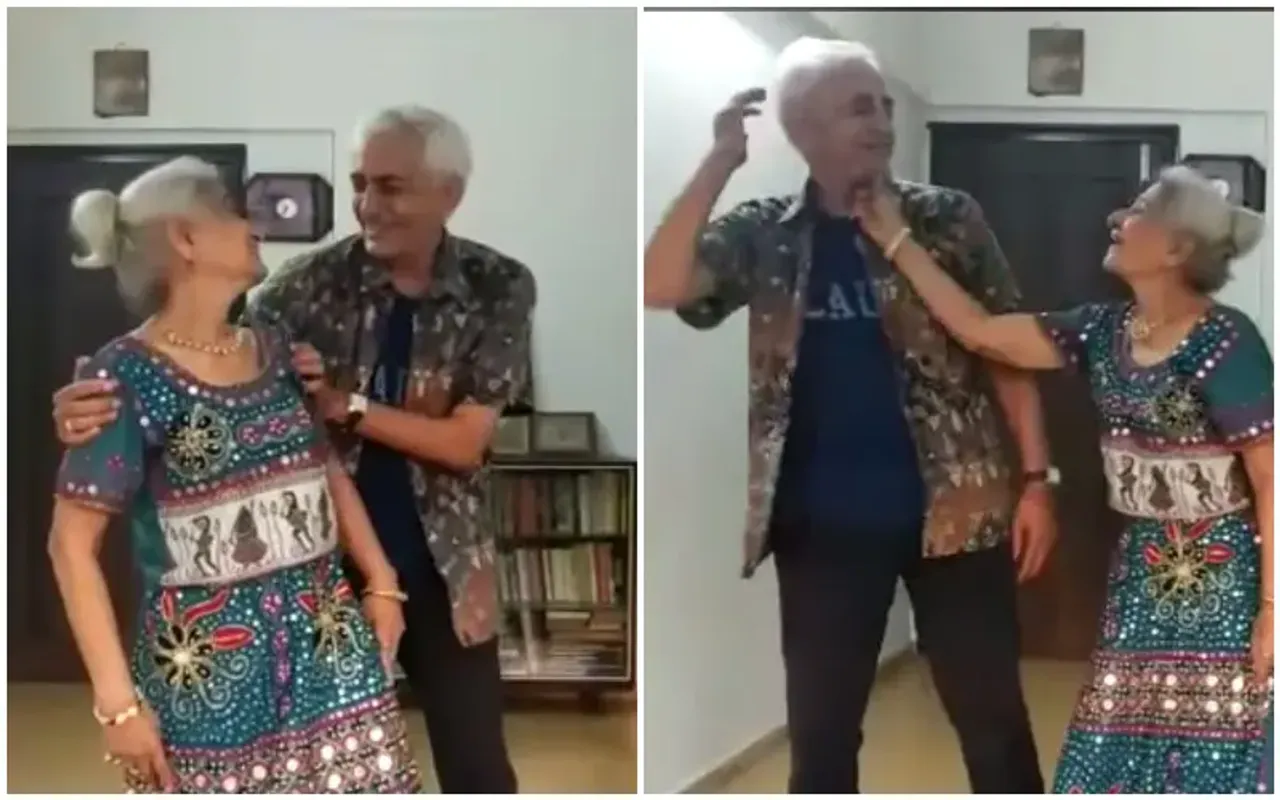 The COVID-19 pandemic has prompted people to beat their quarantine blues in creative, and rather entertaining, ways. An elderly couple took to the dance floor of their Gurgaon home, tapping their feet to the tunes of Yeh Jawaani Hai Deewani's hit song Ghagra. Their dance video, originally posted to Facebook, has now gone viral on social media. Netizens are applauding the 70-plus couple for their high spirits and energy, reiterating that age, after all, is just a number.
The video shows 76-year-old Ram Girdhar and his wife, 72-year old Prerna Girdhar, grooving to the hit number from the 2013 film. The couple, with oodles of swagger and nakhras, have danced their steps to perfection. What's adorable is that they have even tried to match their clothes to the original song - with Prerna donning a traditional, ghagra-like dress, and Ram wearing a cool button-down with a boyish charm to it.
Here's the original video, posted to the Varisht Nagrik Kesari Club page on Facebook:
https://www.facebook.com/vnkclub/videos/586689235587886
The Facebook page is dedicated to senior citizens, showcasing their dance moves on old and new Bollywood numbers.
Also Read: Why Must Elderly Care Rest Solely With A Daughter-In-Law?
Social Media All Praises
Prerna and Ram's synchronisation of expressions, steps and on point lip-syncing is a treat to the eyes. The video, which has garnered over 41,000 likes and over 3,000 comments so far, has been received positively by social media users. A user wrote, "Hats off to this cute and lovely couple..inspiration," while another wrote, "Super cute.... What an energy and gracefully done..... Uncle Aunty u have nailed it...... Superb Stay blessed."
Some even gushed how the couple still seems so much in love, even after decades of marriage. One user commented, "So sweet really you both are inspiration for younger generations and couples that there is a hope full of happiness in life may God bless you good health."
Also Read: More Daughters-In-Law Care For Elderly People Than Sons: Report
Other Quarantine Dance Videos That Went Viral
There are others like Prerna and Ram who are spending quarantine in fun ways, celebrating life and refusing to let the stress of pandemic dampen their spirits. Last week, the video of a woman welcoming her sister, who came home cured of COVID-19, with a dance on the street went viral. The woman has been identified as Saloni Satpute, a 23-year old Pune resident, who by dancing on the street for her sister, Snehal, also wanted to "relay a message to her neighbours who had shunned her after five members of her family tested positive." Doctors and healthcare workers are also posting dance videos from work to help unwind themselves.
Tanvi Akhauri is an intern with SheThePeople.TV.