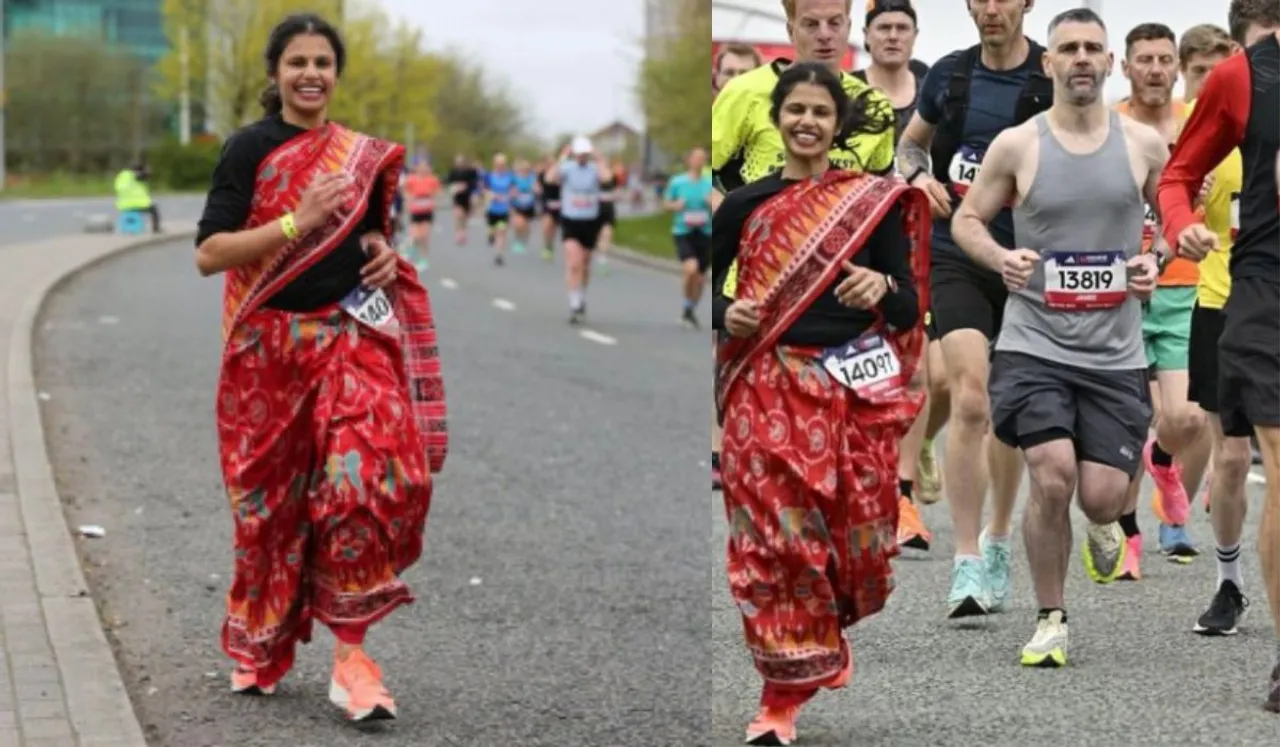 An Indian-origin woman ran the full distance of the 42.5-kilometre marathon on Sunday wearing a Sambalpuri saree. Madhusmita Jena Das, completed the marathon in 4 hours and 50 minutes. The 41-year-old UK-based teacher is Odia.
A Twitter user shared images of Das running along with the other participants. "An Odia living in Manchester, UK, ran the UK's second largest Manchester Marathon in 2023 wearing a Sambalpuri saree! What a great gesture, indeed. Loved her spirit. Sambalpur has a distinct and inclusive cultural identity that arises from the strong association between the tribal and folk communities, which have been coexisting for centuries. This is a tough phase; let's keep up with peace and harmony," read the tweet.
Odia Woman Runs Marathon In Saree
The official Twitter account of "Friends of India Society, Inc., UK shared a video of the marathon. The video showed the woman comfortably clad in a saree while her friends cheered for her. By wearing a saree to the marathon, she hoped to raise awareness about Indian culture and heritage.
80-Year-Old Woman Running Marathon
Earlier this January, an 80-year-old woman ran the 18th edition of the Tata Mumbai Marathon wearing a saree. A video of her participating in the marathon was shot and shared by her granddaughter on Instagram, which went viral.
The 80-year-old woman, identified as Bharti, was seen comfortably walking and running in a saree and sneakers. She was holding the Indian flag in her hand. Bharti completed the 4.2-kilometre marathon in 51 minutes.
Sharing the video on social media, her granddaughter, Dimple Mehta Fernandes, wrote, "So inspired by the sheer will and grit of my 80-year-old Nani, who ran the TATA Marathon this Sunday." Bharti can also be seen giving interviews and mentioning that this is her fifth time participating in a marathon. She also shared that she has been practising every day for the marathon.
Hyderabad Woman Runs Marathon
In August 2022, 44-year-old Jayanthi Sampath Kumar completed a 42-kilometre marathon in Hyderabad wearing a saree. She grabbed attention much before crossing the finish line for wearing a saree and sandals. She ran along with 20,000 other runners and covered the entire distance.
She aimed to promote handloom and encourage women; she is a cyclist who rides very often and notices a lot of plastic pollution in the country. She is keen to curb this. She wished to run the marathon barefoot, but due to the stones in the road, she had to opt for simple sandals.
---
Suggested Reading: Saree Stories: She ran a marathon in a saree, meet Amrutha Joshi Amdekar
---