So what do you do if your college bans jeans? Well, if you are in Kerala, you can always wear the traditional mundu and carry on business as usual! Or so some female students would have you believe. A picture by the students of Muslim Educational Society (MES) at Nadakkavu in Kozhikode has got over a thousand shares on Facebook and Twitter , where girls have tied a mundu around their waist and are posing stylishly while in the campus. This, even as their College has regulated that jeans are a strict no-no on Campus. Cheeky you think? Well see the picture and decide!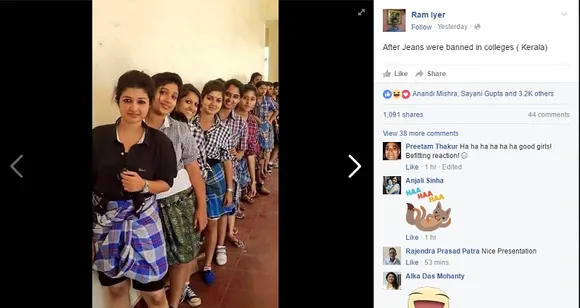 Kerela girls message of dissent
The college had formulated this rule at the start of their session last year. It was clearly mentioned that girls cannot wear tight fitting outfits including jeans. They also included a dress-code. The dress-code said that they had to wear salwar, churidaar bottoms and an overcoat. Muslim women had to mandatorily wear headscarf. The Principal, Prof B Seethalakshmi saw a few girls wearing tight clothing which is when she came to this conclusion.
A flurry of comments greeted the posting of this picture. Famous Hairstylist and activist, Sapna Bhavnani also shared the picture through her social media accounts.
Also read: Exception to the rule: This Haryana village has more girls than boys
Kerela's Muslim Educational Society (MES) is following suit after Kanpur, Haryana, Kolkata and Chennai in the race to ban denim pair of bottoms for women.  But the students have been creative in their response, sending out the message that if not jeans then they have better options as well. And knowing that it is a protest without any accusations or abuses but smiling faces instead was the best part of this act of dissent.
Feature Image Credit: houseoffraser.scene7.com