When life puts you to test, cricket gives you the strength! And it is very rightly said that not all balls that one faces are full tosses and when bouncers come, you duck. But the story of this woman or it is better to say, the synonym of staunchness has been playing the upper cuts on those bouncers! Neha Tanwar, the woman in blue and who adds meaning to the word inspiration! Coming from a very small village to the goal of playing at the Lords, this journey of hers has seen many rough and top notch pitches both in cricket and in life, but she has stood tall, unwavered! After an early marriage and the responsibilities of motherhood, she made her comeback in cricket. 
1. Take us down the memory lane, your initial days and how cricket happened?
I was always so fascinated about cricket, I never used to miss even a single cricket match, at that time there were hardly any matches, but today there are series being played every month. There was not even a single cricketer in world cricket whose name I did not know! I only knew that there is cricket in Delhi for women; at that point I did not know that women play at such a higher level as well.
I only knew that there is cricket in Delhi for women; at that point I did not know that women play at such a higher level as well.
When I was around eight, I used to play Kho-Kho, Volleyball, Kabaddi, and Shot Put in school. Except for cricket, every other sport was there in my school. My journey of cricket started when I came in college, one of my cousins was a part of the cricket team. I had played athletics in school and had gone for the trials for the same and not for cricket. But my coach, who was to take the trials, was not present that day and so I thought of giving the cricket trials because anyhow I wanted to get into the college.
At that time, I used to just close my eyes and hit the ball. The selectors saw some power in the shots and selected me. Eventually, after getting into the college team my interest in cricket started to grow. And the interest grew in such a way that "Cricket life ban gaya".
2. Were you always into sports or was it only cricket that fascinated you?
I have played many sports as I said, but the way cricket has happened and the way it has been imbibed into my veins, it is no other sport!
3. When did cricket become a professional choice and were your parents always supportive regarding this career choice of yours?
I decided to play cricket professionally when I came into college, so the after individual college teams, there was a women's cricket team of the whole Delhi University. So when I used to look at that, I always used to feel yaar, yeh kitne bade players hai! They all must be playing so well and that we play just for college, but they represent the whole university! So looking at them, I decided to play for the university. Then I got to know that there is an U-19 team of Delhi and I was 17 at that time so I went for the trials and got in. Then I thought, there must be a senior team of Delhi so went on with that, then Ranjis. Then I thought how big would be the inter zonal level, at that time I thought it is the biggest level.
But with time as I kept playing, I came to know that there is the national team as well. My coach told me that you are really talented and I want you to play for India and I promised him that I will definitely play for my country!
4. From which college did you play and were your parents supportive towards you playing professional cricket?
I was in Maitreyi College, Delhi University. Initially, I played cricket just to get into the college and so even my parents saw it that way. But then eventually, as I started going for regular practices, they noticed that I am very interested in cricket, so they never stopped me from playing and they have always been supportive. I come from a joint family, and everyone has been really supportive over the years. They always used to say, take care of yourself, the food, your game and chot mat lagwaya kar (Do not get injured)! I used to keep getting injured.
My mom was always serious regarding my game! She always used to say that muh toot jayega, shaadi nahi hogi! There were times when I had to practice till late, but there were no issues from their side, I never had to hide anything from them!
5. Which cricket academy & coach did you start your journey with?
My coach was Mr. Dinesh Rai from my college; he felt that I used to listen to him, I was hard working and that I used to follow all his instructions so he started to work on me. I used to practice in the college first, then he used to give me separate coaching in his cricket academy so I used to travel with him on the bike and then go to the academy. And after practicing there, I used to go back home in the evening. He has really worked hard on me. At that time he was working with K.N academy, he did not have his own academy, so I used to practice there.
6. What were you interested in more? Batting or off-spin bowling?
I have always been interested in batting more. There are some things that even if we do not practice, we are able to do them and bowling has been that to me. Even today, I do not practice bowling much. I was a full time bowler as well at that time, but then once my leg got injured and there was some issue with my bowling action so that did not allow me to recover well so I left bowling. But, I have an experience in bowling, so I can bowl but I am interested in batting more!
7. An opening batter's most difficult task is to play the new ball, what were your tactics?
Yes, it certainly is the most challenging thing for an opening batter. I started opening for my college team, the university team, the Delhi team. Since I was 17, I have always opened the batting, even for India I used to open. I have always loved that! I loved playing the new ball and that is why I chose to be an opening batter.
Since I was 17, I have always opened the batting, even for India I used to open. I have always loved that! I loved playing the new ball and that is why I chose to be an opening batter.
What makes a batter different is how positive their approach is and that is what makes one different. A batter needs to be sure about playing a particular ball, and it is that confidence that makes one different from the rest!
8. Who has been your greatest support over the years?
My uncle, my father's younger brother has always been my greatest support; I can say he has supported me even more than my parents. For once, my parents may have objected anything, but he has always been there and supported me in doing everything! He always instills positive thoughts within me, even when I get out he always said that the ball was only bad and that I was good so it was not my fault, he has never demotivated me! According to him, even a legal delivery can be a no-ball but he never said it was my mistake when I got out! (Laughs)
He is extremely possessive towards my game; he still has many hopes with me and thinks I will still do something great.
9. You had a successful 2010-2011 season in the challengers' trophy. Were you expecting a national call? What was your reaction when you got to know about your India selection? Did you jump out of joy or were in tears?
No, I was not expecting the national call and I had no hopes and idea that I would get selected. I was a part of the probables though; I was in the 20 player squad. I had attended many India camps but never really expected the call. But when I got it, I was extremely happy but I just could not express my emotions in front of the other players at that time. Everyone congratulated me, and there was only a smile on my face. The sense of playing for my country made me elated. Then when I went to the room, tears of happiness rolled down!
My roommate was Jhulan Goswami so even she congratulated me and also she was the captain back then. I then called up my father and my coach to tell them about my selection. My parents and my uncle were the happiest! My dad told me that even I am not as happy as your uncle is! My uncle took me down to the colony and told everyone that my daughter has been selected for Indian team! There is no batsman like her and there will not be ever! He was so happy.
Moreover, I come from a very small village and there people do not even know much about sports, the insights it has and how sports can be a career option! And no one has ever been into sports from my family except for me. So, coming from there and getting this far matter to me a lot.
10. You made your national debut on Jan 18, 2011 against West Indies in Rajkot. You managed 19 runs before getting run out and then bowled very economical 3 overs. How special was it wearing the national blue and representing the country?
Since the day I started playing cricket and the day I started seeing the dream that I want to play for India, since that day to the day I got that jersey in my hand, I waited. And seeing that dream come true, it was a phenomenal feeling. I just felt that I have got this chance of doing something for my country and carrying the nation's name on my chest, that feeling is something that cannot be expressed in words. I felt extremely proud, only 15 girls would walk out and represent the nation and I was one of those only 15 girls. There are billions of people in India but very few get the honor to play for their country and do something for their country and I wanted to make sure that I make the most of this opportunity.
There are billions of people in India but very few get the honor to play for their country and do something for their country and I wanted to make sure that I make the most of this opportunity.
11. Five ODIs and two T20Is: that's all you could manage in a career that started in 2011 and unfortunately ended in 2011. Which format did you enjoy playing the most?
I have always enjoyed the ODI format more, because my game is all about taking some time, settling on the pitch and I like to take 3-4 overs before I start expressing myself completely. So in the T20I format, I get really less time to adjust. I like to play long innings which is offered by ODI cricket.
12. How would you define yourself as a batter? Are you aggressive or calm in the display?
I was never really aggressive, I used to take my time, build my innings by taking singles and doubles. But since the past couple of years, as the T20I format flourished, the only reason to bring that format in women's cricket was to bring out certain aggressiveness in women's cricket as well. It was always said that women's cricket is really slow so I have worked on my game and even my T20 game has improved and I have been doing quite well in that since the last year. Also, my runs were the highest in that format. A player must adapt according to the format. If I cannot adapt myself according to the conditions, even if the selectors are selecting me, I would never select myself!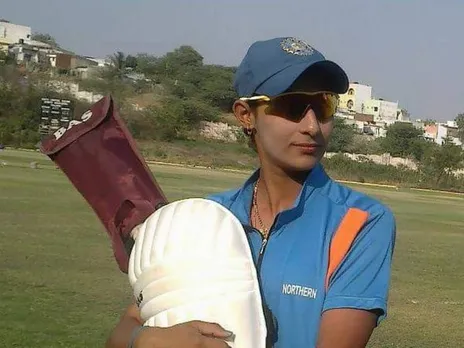 Picture Credit: Sportstar - The Hindu
13. Just a month after making your India debut, you got married in Delhi. Was the marriage date already planned? Didn't you think of postponing it and devoting more time to cricket?
I debuted for India in January and in December the previous year, I had been engaged. But the wedding date was not decided at that time. In fact, I did not even know about my engagement! That day in the morning I was told that "today is your engagement." You will not get to hear this today, but this used to happen in the old days. I was told that the groom and his family were only coming for a meeting, just to know each other. I do not even know who fixed my engagement; they just told bring the rings and let's get them engaged! (Laughs)
I even asked my dad about what all is happening, I had not even played for my country and my career had just begun. To that he said that just get engaged, we will think about the wedding later. And I have never refused to anything that my parents have wanted me to do, I have always agreed with them no matter in what they ask. I requested my parents a lot to postpone my wedding, I even asked all my relatives to call my dad and talk to him about this and convince him anyhow. But he came up with 9th February as my wedding date. I really cannot even tell how much I tried to convince him for that, but nothing worked.
I even asked my dad about what all is happening, I had not even played for my country and my career had just begun. To that he said that just get engaged, we will think about the wedding later.
Though, my in-laws never stopped me from doing anything ever, some differences certainly come, one's responsibilities increase after the wedding, but I would never blame my in-laws for that because they have always been very supportive.
14. 14th Feb 2014 was when you last played cricket for Delhi before taking a year break due to motherhood responsibilities. How difficult and emotional was this day?
I had already decided of taking this break. It had been three years since my wedding and there was also some family pressure on me to plan my family and to think about the maternity as well. I had to plan, if not then than maybe a year later but it had to happen. I had decided that once I plan for a baby, I will leave playing cricket.
On 14th February, 2014 we were playing our last match at the Feroz Shah Kotla. I was playing for the Indian Railways. And I had decided that this would be my last match. During my pregnancy, I wanted to leave cricket but I think cricket did not want to leave me! I had been playing since so many years and now I started to feel that something so close to me is going far from me and I could not take that. I used to miss cricket so much, I used to watch my highlights and every single second I used to think about cricket, I used to shadow with my bat and just tried to keep cricket nearest to me.
During my pregnancy, I wanted to leave cricket but I think cricket did not want to leave me!
It was the most difficult phase of my life. And only I can understand what I was going through during that period. Cricket is my life and I can never imagine myself above and without that.
15. You had to undergo caesarean and that demanded you to take long rest during pregnancy and post delivery? Physically and mentally you were exhausted, what was it that kept you going?
Giving birth to a baby is like a rebirth! Until five to six months of my pregnancy, everything was alright but then some physical problems started to take place so the doctor said that we cannot do a normal delivery and that you need to go under caesarean. So I was facing a lot of problems then, they had to admit me in the hospital because it was a premature delivery. I used to think that I would never be able to get back to cricket, but I used to feel cricket within me. So I would say, it was cricket itself that gave me strength!
So I was facing a lot of problems then, they had to admit me in the hospital because it was a premature delivery. I used to think that I would never be able to get back to cricket, but I used to feel cricket within me.
16. You gave birth to baby-boy named Shlok in October 2014. Post this, did you ever feel of making a comeback in cricket?
After the delivery, the pain was okay and I thought of getting back to cricket! My strength was gone, but my obsession and love for cricket was just the same, in fact it had increased!
I spoke to my husband and in-laws so even they understood and supported my decision. They told me to recover first and then give it a shot, again.
17. During this period, you gained around 20kgs. What training regime did you follow to curb down this weight and get back to cricket training again?
My weight had increased to 80-81kgs. So after the delivery, till six months I did nothing and I was on total rest. I had gained so much weight that I could not even walk. My doctor told me that you can start walking after six months and even started going to the office. But my mother asked me not to strain so much already, so my proper walking and jogging began only after eight months. But I found even jogging really difficult. I felt that I was carrying a 100kg sack bag on my shoulders. I just could not believe that it was the same Neha who could once run so easily!
I used to exercise on my own without any trainers! But helping myself stand and gain confidence altogether was the most difficult part! Then, one of my friends came up to me and said that let's practice batting so I joined her. She threw the ball; I could not even touch the ball. I was shocked! And that day I realized that I have to lose weight anyhow! And from there, my fitness became my priority. I used to look at myself in the mirror and I used to feel really ashamed! Eventually, I increased my workout and as I lost a little weight, I got even more motivated.
Then my weight stopped at 72. It was not getting reduced and I kept trying. I used to do sprints, jogging etc. But nothing helped and I had started to lose hope. I gave up and I was broken completely. I was at home for a week, I had left my workout. But then something just told me that if I have reduced this much, I can do it again and bring things under control. I got up, started working! I increased my workout, so eventually it became 68 and eventually it got reduced.
I had just one thing in my mind "I have to do this anyhow, and make sure that I just do not feel ashamed of myself when I look into the mirror" Playing is way too far, the first step must be fitness.
18. 2015-2016 season: You made a comeback in the Delhi women's senior cricket team but managed only 17 runs in 4 innings. What was going wrong here? Was it lack of practice or the motherhood and your increased weight taking a toll on your game?
I had undergone the delivery in 2014 and I made a comeback within a year only. So that one year gap did affect me. Even though I had lost weight, there was still a lot of weakness in my body and I really could not strain much. There were many reasons behind that flop season, the lack of confidence and practice because back then I had focused solely on my fitness only. Plus that gap year made me think if I will be able to perform just like before or not. So all these were the probable reasons behind that underperformance.
19. 2016-2017 season: You came back strong, scored 201 runs in five innings at an average of 67, and finished in the top five run-getters in the one-day competition. What gave you the courage to fight back and score at such a consistent rate?
The first match of ours was against Goa at Raipur in the Ranji Trophy and I was not a part of the playing eleven. I was extremely shocked and I felt really bad! I genuinely felt that I deserved to play and I trusted myself a lot. But I think due to a not so good last season, I was not selected. I just wanted a chance to prove myself, the day I get one chance, I will give my everything.
The two matches that I had to miss, that was first time in my career that I was not playing matches for Delhi. I really felt insulted, I was angry on myself. I got to play the third match, and it was my chance, I scored 75 runs against Baroda. After that my performance kept improving.
20. Post making a domestic comeback, for the first time, you were left out of the Delhi state cricket team and not included in the playing XI for 2 matches. Didn't that break you?
That day I realized that "sometimes the failures are really important to become successful and falling is crucial to rise again". I do not blame anyone or anything because I feel that because of those two matches I did not get to play, it gave me strength and even more positivity to do better and rise higher!
21. What time did you get up to start your day? You had to practice cricket, focus on losing your weight, and take care of your son and in-laws. How did you manage everything?
I have extremely busy days, every day I wake up at around 4-4:30 am, then I prepare the breakfast and lunch because I directly come in the evening. I do not stress my mother-in-law much because she already takes care of my son and I know she takes care of him much better than I do so I keep her away from other work. At 8 am, I leave for my office which begins at 9:30 am to 1:30 am. And for us, the railway employees, half day we have to work at the office and half day we have to practice. I used to practice till evening and return at home by 6-7 pm. Then I spend time with my son and my family.
22. After years of struggle and perseverance then came the good news: Your India A call up against Bangladesh A team in Dec 2017. In the 3 match ODI series, you played only the 2nd game and scored a brilliant 44 runs. Were you happy / satisfied with this performance?
I was really happy with my comeback and even my family thought that the hard work is playing off. I did hit 44 runs but I was not satisfied, I should have played more. In fact, I am never satisfied no matter how much I score. In the 3rd match, I was playing 3 down, so I did not get to bat only, we had won already.
I usually open, but I had played for Indian railways as an opener but could not really perform, so they tried changing my batting position a bit. So then I started performing in the middle order as well.
23. Which is your most favorite cricket memory so far in your career?
My most favorite memory so far was one of the matches I was playing for the Indian railways and I had hit 69 runs in a highly pressured game and we had won that match. So that is my most favorite match so far. And also, I recently played a T20 match, Delhi Vs Goa and it was important for us to win the match in 15th-16th over, to come first. So I batted so well that we won in the 13th over itself!
24. Women's IPL has been a buzzing topic. What is your take on that?
Women's IPL is a great platform, because we hardly get any matches to play. If we win, we play further but if we lose, we are knocked out! We practice the whole year just to play 4 matches. With IPL, the youngsters will get more opportunities, there will be more matches and also the exposure for women's cricket will increase!
Today, many people do not even know that matches are going on, with IPL there is only looking forward to growth.
25. How effective has BCCI been over the years and what all must be introduced to improve cricket in India?
Earlier, there were no concrete facilities or contracts but since the time the women's cricket association has merged with the BCCI, the facilities have improved, we get good itinerary, we get to play at international grounds.
The only thing that needs to be improved is the number of matches. Because the girls that do not get to qualify and practice the whole year, so their whole season gets spoiled.
26. Whom do you idolize in cricket or in life?
I have always idolized Rahul Dravid sir, I always wanted to bat like him, I have always been a huge fan of his batting so I used to tell my coach that I want to play like him and so he used to teach me certain techniques.
I was attending the India camp at the NCA and Rahul Dravid sir had come there to practice, he wanted to improve on some mistake, it was a really small one but he worked so hard for even that, for such a long time. He is extremely inspiring and hard-working! I have read his biography as well; the way that he is so calm and composed is phenomenal! He even says that it is not necessary to be aggressive towards everything; if one keeps calm they can achieve everything and anything! But my nature is completely opposite of his (Laughs), I am not at all calm!
27. If cricket had not happened, what else would have for Neha Tanwar?
If cricket had not happened, any other sports would have! Maybe athletics or any other sport, but I would be a sportsperson only! Because I have always been interested in sports!
28. What role has your husband Rituraj and your in-laws played in making you such a strong woman?
They have been really supportive, I would never have reached where I am today, or my comeback for India A had they not been there! My husband has been with me at every stage, whenever there was any problem, he just used to say "You go play, I will manage everything here". Shlok's responsibility is really important and I can never ignore that. But my husband or my in-laws never made me feel that I am sidelining my son or only focusing on my career. They always said that here we will manage, you manage the field! My in-laws are aged so at times they are not able to work so much, but my husband always said that I do not have to worry about anything and that he will manage all of it!
They made sure that when I walk on the cricket field, there is nothing else I have to think above that!
29. A few words of advice for the aspiring cricketers?
Keep working hard and you are really capable of achieving anything you want to! Never lose focus, and to the people who are not able to support the talent in their homes, every single person has the capability to fly and reach milestones, so never stop them. In India, talent is stored in every gully, do not restrict that! And if one decides to truly achieve something, no one can stop them!
We can buy everything, except for confidence. And that confidence is what we have to bring in from within no one else can give it to us. One should not expect from anyone that they would give them confidence or positivity; it is all and should be within us! No matter how negative things get, that is the testing period and we have to stay positive! It all lies within.
30. Is playing at lords still your ultimate goal?
Yes, playing at the Lords is still my ultimate goal and it shall always remain until I have played there!
31. We at Female cricket try our best to impact the women's cricket positively. Any suggestions or feedback that you had want us to work on?
Firstly, I would like to appreciate and thank Female Cricket for the wonderful job that they are doing! And just keep taking such interviews and the work that you already are, working for women's cricket!
This article was first published by Female Cricket.