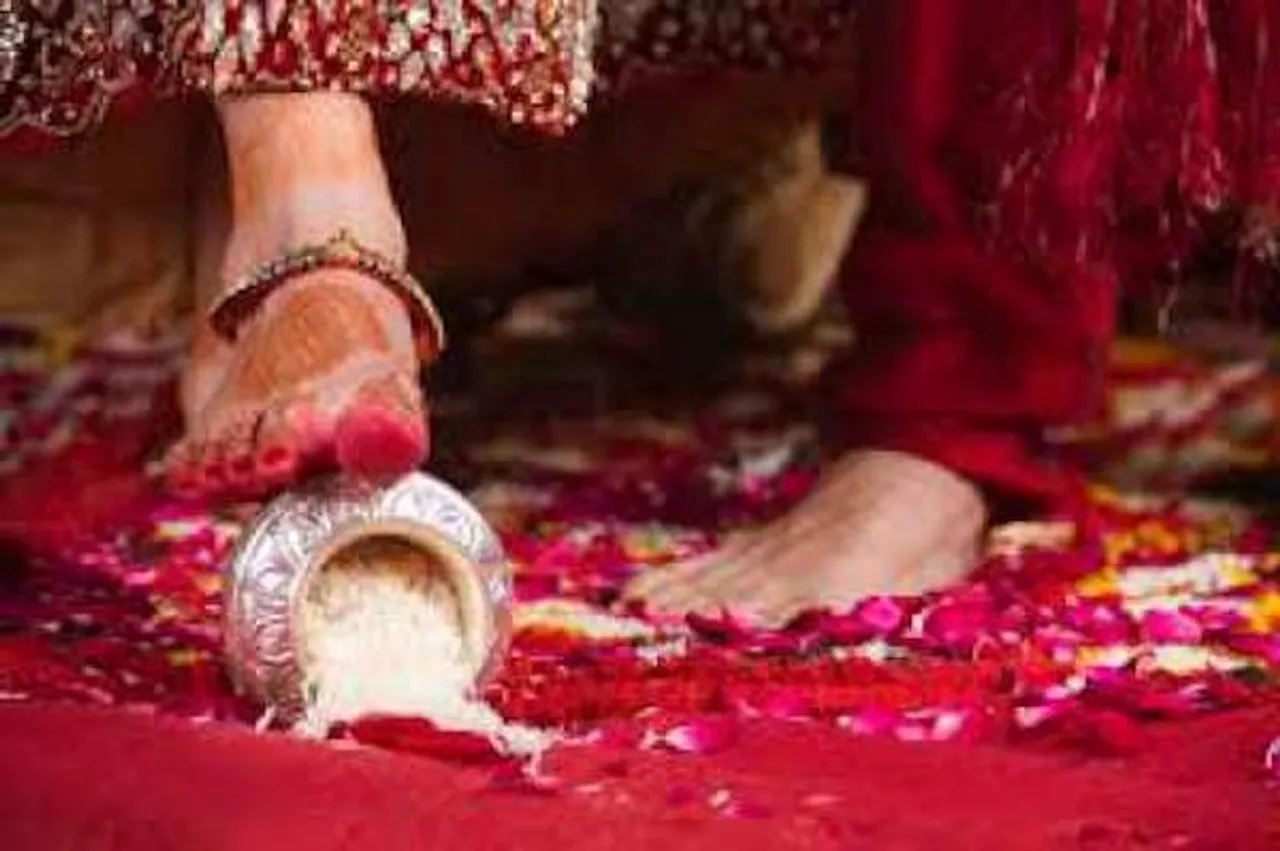 In Uttar Pradesh's Alawal locality, a Muslim family is being hailed for hosting the wedding ceremony of a Hindu woman during the month of Ramzan. As per reports, the woman's father had passed away during the first wave of COVID-19.
In media reports, the woman has been identified as Pooja. The Muslim family who helped her with the wedding welcomed all her family members and relatives. The woman's family after fixing her wedding had reached out to their Muslim neighbours. Pooja's uncle, Rajesh Chaurasia spoke to the media and said, "We were not able to book any marriage hall for the marriage of my niece Pooja due to lack of funds and there was no space at our home to hold such a function."
Muslim Family Hosts Hindu Wedding
He added that after facing issues, he informed his neighbour Parvez and the neighbour offered to hosts the marriage ceremony in his courtyard without any hesitation. While Pooja's family made arrangements for the wedding, Parvez's family helped setting up the wedding venue, mandap. The courtyard was decorated and seating arrangements were made for the guests.
On the day of the wedding, the male members of Pooja's family took care of the guests while Parvez's family members sang wedding songs with other women. Traditional meals were served on the wedding day and the guests were sent back with gifts. Chaurasia said, "Parvez gifted a gold chain to the groom before the marriage procession returned. They treated the guests as if Pooja is their own daughter."
---
Suggested Reading: You're Not Different: Kerala Folk Artist's Interactions With Muslim Woman Goes Viral
---
As per reports, the Muslim family, Parvez and his wife Nadira had always been friendly with Pooja and her mother. They used to visit Parvez's home were always treated as family.
Nadira while speaking to the media said, "Pooja is like my daughter. So, when we came to know about her wedding, we tried to do whatever little we could, as family members. It's also the holy month of Ramzan and what can be better than organising the marriage of a daughter." On being asked about the two families following different religions, Nadira said that it their duty as humans to ensure the happiness of their daughters. She said, "We are of different faiths and have different gods but as humans it's our duty to ensure happiness of our daughters, that comes before everything. We only did that."
In the current wave of communal tension across the country, it is important for us to remember that no matter which religion we follow, we are all humans and deserve equal respect.